VANCOUVER, Wash. — Teachers at Evergreen Public Schools officially went on strike Wednesday, making it the second school district in Clark County to have the start of the school year delayed. Camas School District teachers went on strike on Monday, but a third possible strike in Battle Ground appears to have been averted for the time being.
Evergreen Public Schools confirmed on the district website Tuesday evening that all schools would be closed Wednesday due to the teacher strike. The district and the Evergreen Education Association held another round of bargaining Tuesday to try to avert a strike, but the district's announcement indicates they didn't reach a deal.
"The district is disappointed that due to the teachers strike, our students' return to school will be delayed," Evergreen Public Schools said in a statement. "The district bargaining team will continue to negotiate with the union to try and reach an agreement that is fair to our teachers and is affordable and sustainable. The goal is to reach an agreement that gets our children back into the classroom as soon as possible and provides them with the long-term support they need to have a successful educational experience."
Teachers at Battle Ground Public Schools have also been gearing up for a possible strike this week, but the school district announced Tuesday evening that the union had voted not to strike Wednesday. Contract bargaining is still ongoing and will continue on Wednesday, the district said, but the classes will start on Wednesday as planned. The district said it would let parents know as soon possible about any future impacts to student schedules.
A union representative told KGW that the Battle Ground union's members held a strike authorization vote on Tuesday and 78% voted in favor, falling short of the 90% needed to authorize a strike.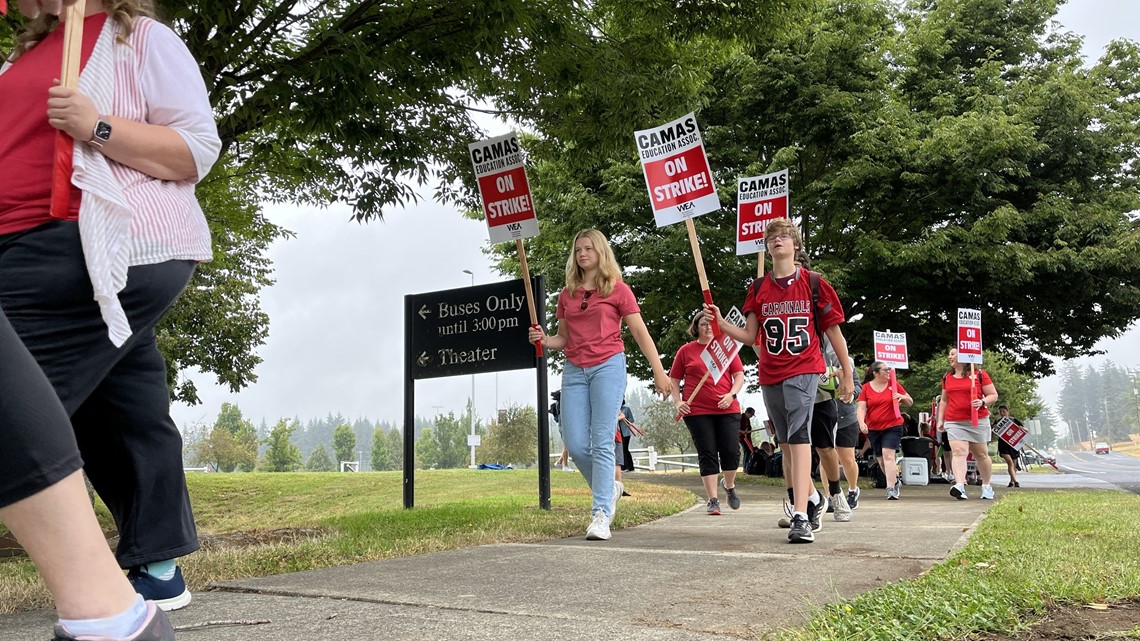 Pay, class sizes and teacher planning time have been key issues in bargaining with all three unions, although there have also been some more specific demands; Camas teachers say they want more equitable funding for PE, libraries and music and Evergreen teachers are pushing for more support for students with special needs.
Bargaining in the two striking districts will continue while the strikes are in progress. Each of the strikes appears to be open-ended until a contract deal is reached. The districts have all said that school days missed due to strikes will need to be made up during or at the end of the school year in order to maintain the state-mandated minimum of 180 days of instruction.