SALT LAKE CITY — Before he took the court in Salt Lake City on Saturday night to compete in the 3-point contest during All-Star weekend, a reporter asked Portland Trail Blazers star guard Damian Lillard what his expectations were. "I expect to win," he said.
Lillard played his college basketball at Weber State in Ogden, about 30 miles north of Salt Lake City. On Saturday night, wearing a Weber State jersey, Lillard became the first player in Portland Trail Blazers history to win a 3-point contest at All-Star weekend, beating Indiana Pacers teammates Buddy Hield and Tyrese Haliburton with a championship-round score of 26.
It was Lillard's third time competing in the 3-point contest in his career. His highest finish before Saturday was third in 2014. But Saturday night, he scored 26 points in the first round to advance to the championship round and then won it all with another 26 in the final round.
"I think all the best shooters in the history of our game, most of them have one of these," Lillard said after the win, referring to the 3-point championship trophy. "To be in this competition two times and not have one, I just wanted to get it done at least one time. I'm happy I got it. Now I can retire from [the 3-point contest]."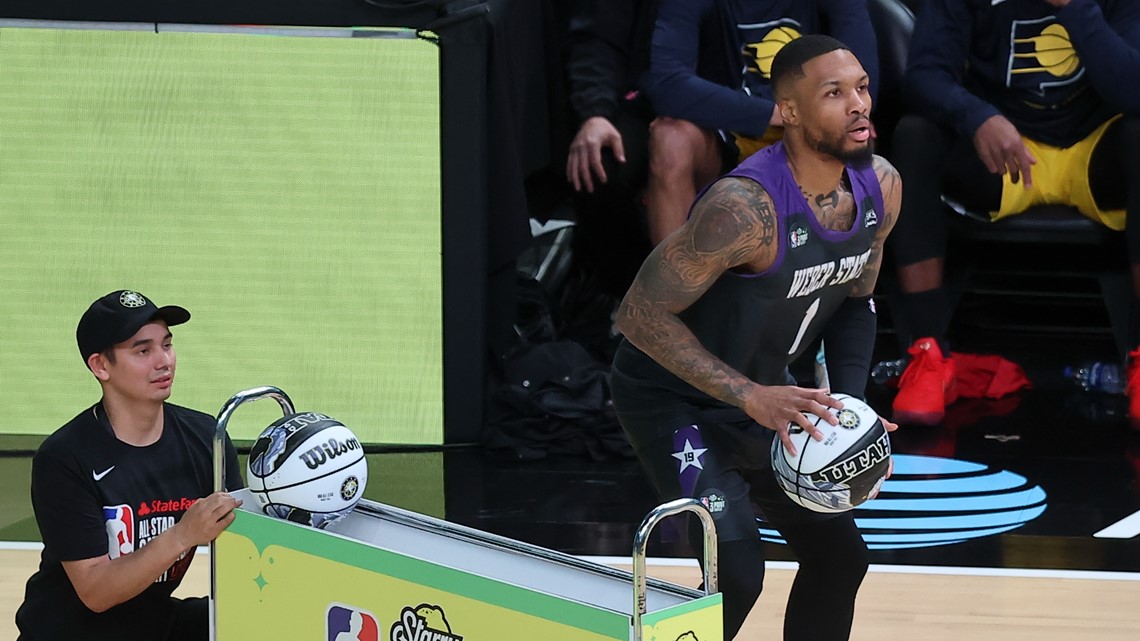 In the first round, Lillard made four of five shots on the money ball rack, where each ball is worth two points. He also made one of the two long-range 3s, which are worth three points each.
In the championship round, with Hield already having notched a score of 25 points, Lillard made both of the long-range 3s, made two of five on the money rack and hit his last four shots, including the money ball at the buzzer, to best Hield by one point.
Lillard said it was special to win the 3-point contest in Salt Lake City. He's always been a popular player in Utah after a successful four-year college career at Weber State, regularly drawing cheers from the Utah Jazz crowd when the Blazers play there.
"It makes it that much more special," he said. "I did it two times before. They say the third time's the charm and I'm happy to have it happen here. It's a perfect situation. I'm happy I can do it in my home, coming back here to Utah."
3-point contest results
First round (top 3 advance to championship round)
Tyrese Haliburton, Indiana Pacers: 31
Damian Lillard, Portland Trail Blazers: 26
Buddy Hield, Indiana Pacers: 23
Lauri Markkanen, Utah Jazz: 20
Jayson Tatum, Boston Celtics: 20
Tyler Herro, Miami Heat: 18
Julius Randle, New York Knicks: 13
Kevin Huerter, Sacramento Kings: 8
Damian Lillard: 26
Buddy Hield: 25
Tyrese Haliburton: 17