WASHINGTON COUNTY, Oregon — Saturday marked day five in the search for missing 20-year-old Allyson Watterson.
The search was again limited to trained search and rescue persons. Between 75-100 of them were out in North Plains looking for any sign of Watterson, who was last seen on Dec. 22.
On Saturday, Dec. 28, Watterson's family provided more photos to the public of the missing young woman.
On Friday, authorities provided a little more clarity about when Watterson went missing in Washington County, although they're still unsure what led to her disappearance.
Watterson was last seen shortly before noon on Sunday, Dec. 22. Washington County Sheriff's Office Detective Mark Povolny said a homeowner reported seeing Watterson with her boyfriend in an area north of North Plains. That area has been the focus of searches through out week.
While the last known sighting of Watterson was late in the morning of Dec. 22, she wasn't reported missing until the night of Dec. 23. Investigators are trying to learn her whereabouts in that 30-hour gap to figure out what happened to Watterson, and ultimately find her.
"That delay is concerning to us and we're trying to put together what happened," Povolony said.

Because of that 30-hour gap, Povolny recognized it's possible Watterson could be in a different area than where the search has been focused. He said it's crucial that people who live north of North Plains check their home surveillance cameras to see if there is a sighting of Watterson.
Watterson was reported missing by her boyfriend's father. He told deputies he believed his son, Benjamin Hunter Garland, and Watterson were hiking in the area when they got separated. Detective Povolny said investigators do not believe the couple was hiking.
In the time between the last sighting of Watterson and her being reported missing, Garland was found asleep in a stranger's pickup truck. The homeowner found Garland on the morning of Dec. 23 "soaked to the bone" in the backseat of the homeowners pickup truck. He said he ended up taking Garland home.
After receiving the report on Dec. 23 that Watterson was missing, deputies went looking for her in North Plains. That night, deputies found a pickup truck that was later determined to be stolen. A short time later, deputies found Garland in the same area. They took him into custody on unrelated charges and warrants, in addition to charges connected with the stolen truck.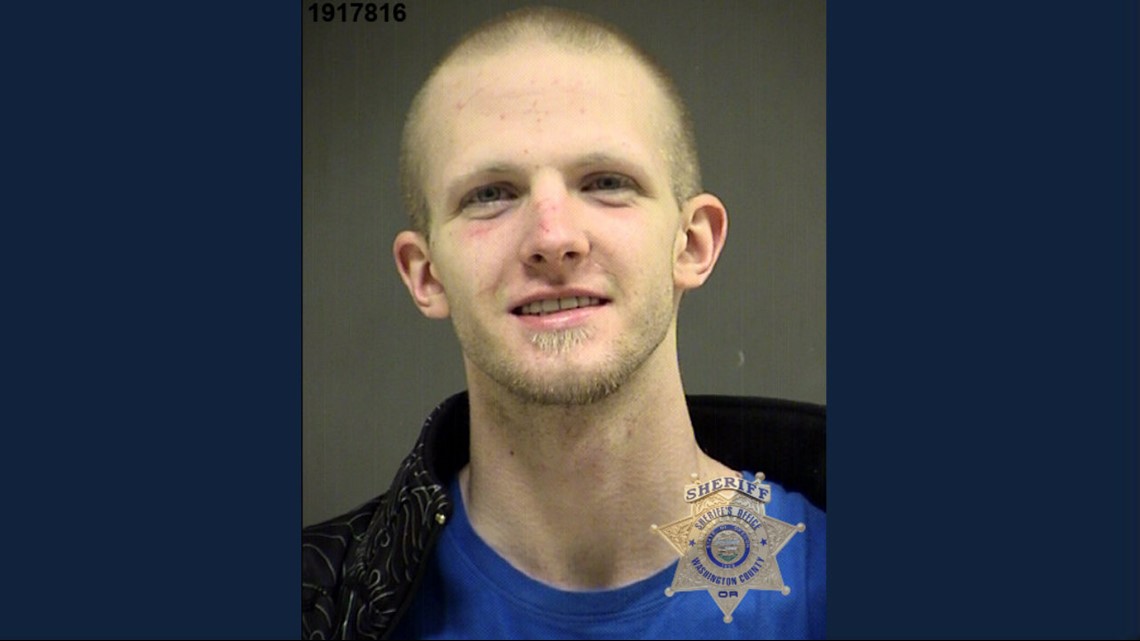 According to officials, Garland gave information that has been helpful to the search.
Povolny did not label Garland as a suspect or person of interest in the case.
"We don't make assumptions of what might have happened," he said.
Earlier on Friday, Misty Watterson, Allyson's mother, said Allyson was with Garland on Dec. 22 and they were visiting a friend. She said their car broke down, they went to get help and somehow got separated.
Allyson is 5-foot-7, 120 pounds and has naturally brown hair that is dyed teal. She has a tattoo of an eye on the front of her left shoulder and has a tattoo of a fairy sitting on a spider web on her left forearm.
She was wearing an orange/yellow colored hoodie, black jeans and brown Calvin Klein boots. She was carrying a red backpack.
Potential clues
The Washington County Sheriff's Office tweeted asking for the public's help which has provided a little more insight into the investigation.
Deputies asked that if anyone was a customer at Reedville Cafe in Hillsboro over the past month and remembered giving an Apple iPhone to Watterson's mother, Misty, to call the sheriff's office at 503-846-2700.
Povolny said investigators are hopeful that if they can track down the original owner of the phone, they may be able to get information about the cellphone provider that could potentially help them get location data to find Watterson.
Attempts to ping Watterson's cellphone have been unsuccessful because it is a wi-fi only phone.
Deputies had previously asked about anyone who remembered getting a knock on their door late on the night of Dec. 22, around midnight, in the search area but later identified that person and learned the tip was actually related to the last time Allyson was seen on Sunday morning.
Search continues
The search effort for Watterson entered its fourth day on Friday. After expanding the search on Thursday when nearly 100 people, including volunteer searchers, roamed through an expanded, heavily-wooded area near North Plains, Friday's search was more concentrated on a certain area with only trained personnel. The search is within an area that has already been scoured.
Washington County Sheriff's Office Search and Rescue coordinator Tony Morris said the decision to refocus the search was made after "interesting items and clues" were found by searchers on Thursday. When asked again on Friday what the clues were, Morris declined to specify.
"Obviously, we're looking for clues and a person. And clues drive us to a direction and that's what we're following," Morris said.
The trained personnel searching for Allyson on Friday included search and rescue teams with the Washington County Sheriff's Office, Multnomah County Sheriff's Office, Clackamas County Sheriff's Office, Columbia County Sheriff's Office and K9 teams.
While Morris recognized the contributions of volunteer searchers in previous efforts, he said it's important that no one go wandering in the search area trying to help.
"We can't have anybody going into our search areas trying to help without contacting us first," Morris said. "Unfortunately, you think you're helping but you're actually not."
If you have any information about where Allyson Watterson might be, contact the Washington County Sheriff's Office at 503-846-2700.