WASCO COUNTY, Ore. — The day after Gov. Kate Brown declared that a wildfire near Maupin constituted a conflagration, residents of Wasco County were watching with trepidation as firefighters worked to keep the fire from spreading toward homes.
Evacuations started on Tuesday west of Highway 197 near Maupin due to the fast-moving wildfire, ordered by the Wasco County Sheriff's Office. Fire officials said it was first spotted shortly before 1 p.m. that afternoon.
As of Thursday morning the Miller Road Fire, alternatively referred to as the Dodge Fire and Juniper Flat Fire, had burned more than 10,500 acres, roughly the size of the city of Corvallis. The fire was located about 13 miles southwest of Maupin and was 0% contained, the Oregon State Fire Marshal's Office reported.
"I think it's crazier than heck," said Steve McCarty, laughing ruefully. He lives close to the fire area. "Billowing smoke ... I thought for sure that everything had burnt down cause it was massive."
Maxine Kelly also lives near the fire area, but she was away from the house when the fire started near Juniper Flat on Tuesday. She recalled trying to rush home by taking State Route 216, only to find that the road was closed.
"Freaky, just a really scary, terrifying experience," said Kelly. "I finally was able to get home about 8 o'clock."
SR 216 has since been reopened, but evacuations remained in place Wednesday. Fire officials confirmed Thursday that at least one home was destroyed as firefighters tried to save it amid high winds and "ember showers."
Kelly and McCarty agreed that they've seen more of these wildfire scares within the past few years, something they don't recall happening with such frequency.
Fire officials said that the high heat, low humidity and steady west winds caused the fire to grow quickly.
"Grass is a fast fuel, it's going to burn quickly," said Sandy Roberts, public information officer for the firefighters on-scene, "and if it's pushed by wind it's going to burn [even more] quickly, that's why it's problematic."
On Wednesday, fire crews were working to assess the fire's footprint and any damage to structures. Roberts acknowledged that the fire was likely bigger than the latest reported acreage because crews had yet to measure the fire area since Tuesday night.
With the Emergency Conflagration Act invoked on Tuesday, Gov. Brown's office said that a Lane County task force pre-positioned in Deschutes County was headed to the Maupin. Since then, firefighters from Clackamas, Yamhill, Polk, Clatsop and Columba counties have joined them in addition to local and state resources.
"I have invoked the Emergency Conflagration Act to make more state resources available to the fire crews on the front lines in Wasco County at the Miller Road/Dodge Fire," Brown said in a statement. "With many fires actively burning across the state and several weeks of peak fire season ahead of us, I am urging all Oregonians to be prepared and do their part to help prevent wildfires — just one spark can light a fire that will quickly spread."
The Emergency Conflagration Act can be invoked under Oregon law when the governor determines that a "threat to life, safety and property exists" due to a fire, beyond the ability of local firefighters to control.
The Blue Incident Management Team from the Office of the State Fire Marshal was scheduled to assume command of the fire Wednesday morning, Brown's office said, bringing with it five more firefighter task forces from counties throughout Oregon. Agencies already on the scene included the Juniper Flats Fire District, Klickitat County Fire District from Washington state, and Hood River Fire.
The Wasco County Sheriff's Office has issued a series of evacuations for the area. The following evacuations are current as of Wednesday morning:
East from Victor Road and Walters Road along the north and south side of State Route 216 to Highway 197.
All of Tygh Valley Road, all of Fred Ashley Road, all of Davidson Grade Road.
East side of Highway 197, all of Oak Spring Road to State Route 216.
All of the city of Maupin, both sides of the Deschutes River.
State Route 216 reopened from Pine Grove to Highway 197 after closing Tuesday due to the fire.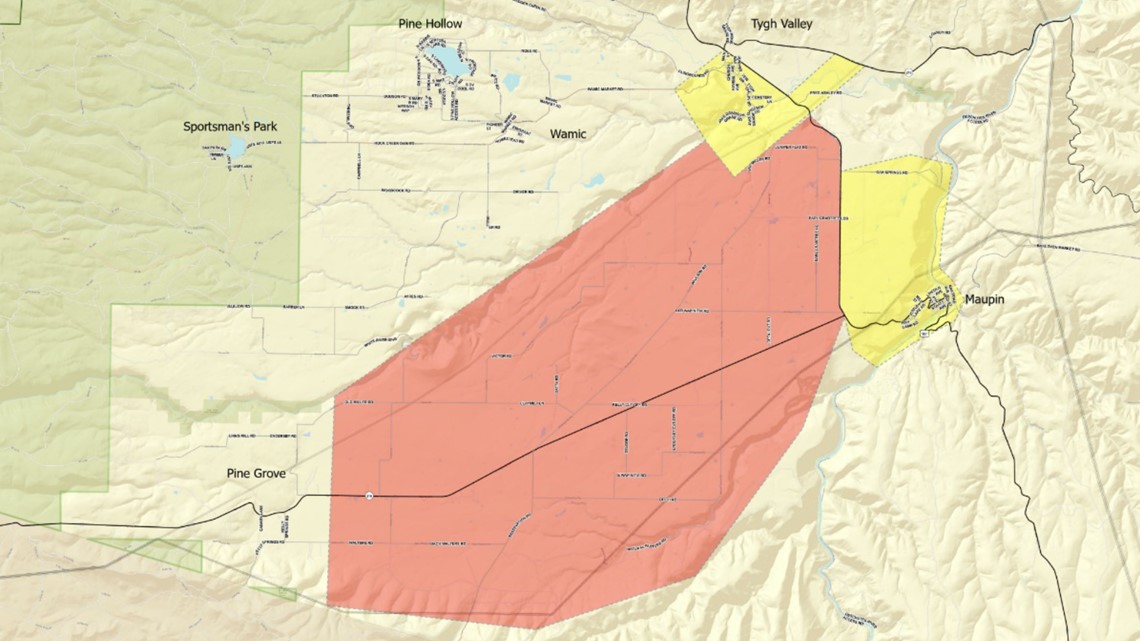 An evacuation shelter was set up at Dufur High School, the sheriff's office said. The Dalles Riders Club is open for horses and the fairgrounds are open for both horses and livestock.
More information on the Miller Road Fire can be found on the Wasco County Sheriff's Office Facebook page.