SALEM, Ore. — An "extremely dangerous" attempted murder suspect who escaped from the Oregon State Hospital is back in custody after he was found in a Portland pond, stuck in mud, Oregon State Police (OSP) reported.
Portland firefighters rescued Christopher Lee Pray from the pond Friday morning, where he said he'd been trapped in mud up to his armpits for more than 12 hours. After he was rescued, he was taken to the hospital where he gave a fake name, state troopers said, but a hospital employee recognized him. Portland police was notified and officers took Pray into custody.
Pray, 39, escaped from the Oregon State Hospital Wednesday night. Authorities said he stole a Dodge Caravan minivan while in leg shackles, a belly chain, handcuffs and a restraint that connects all three together, and then eluded law enforcement during a southbound chase on Interstate 5, troopers said. Authorities said they ended the pursuit on I-5 due to safety concerns.
On Friday morning, Portland Fire & Rescue and Portland police responded to a report of a "potentially deceased person" in a pond near North Force Avenue and North Victory Boulevard in Portland, OSP said.
"When our crews got there, they found that this person was actually not deceased," Lt. Laurent Picard with Portland Fire & Rescue told KGW. "They were alive. And they were about 75 feet out into this pond that had about 3 to 6 inches of water … and this person was up to their neck in mud."
Portland firefighters tried a number of different methods to reach the man, but all of them failed. Finally, they used a ladder truck to get out over the pond so that they could throw him a rope. Firefighters then pulled him up out of the mud and dragged him to shore.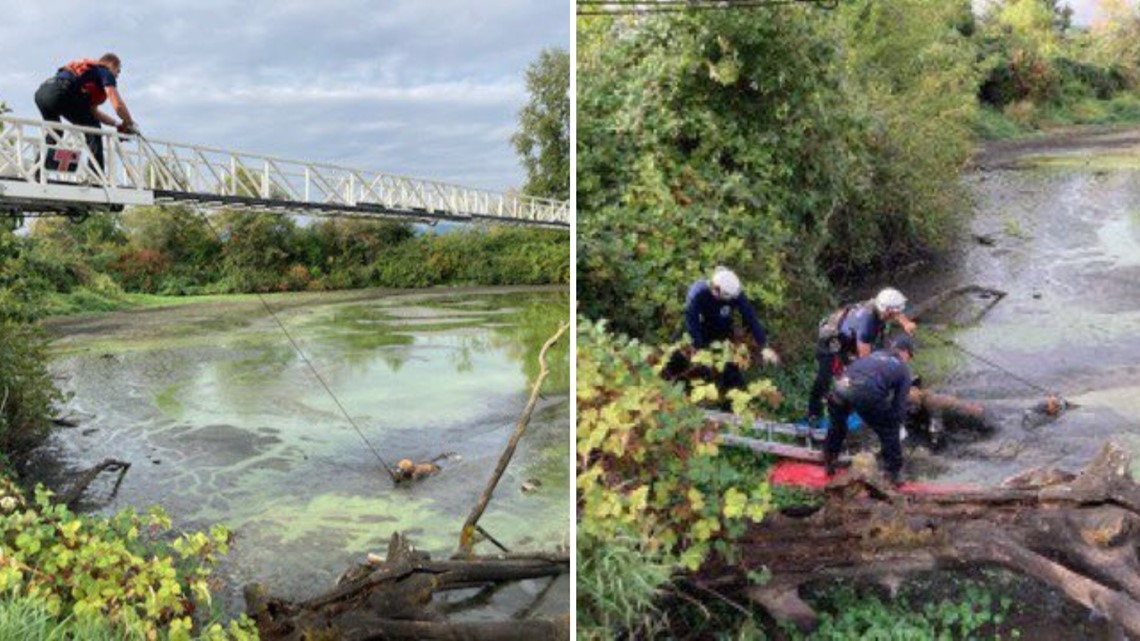 "When we got this individual out of the mud, we found that he actually reported being stuck in the mud for over 12 hours," Picard said. "So he's very fortunate that he was even alive at that point ... He could become hypothermic — which can kill somebody — and the other thing is, not only was he up to his neck in this very thick mud, he was also in a semi-prone position — meaning face down, almost — so his head was in danger of going into the mud and causing suffocation."
The man was taken to Legacy Emanuel Medical Center for an evaluation, where he gave a fake name, but a hospital employee noticed that he resembled Pray, state police said. Staff notified Portland police and officers were able to confirm his identity. Pray was taken back into custody.
"We want to thank the vigilant medical personnel who recognized Pray and alerted the authorities," OSP said in a news release.
"We had no idea who this individual was," Picard agreed. "And we (give) full credit to Emanuel hospital staff for recognizing him and notifying the police."
According to OSP, the van that Pray stole has not yet been recovered.
"No speculation on why this individual went into this mud pond," said Picard. "I've been on this job for 27 years … I really cannot recall the last time that I've heard of this happening."
Following his escape on Wednesday night, the Oregon State Hospital issued a statement Thursday afternoon that did not name Pray but stated that "a patient is on unauthorized leave" from the hospital and said the hospital is conducting an internal investigation.
They said the person was admitted Wednesday and got into an altercation with another patient that night, leading to the person needing to be taken to a local emergency room for medical care.
"Upon returning to OSH at approximately 10:30 pm, the patient was able to gain control of the van and drive away," the hospital said.
OSP is investigating Pray's escape and plans to provide additional information in the coming days. Pray was awaiting trial for attempted aggravated murder among other serious charges.