PORTLAND, Ore. — With the start of his anticipated rookie season just weeks away, Trail Blazers guard Scoot Henderson is embracing his new home in Portland.
"Living here, it's pretty dope," Henderson said. "All the people show love and support. It's the best fans, I see why they say that."
It didn't take long for Portland's passionate fan base to get excited about Henderson, following his NBA Summer League debut, when he scored 13 of his 15 points in the first quarter against the Houston Rockets.
"Being on that floor, being on that stage, everybody's eyes on you, you prepare for that moment your whole life almost," he said.
Two months later, the 19-year-old from Marietta, Georgia is settling into life in the Pacific Northwest and he's helping others along the way. He hosted his first charity event since being drafted by the Blazers at Indochino in Southwest Portland. Henderson provided custom suits to local teens and young adults with big dreams.
"One thing that motivates me to give back is this is my second home," Henderson said. "Sometimes you just need a little help, a little push, an extra push. That's what we're here for. That's what I'm programmed to do, give back and help others and kind of uplift people."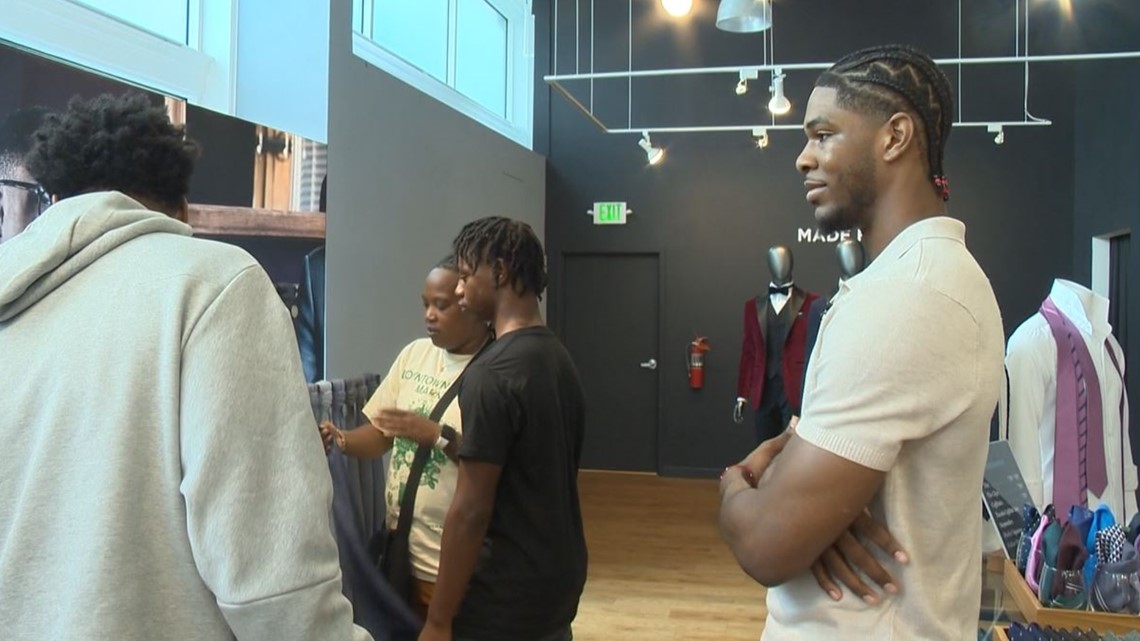 The event was dubbed "Scoot's Suits." It was part of a greater initiative built on his mantra, "Overly Determined to Dominate." His sister and creative director, China Henderson Peters, is proud to see him take care of others.
"Just the type of person he is, I'm not shocked," she said. "Even though he's younger, he's always the first to share, always the first to have your back."
Henderson's suit on draft night was also designed by his sister, China. Birth stones were placed on his coat to represent each member of his family. Henderson has six siblings.
"My family means everything to me, the biggest support system I could possibly have," Henderson said. "Being a fresh new rookie, with the support of them, I feel like I can do whatever and I only have to worry about what I do on the court."
He's focused on his rookie year with the Trail Blazers, setting a few goals for himself.
"Some of my goals this offseason is just to stay in shape, build that relationship with my teammates, especially during training camp, just to show that I work hard and that's never going to go away," Henderson said. "For the season, win rookie of the year and have a positive season."
"Dame's just that type of person, just to be real at all times," Henderson said. "I feel like any situation that happens is not going to change our relationship, so if I do need somebody, big bro or whatever, I'll still hit him and be like, 'what's up?'"
"He just said, 'don't worry about the last shot.' I asked him how to get over that hump because I was going through a slump at the time," Henderson said. "'It's the next shot,' he said, 'you do this for a reason, you're here for a reason.' That stuck with me forever."
It's one of many lessons he's learned along the way. Boston Celtics star Jaylen Brown is another NBA player Henderson said he's been able to get advice from.
"I was 16, at AAU practice, and Jaylen Brown came to the gym. Just to see how he dominated us in workouts and stuff like that, it really inspired me," Henderson said with a smile. "He sat there and talked to me. I was really inspired and at that point, I think that really just boosted my confidence like, 'I can do this.' That was huge. I think just to be in this position now, help in a different field, different location or whatever, I think it's still positive."
It's motivation Henderson is using to pay it forward, and he's following through with that mission in Rip City.