PORTLAND, Ore. — When neighbors agreed to welcome in the city's first large-scale sanctioned homeless camp to their corner of Southeast Portland just a few months ago, the deal stipulated that no outside camps would be allowed within 1,000 feet of the site. Nonetheless, homeless camps are already beginning to pop up within that perimeter.
Portland opened up the first of six planned "Temporary Alternative Shelter Sites" in July, with this first example sited in the Clinton Triangle off Southeast Powell Boulevard and Gideon Street. According to Mayor Ted Wheeler, the city has funding arranged for the first three of these sites.
Three months before the big day of the site's opening, city officials met nearly a dozen times with the surrounding neighborhood associations, ostensibly to address concerns about the site and draft a Good Neighbor Agreement. Part of that agreement prohibits other homeless camps within 1,000 feet of the site.
California-based nonprofit Urban Alchemy, the group hired to operate the site, was also tasked with cleaning and patrolling the perimeter. This week, tents and trash were accumulating in parts of that area — although not all of it is within the city's power to change.
"Up here is a lot easier, just because you can catch transit a lot better," explained Crystal, a homeless woman who set up camp nearby.
Crystal knows the area well — she's been homeless in Southeast Portland for five years.
"Like all the way up to 90th and back down," she said, describing her migration over that period.
Crystal's latest spot is along the train tracks that run next to the city's mass shelter site. She said she has a friend who is staying inside the camp.
"They have a lot of cool stuff in there, like heaters, and they have air conditioners," she added.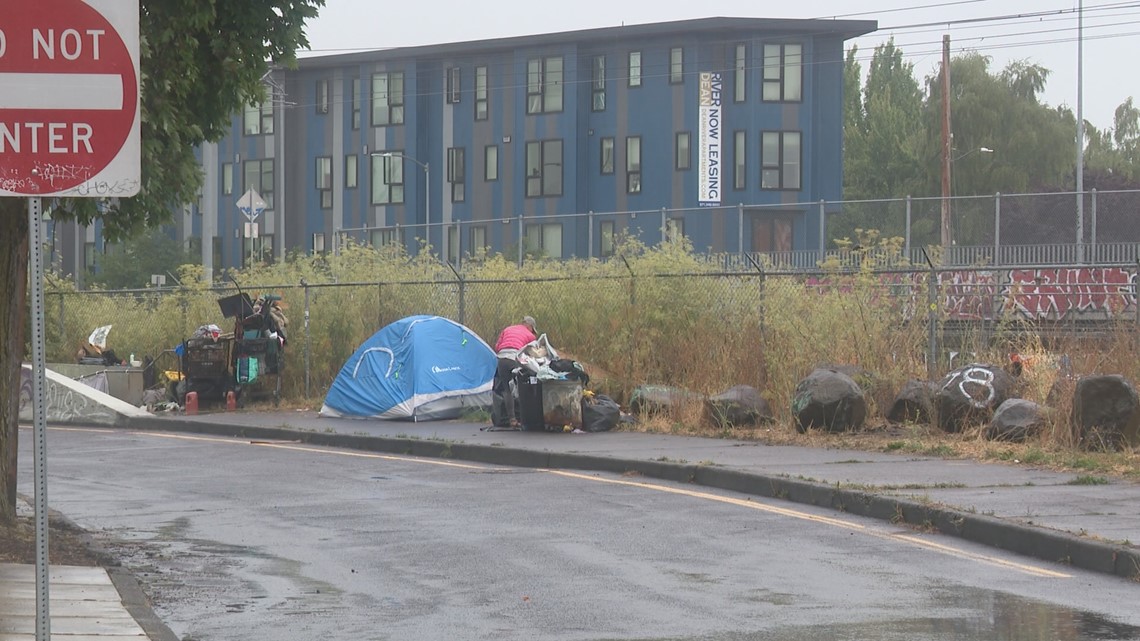 Despite those crucial amenities, Crystal said that she would rather camp about 200 feet away from the site. She's not sure she'd be comfortable inside.
"It is kind of scary, just ... I don't know, I have high anxiety so I don't know how it is for normal people, but for me it's scary ... it's a scary thing," Crystal said.
KGW told Crystal about the agreement that no camps be allowed within 1,000 feet of the site. She said she had no idea.
"I didn't know that rule," she said. "It's kind of stupid, because if they wanted to get more homeless off the streets you'd think they would maybe reverse that law or that rule and have it where you would want to set up your tent within 1,000 feet of them so they could know where you are and get you on a list or something instead of the reverse of that, you know."
Crystal said that an outreach worker tried to get her into the site, but they lost contact with one another.
But for some who live and work close to the site, it's camps like Crystal's that are putting a strain on the neighborhood. Duane Brown works at a wholesale company off Southeast 17th Avenue, and he's had his fill of dealing with the problem.
"I'm almost numb to the homeless situation because I've been sworn at, I've had to do all the nasty stuff that comes with the homeless population," Brown said.
Complicating the issue here in particular is the precise locations of the camps, including Crystal's. They're not located on city property but on private railroad property, meaning it's up to the railroad to see that they're removed.
"The city says, 'Well, we can't touch it, it's railroad property' and the railroad says 'I don't have the resources to do anything about it,'" said Brown. "OK, so now what do we do?"
Union Pacific Railroad told KGW in a statement that it is working consistently to address illegal camping issues on its properties across Portland.
"Union Pacific Police recently contacted these campers and told them they were not allowed on railroad property," the company said. "Homelessness remains an ongoing societal challenge across Oregon and Union Pacific is committed to working with local, state, and federal agencies to address the issue as quickly as possible and in compliance with the law."
On Thursday, KGW saw a campsite removal notice along one set of the tracks, but it was from TriMet and dated August 29.
Union Pacific said it relies on people to report "illegal trespassing or camping" on railroad property through its online portal. But for residents of the area, it can still be tough to navigate the different jurisdictions.
"That tug-of-war back and forth happened quite a bit," said Brown. "It's gotten better, we have contact names with the railroad and the city, and we can email — the whole block gets together."
In response to an inquiry from KGW, Mayor Wheeler's office said that the 1,000-foot "no camping" rule around the site was supposed to reduce the burden on the surrounding community. Regardless, the policy doesn't override jurisdiction, and the city can't do anything about the camps on railroad property.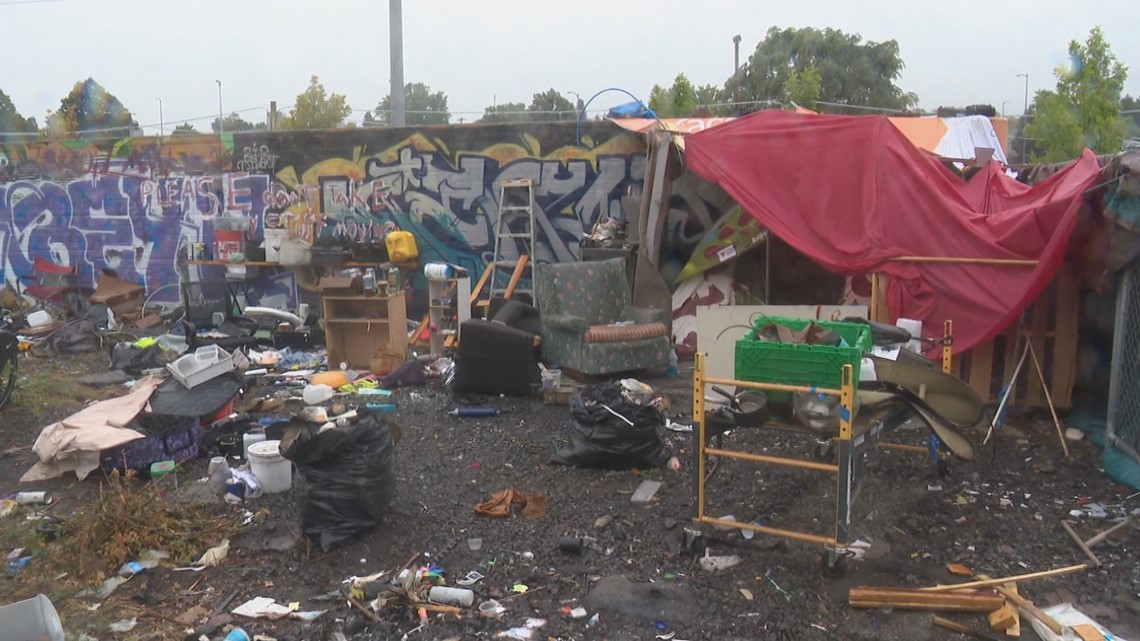 Wheeler said he is sympathetic to the neighbors who are frustrated, and he's been working with railroad company officials to respond more quickly to camps along the train tracks.
"I think that the city needs to ramp up those resources to get to that level, and I don't think they're quite there yet," Brown said.
According to the city of Portland, outreach workers from Urban Alchemy walk through the surrounding neighborhoods daily, connecting with homeless people outside of the shelter site. The city wants business owners to call Urban Alchemy if they have concerns.
But Urban Alchemy isn't actually tasked with doing campsite removals. They can engage with homeless people around the site and attempt to connect them with shelter, but it's the job of Portland's Impact Reduction Team to remove camps. The mayor's office said that they are building a weekly security meeting to include the nonprofit, Portland police, TriMet and railroad company officials to discuss camping issues like these.