PORTLAND, Ore. — About two dozen nurses stood outside the Providence Home Services building on Northeast Halsey late Monday morning, lined up to voice their displeasure with Providence.
"It's pretty discouraging to have to stand outside and hold a sign in order for the employer to do what's right," Pax Schneider said. "It shouldn't come to that."
Schneider is an occupational therapist for Providence and one of the approximately 1,800 nurses from Providence Portland, Providence Seaside, and Providence Home Health and Hospice who walked off the job Monday and began a five-day strike.
"I certainly hope this makes a difference," Schneider said. "It seems like we're kind of head-on being challenged now, like kind of go ahead and do your thing and see you on the other side."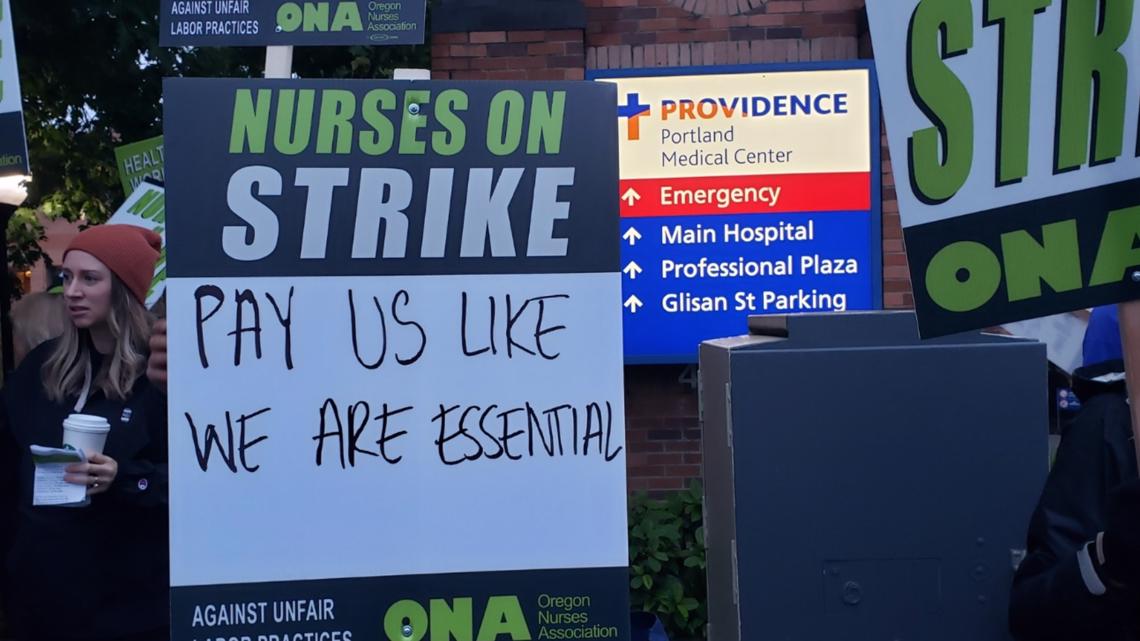 Schneider and his cohorts want higher wages and better health care, including mental health care and more paid time off and sick leave.
Providence officials said their latest offer to nurses included 30 additional hours of PTO over three years, as well as a 12% raise in the first year of the contract and additional 3% raises in the following two years. Providence also said the average nurse already makes $128,000 per year.
The union pushed back in a news release last week, arguing that the dispute is about paid time off in addition to salaries, and that $128,000 per year is the top of end of the current pay scale, not the average.
"This is a challenging time for them, for our nurses, for our community," Jennifer Gentry of Providence said. "For all of us, so it'll be important as this strike concludes (that) we come back to the table, are able to negotiate a fair contract and move into healing and reconciliation."
Gentry said that while Providence did hire replacement nurses to cover for the hundreds of nurses who are striking, there is still a noticeable impact to Providence Seaside Hospital and Providence Portland Medical Center.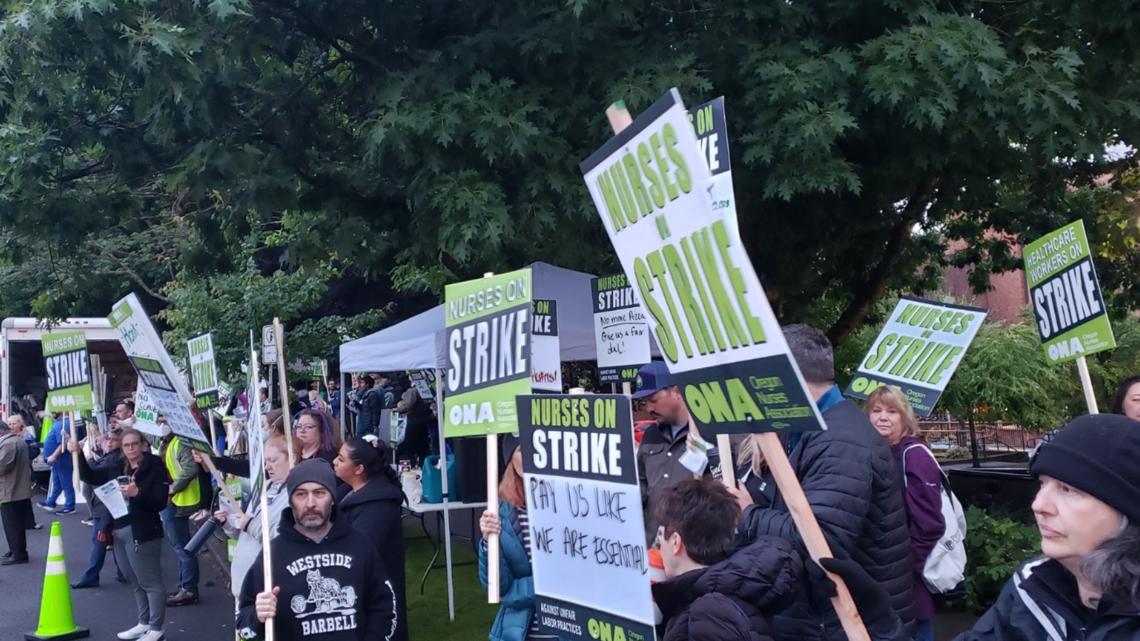 "PPMC has reduced capacity by about 25% from normal operations, while Seaside has reduced capacity by 50%," Gentry said.
As for Providence Home Health and Hospice, Gentry said there will be no interruption in care. She said replacement nurses will work in that space, too. Pax Schneider said he wonders how successful that will be.
"We have a lot of skilled clinicians and nurses, right, so what I do with patients, another person can't show up and do," Schneider said. "It doesn't work like that, and I don't think our leadership understands that piece."
The strike is slated to end late Friday. Providence has previously stated that it will not resume bargaining with the union until the strike concludes.
In a news release late Monday afternoon, Providence said its operations during the first day of the strike had gone "very smoothly — as expected." The news release also addressed an email that had been sent to unionized staff, warning them that Providence would return to the table with a less lucrative offer.
Providence said its most recent contract offer included three provisions — retroactive pay, a ratification bonus and the 30 additional hours of PTO — that it had warned the union up front were contingent on a strike not taking place.