PORTLAND, Ore. — Protesters demanding reforms in police use of crowd control clashed with security officers at Portland City Hall after Mayor Ted Wheeler shut down a Wednesday morning City Council meeting.
The chanting protesters prompted Wheeler and other council members to walk out. The council resumed the meeting in a conference room, providing a live stream but not letting the public enter.
Protesters then gathered in the foyer of the Fifth Avenue front entrance to city hall. A steady diatribe against police via a bullhorn continued for some time. Private security guards and city employees in civilian clothes slowly escorted the group out of the foyer. Uniformed officers present stayed in the background.
As the protesters were directed out of the building, police said two security guards were assaulted and one protester threw a glass jar to the ground.
Neither guard suffered a serious injury, police said. No arrests have been made in connection to the assaults.
Two protesters were arrested for trespassing. Police said the two were lying on the floor and refused to leave the building.
The protesters were demanding change after police used flash bangs and officers in riot gear pushed counter-protesters during an Aug. 4 Patriot Prayer rally and counter-protest.
Pictures of a man's bicycle helmet with what appears to be a "flash bang" lodged in it are at the center of the controversy. The man said if he had not been not wearing the helmet, he could have been killed.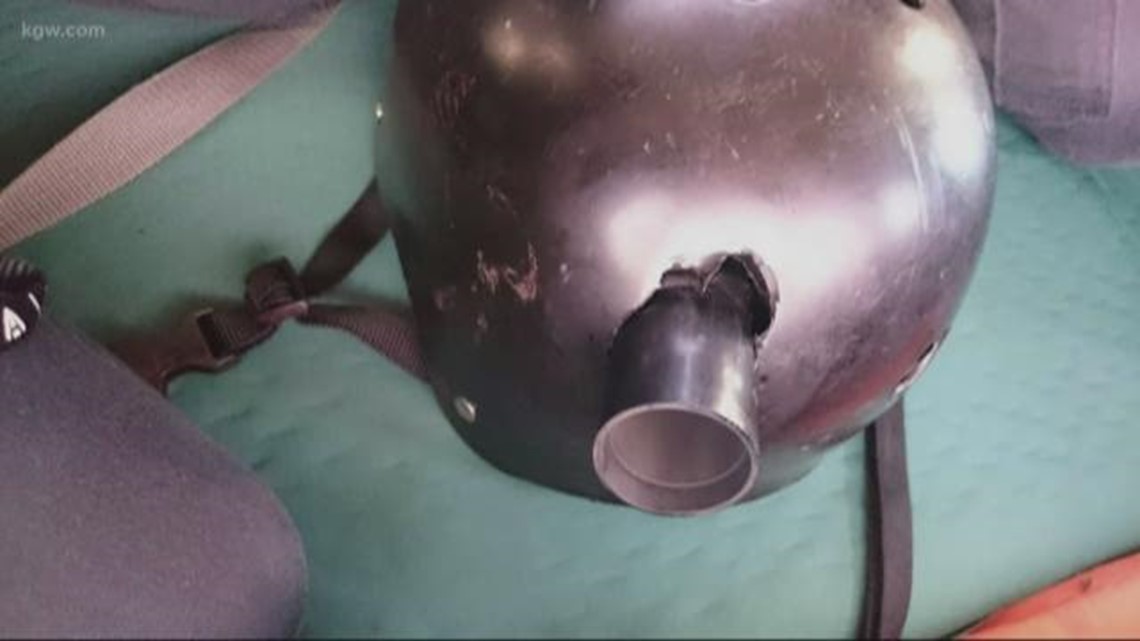 But some question whether the image is legitimate. When police saw the photos, they said it is not consistent with their understanding of how that aerial distraction device works.
"If that image is in fact as it as it appears, that would not be consistent with what we would expect that device to do," explained Portland Police Bureau Assistant Chief Ryan Lee. "We need to understand why and how, if that is indeed an accurate image."
Police are now investigating the claim. As of Wednesday, police still haven't made contact with that man and are unable to confirm his injuries were caused during the protest. Those close to the man said the photo is real when KGW asked, "Is he faking this?"
"Absolutely not, no, this is absolutely and entirely a real thing and it's a tragic thing and it's an event that community members in Portland should be concerned about because this could've been anybody," explained David Mason who is organizing the group of people who headed to Wednesday's city council meeting.
Mason said images like the one of the man's helmet are why he is speaking up for police reform.
"We would like to see a removal of use of these crowd control agents that are extremely dangerous," Mason said.
The group also plans to demand a larger independent review on how and when police use force.
The Associated Press contributed to this report.