Editor's note: This story was published on October 1, 2017
Tent City, USA is a KGW investigative project that explores who Portland's homeless tent campers are and what led to the proliferation of tent camps across the city. Tent City, USA was reported and produced by KGW's investigative team: Kyle Iboshi, Maggie Vespa, John Tierney, Sara Roth and Gene Cotton. Infographics and multimedia design by Jeff Patterson.
There is an 18-mile paved path that runs along I-205 from the Columbia River in Northeast Portland south to Clackamas.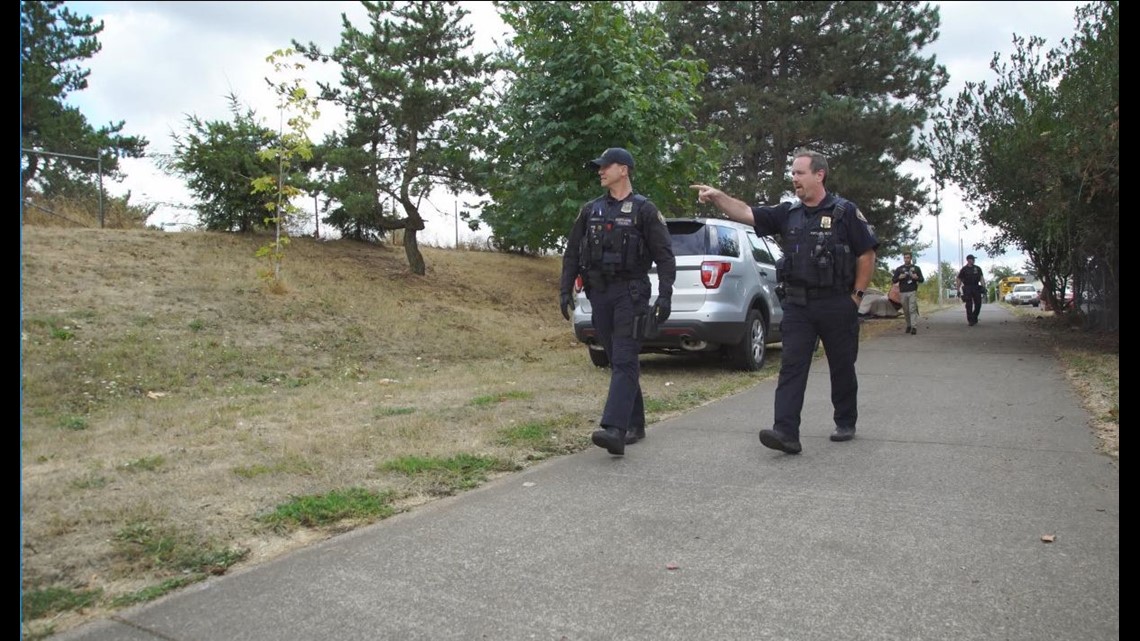 It's not the prettiest path in Portland with several sections that run right along the interstate. But it's the main route for cyclists and pedestrians who want to avoid roads while riding or walking north and south through that part of the city.
Many days the path also plays hosts to a string of homeless camps.
The "multi-use path," or MUP, as the path is known, is in many ways representative of the homeless problem that can be found across of Portland: Campers set up their tents out of desperation; many of the camps are littered with garbage and syringes; neighbors complain about drug use, trash and petty crime; police officers try to keep order on the path while adhering to a complex web of rules and laws that govern how they interact with homeless people.
On a Wednesday afternoon in early September, Portland Police Sergeant Randy Teig drove along Southeast Division Street in his unmarked grey patrol SUV. As he approached the place where the MUP crosses Division he flipped on the flashing lights hidden behind tinted glass and turned onto the trail.
Teig joined a small convoy of other officers from the East Precinct Neighborhood Response Team with lights flashing, waiting along the trail. They started southward, occasionally pulling out of the way for a cyclist to pass.
Within a few minutes, Teig and his team had pulled alongside a row of tents erected just a few feet off the bike path. The tents were only about 30 feet from nearby houses – one of which displayed a "for sale" sign in the front yard.
Teig wasn't forcing homeless campers to leave. That can only be done after notice is posted for at least 24 hours. But he was trying to maintain some law and order along the public space.
"We're running warrants and talking to people," Teig explained. "Dangerous people are being removed and taken to jail on charges or warrants or whatever legal justification. None of it is ever connected to their status as homeless or campers."
That last line is important. Teig was illustrating the fact he's following an Oregon law passed in 2015 that prevents police officers from targeting someone based solely on the fact they're homeless.
In other words, officers can't profile someone for being homeless in the same way they can't profile based on race, religion or sexual orientation.
That law is just one of several major legal and political decisions that shape how police and government officials deal with homelessness in Portland.
In fact, there are so many laws and court decisions governing the treatment of homeless people and camps that Teig wrote a 43-page guide to understand them all. He hands the guide to upset neighbors who complain that police aren't moving fast enough to remove a homeless camp in their neighborhood.
"They start some kind of narrative around that. It could be, 'The camps are here, the police's hands are tied, they're completely incapable of doing something around it.' All of which is a myth," Teig explained. "It's complicated. It's difficult. So what we try to do is let them have the facts."
There are several mileposts that stand out when you look at the policy and legal decisions that shaped the current state of homeless tent camping in Portland. Perhaps none had a bigger impact on than a lawsuit known as Anderson v. City of Portland.
The impact of Anderson v. City of Portland
Marlin Anderson was homeless and sleeping in Delta Park in North Portland on a summer day in 2007 when a Portland police officer approached. It wasn't the first time the officer had stopped Anderson and warned him not to camp in the area.
The officer cited Anderson for unlawful camping. He pleaded not guilty.
The charges were later dropped, but that didn't end the legal battle. Anderson joined several other homeless plaintiffs who sued the City of Portland in 2008, claiming their constitutional rights were violated.
The city and plaintiffs eventually agreed to settle the lawsuit in 2012. The plaintiffs only received a few thousand dollars but the agreement laid out a strict set of rules the city had to follow when clearing homeless camps.
Campers must be given notice at least 24 hours and not more than 7 days before a camp is cleared
Confiscated property must be held for at least 30 days
Agencies must take photos and keep a list of confiscated property, although backpacks may not be opened.
Campsites must be videotaped after items have been confiscated
Campers will not be moved at night unless an emergency requires it
After the Anderson agreement, police bureau leadership decided their officers should not be the ones clearing campsites. It was too logistically challenging and there were too many legal pitfalls.
Clearing a single camp could yield hundreds of pounds of property that had to be photographed, cataloged and stored alongside sensitive evidence from other criminal cases.
Police officers like Teig still deal with criminal issues at camps but the city hired a private contractor, Pacific Patrol Services, that actually clears illegal camps and catalogs seized property.
Teig said Portland's homeless problem grew in the months and years after the Anderson settlement.
"There was so much confusion about what we can and can't do," he said. "We got that settlement agreement, we started working to figure out how we're going to deal with this. That took time. Meanwhile, the police, [the city] aren't doing anything. There was this message out there that cops don't care, the police aren't doing things, you can camp out there."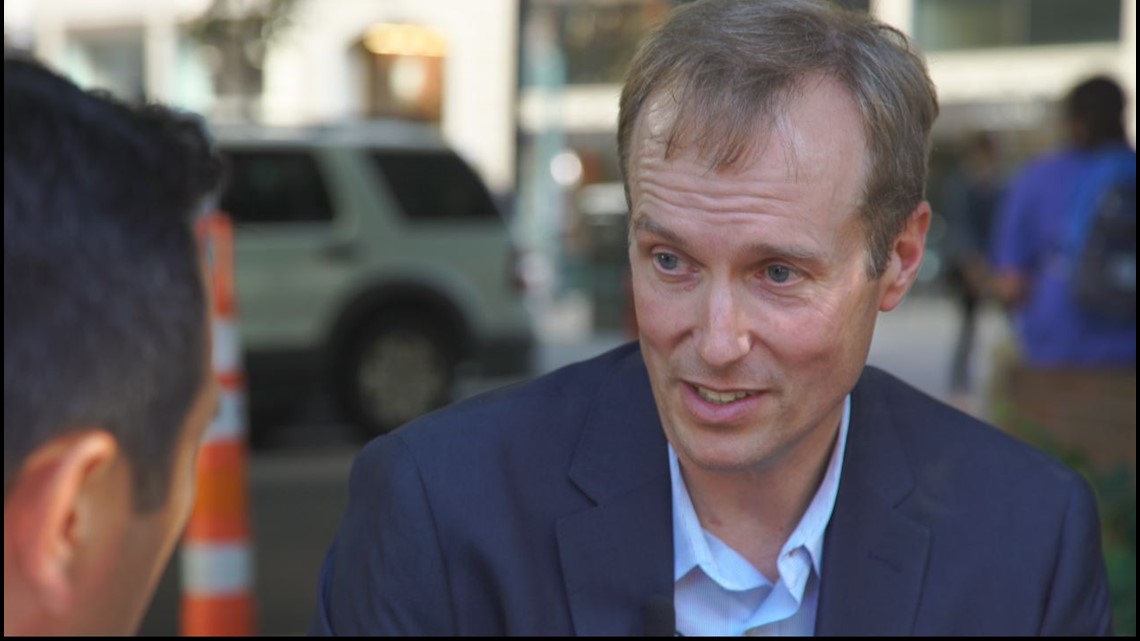 Marc Jolin is the director of the Joint Office for Homeless Services, which is run by the City of Portland and Multnomah County. He acknowledges there are many forces at play that often contradict each other.
"If someone sets up a tent they have some protections in place under legal settlements that have been entered into over the years. There's a strong legal argument that absent an alternative, someone who is homeless needs to have the ability to have a safe night's sleep," Jolin said. "Those two things come together. It's both not legal and protected at the same time, and that means there aren't simple answers."
Eventually city officials started to sort out the best systems to implement the rules laid out in the Anderson settlement. The city created a system called "One Point of Contact" to report and coordinate issues with homeless camps, which limited confusion.
Even as they figured out a system to deal with problem camps, city and county officials still struggled to curb the larger problem.
In early 2016, then-Mayor Charlie Hales instituted a policy known as "Safe Sleep." It allowed homeless people in small groups to set up sleeping bags on city sidewalks between 9 p.m. and 7 a.m., and set up tents on other city-owned land.
The policy was intended to give people a place to sleep undisturbed at a time when shelters were at capacity. But it led to mass confusion about where people could set up tent camps and when.
"It created a lot of confusion," Teig said. "Officers did not know what they were allowed to do. What we can't have is officers not knowing what they're allowed to do. We can't have that."
Instead, Teig said officers simply stopped enforcing camping rules, even during the day when the Safe Sleep policy said erecting tents was not allowed. He described the policy as creating a "legal quagmire."
Courts in Oregon and elsewhere have ruled that homeless campers have legal protections under the Fourth Amendment when governments allow them to camp on public property.
"It creates this thing called acquiescence law. If we acquiesce and say, 'You can stay here,' then at some point they get to stay," Teig explained. "For me to make them leave, I have to evict them. If I want to search a tent I have to get a search warrant. It becomes very complicated and I just think when he did that policy that he didn't anticipate that problem."
Jolin said the city saw more tents in the wake of Safe Sleep.
"The level of confusion it created and the challenges around creating real accountability on the ground for the choices people are making led to a proliferation of tents in places we hadn't historically seen them," Jolin said. "They became a lot more concentrated in a lot of situations."
Hales said he was traveling and not available for an interview to discuss his decision-making process around Safe Sleep; however, he did email a brief statement.
"Arguing about Safe Sleep is a sideshow at best," Hales said.
He pointed out that homeless numbers are up across the West and that "Portland has managed better than most."
Safe Sleep was ultimately rescinded in August 2016 after six months in action. Over the past year, both Jolin and Teig said they've worked to help campers while also explaining that camping is not allowed. That assertiveness helps make it clear the city is not acquiescing any land to campers.
Portland's growth compounds the problem
Jolin said the proliferation of tents after Safe Sleep has been compounded by a lack of places to set up camp in a growing city.
"There are fewer out-of-the-way places if people want to live in a tent," he explained. "As communities have gotten more developed – South Waterfront, Pearl District – areas there were historically available to folks to camp and not generate concern from the community, those are fewer and farther between."
Portland's ongoing struggles with affordable housing also leads to more people living on the streets.
"We have a tremendous shortage of affordable housing for some of our most vulnerable people," Jolin said. "On any given night we've got 1,600 or more people sleeping outside. And many of those are the most disabled in our community."
Multnomah County has found that 70 percent of homeless people self-identify as having some type of disability, including mental illness. Many don't have any other option but to pitch a tent.
"Until we're able to offer a quality place to live to all those folks, some of them are going to be outside," Jolin said. "If they're going to get a tent some of them are going to use it because it offers them some protection from the elements and a little bit of privacy."
Current Portland Mayor Ted Wheeler said he hears from Portlanders about homelessness more than any other issue.
"Our city has been inconsistent and I would even argue ineffective in addressing the tent issue," Wheeler said. "I came in and said, 'I do not support tent camping as a matter of policy.' I don't think it's a humane way to treat people with addiction or mental health issues."
The city and Multnomah County have together since 2015 opened 650 new shelter beds that don't have as many rules governing who can enter and when.
County officials said they've increased their efforts to listen to feedback from homeless people, including reasons why they might not want to enter a shelter.
The city council on Oct. 4, 2017 also voted to extend the state of emergency for housing and homelessness, which was originally implemented in 2015 under Hales. The emergency is supposed to free up more money to deal with issues around homelessness and affordable housing.
Jolin said the goal continues to be ending tent camping in Portland, but city and county officials must first create better options for people who find themselves in a tent each night.
"They could come into the right kind of shelter or they could move into permanent housing," Jolin said. "Until that time, we as a community are going to continue to have these challenges."