VANCOUVER, Wash. — The bond between dogs and their person is undeniable. Dogs are always there when needed, but in Tony Tompkins' case, he and his golden retriever Budley spent three weeks apart this summer while Tompkins was in the hospital.
"Missing Budley of course was the worst thing of all," said Tompkins, 75. "I never had kids so when Budley came along it was like my own child. I love him so much I threatened to walk out of the hospital at one point."
Fortunately, that didn't happen. Instead, Tompkins recovered in the hospital knowing Budley was in the hands of someone who cared — someone Tompkins had never met.
"I'm so grateful," said Tompkins.

Medical Emergency
It started when Tompkins suffered a medical emergency at his home in Vancouver. It was a throat injury that led to severe internal bleeding. Tompkins called 911. On his way to the hospital he picked up his cell phone one more time.
"In the ambulance I texted my walking companion Mary Ellen to make sure [Budley] gets out for a pee because he holds it," shared Tompkins.
Mary Ellen was new to the neighborhood when she met Tompkins out on a walk, last winter.
"We've been walking every day since," said Mary Ellen, who was happy to help Budley.
"I got a text at 3 in the morning: 'Please, when you wake up come and let the dog out,' recalled Mary Ellen. "When I opened the door this dog exploded out, he was crying this heart wrenching… it sounded like in dog language 'Oh my gosh I'm so scared! My Tony's so sick and then these strangers came in the house!'"
Meanwhile, things went from bad to worse for Tompkins. At the hospital, he suffered a stroke. It was clear that Budley was going to need a place to stay for quite some time. Looking for advice on what to do, Mary Ellen called Newslin Heiller, someone she'd met at the local dog park.
"I asked her if she knew any good boarding kennels and she said basically, 'Why? I'll take him!' It was like an answer to prayer, it was a miracle."
Stranger to the Rescue
Heiller has a dog of her own, a black lab named Buttons.
"When he [Budley] got to my house I told Buttons he was his cousin," said Heiller. "But by the time they left they were brothers."
Over the course of three weeks, people and pets (virtual strangers) united to help each other out.
"Thank you so much, Newsie [Heiller's nickname]," said Tompkins, after arriving home from the hospital and reuniting with Budley.
"It just makes me so happy, mostly to know that you're home and you're ok," replied Heiller.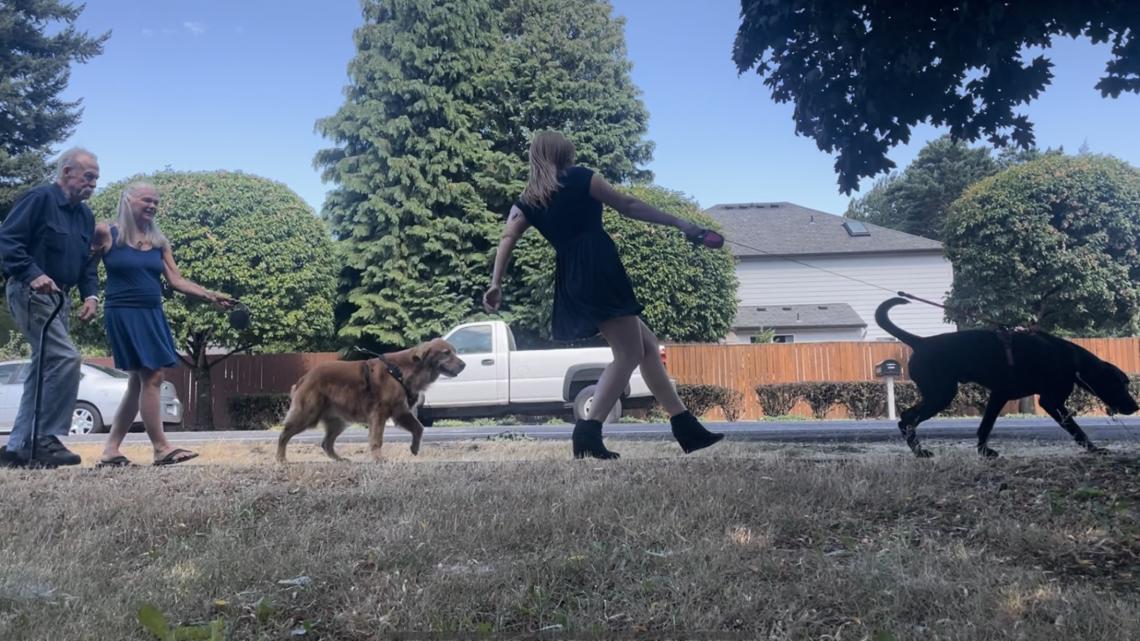 This story is part of our new series, Pacific Storyland. From the ordinary to the extraordinary, we'll bring you the most heartwarming and inspiring stories from where you live. Know someone you'd like to see featured? Let us know! Email us at pacificstoryland@kgw.com or text your story ideas to 503-226-5088.