PORTLAND, Ore. — On Oct.22 near the community of Rufus, which is east of The Dalles, a driver spotted a man in dark clothing walking along Interstate 84 late at night and called police.
Oregon State Police Trooper Jason Mitro caught up with the man to see where he was headed.
"He seemed like he was in a hurry to move east," Trooper Mitro said, "I offered to give him a ride to Arlington, which is almost to the end of where my patrol area was."
That man was Marvin Thompson. He was trying to walk or hitchhike the 101 miles left of his journey to the Umatilla County Courthouse in Pendleton.
The average person walks about 3 to 4 miles an hour and at that rate, it would've taken Marvin Thompson more than 25 hours to get to his court date 101 miles away.
It's unclear where Thompson started or how long he had been walking before Mitro gave him a ride to Arlington 30 miles away.
It was around 10 p.m. at night and Thompson had a court appearance for a probation violation resulting from a previous DUII in 2017.
His license was suspended, so instead of driving illegally, he was walking.
In Arlington, Trooper Mitro met up with Gilliam County Sheriff Deputy Anthony Redden-Pickett. The deputy had been listening to Mitro on the radio as he was headed to a gas station in his county.
"Unfortunately, everything closes down at 10 o'clock. So we were like, we'll go over there, see what they need. If they need to get to the next leg of their journey," Redden-Pickett said.
That next leg of the journey took both the deputy and Thompson from Arlington to Boardman, 27 miles east.
"Essentially, after I just let Marvin out of the car, he just hightailed it, destined like he was on a mission," Redden-Pickett said, "He just kept on walking."
From Boardman to Pendleton is another 46 miles. It's unclear how Thompson got to Pendleton, but he made it with an hour to spare, Trooper Mitro was told.
Thompson's ride back to Portland never showed up and his journey to Pendleton was ending the same way, on foot.
Friday night, Morrow County Sheriff Sergeant Braun picked up Thompson and gave him a ride to Arlington where he met back up with Deputy Redden-Pickett.
"We just started talking as soon as he got in," Deputy Redden-Pickett said, "It was like 'Hey man, how's it going? He was like, 'I made it to my court date.'"
The Gilliam County Deputy drove him to Biggs Junction, where Sherman County Sheriff's Deputy Paul Yoon was waiting. The three snapped a quick selfie and the Yoon and Thompson were off to The Dalles for the next leg of the trip.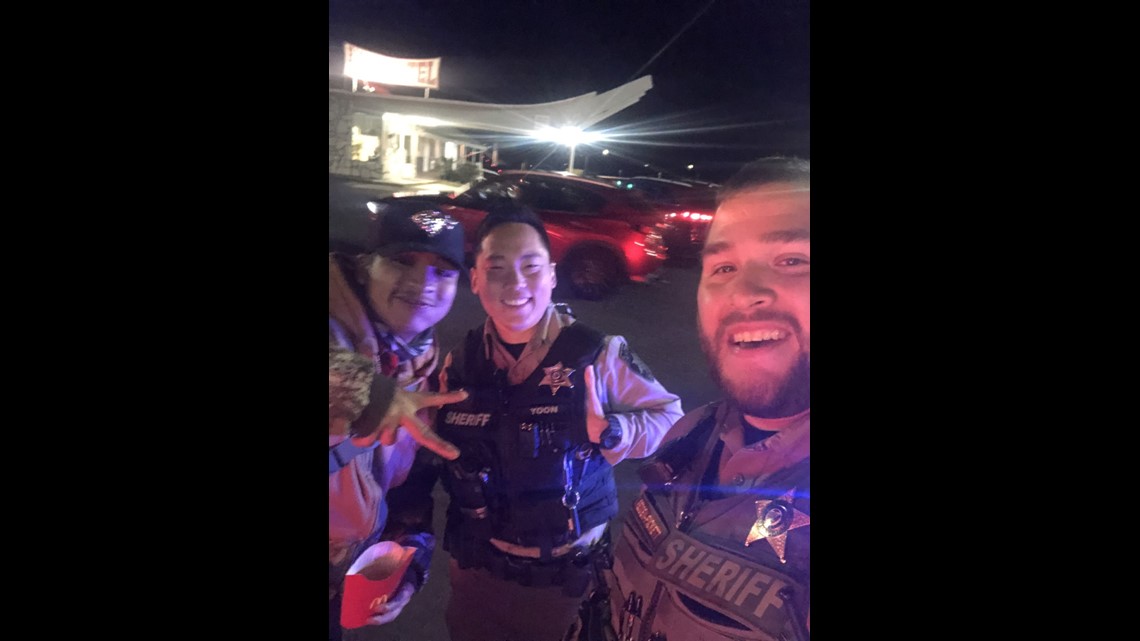 Deputy Yoon says inside the car, "It was a very brief conversation, he was just talking about how glad he was being able to get a ride. He was really appreciative of all the support, but then afterward, he was like, 'Can I just go to sleep?"
In The Dalles, Thompson met back up with Trooper Mitro who was willing to give him a ride back to the Portland-area.
"I wanted to hear the end of the story and see if he made his court date," Mitro said. "He was super excited to hear that we were all helping him out."
During the last leg of the journey, Mitro dropped Thompson off near Hood River where he said Thompson had family he could stay with.
All three law enforcement officers praised Thompson for his dedication to make his court appearance on time.
"It was just really cool to see somebody making an effort to go out of their way to get to their court appointment on time and wanted to help with that," Mitro said.
Thompson will have another court appearance in November for a sentencing hearing on the probation violation.
What the trooper and deputies did for Thompson is referred to as a courtesy ride, a somewhat common occurrence in the smaller, rural communities.
"We try our best to help out people. We are out in the middle of nowhere. Last thing we want is people to get to their destination and they're walking along the interstate, which is very dangerous for people to do that," Yoon said.