PORTLAND, Ore. — A mix of rain and snow showers are moving through Oregon and Southwest Washington on Thursday, but with morning temperatures remaining above freezing in many areas, snow isn't expected to accumulate in most areas throughout the Portland-Vancouver metro area.
Daytime temperatures on Thursday will stick around 40 degrees, with some rain and snow showers interrupted by breaks in the clouds. On Thursday night, it's expected to get down to 32 degrees but there isn't as much expected moisture so it should stay dry into Friday and through the weekend.
What the weather models showed
Scattered showers through Wednesday night were expected to become snow after midnight as snow levels dropped and weather activity moved across the Willamette Valley and southwest Washington
But as KGW meteorologist Matt Zaffino pointed out, snow levels were expected to remain around 500 feet. As a result, it was unlikely that lower elevations would see much in the way of snow — cold rain or a little wet snow was more likely.
Low temperatures into Thursday morning were expected to range from 28 to 35 degrees, stretching from Longview down to Albany.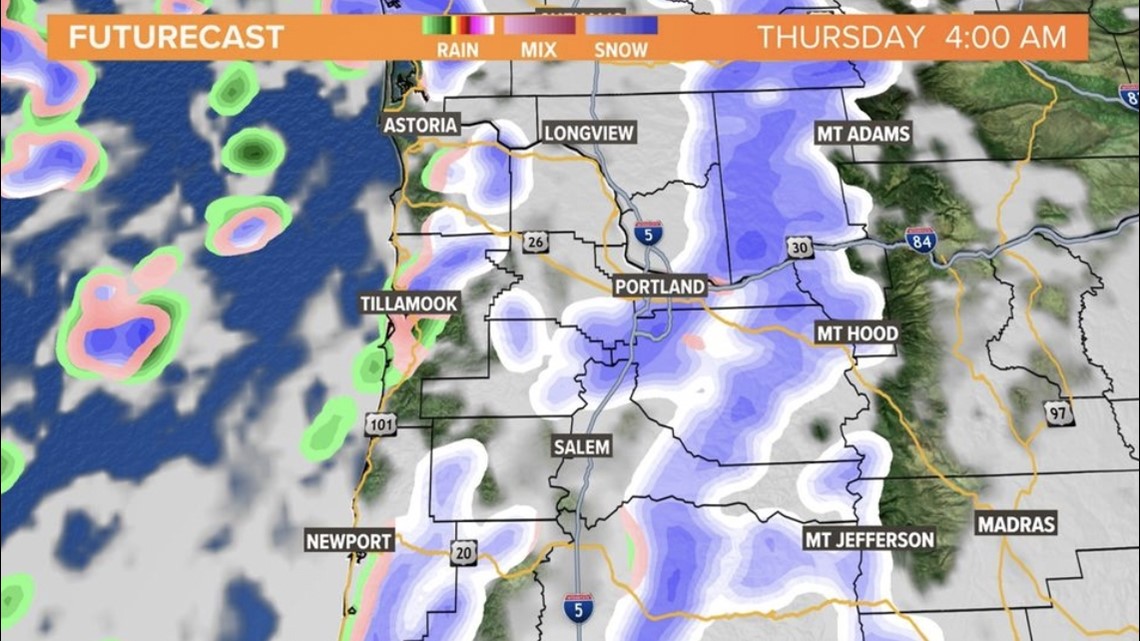 Forecast future models on Wednesday showed snow showers passing through the I-5 corridor at 4 a.m. Thursday. What we didn't know was whether the snow showers would be heavy enough to leave snow on the ground in some areas, or if it would just be passing flurries.
On Wednesday, the National Weather Service said that it expected anywhere from a light dusting to an inch of snow in the lowlands stretching from Portland and Vancouver down to Eugene by late Thursday morning, but Zaffino predicted that this would only really apply to areas above 500 feet.
Weather models on Wednesday showed downtown Portland near 32 degrees or slightly above.