PORTLAND, Oregon —
If Portland high schools seemed a little quieter than usual on Friday, that might have been because hundreds of students walked out of class and took to the streets of downtown to demand action on climate change.
The fifth annual Portland Youth Climate Strike drew students from all over the city – from Lincoln to McDaniel to Grant high schools – who converged at noon on the steps of city hall. The protest in Portland coincided with similar demonstrations across Oregon and around the world.
After a series of rousing speeches, the crowd began marching through downtown waving signs and chanting. But the young people came armed with more than placards and megaphones.
They also had specific demands for state officials.
Specifically, they called on Gov. Tina Kotek to issue an executive order declaring climate change a statewide emergency and they demanded that the Oregon Department of Environmental Quality deny an air quality permit to Zenith Energy, a company that transports fossil fuels through Portland by train and stores it in aging tanks near the Willamette River.
Chloe Gilmore, a senior at Lincoln High School and policy lead for Portland Youth Climate Strike, said an emergency declaration from the governor would free up additional resources to stem the state's greenhouse gas emissions.
"This would lead to more state and federal funding towards climate justice initiatives, programs and bills," Gilmore said. "There have been different executive orders relating to natural disasters, but none of them have explicitly been on the climate crisis as a whole."
Gilmore also stressed the link between housing and climate change, with unhoused people being particularly vulnerable to extreme weather events that are exacerbated by climate change.
Despite the state's current environmental programs – like the Climate Protection Program and the Clean Fuels Program – Gilmore pointed to reports that show Oregon fell behind it's climate goals in both 2021 and 2022.
"This is why we believe expedited action is necessary," Gilmore said.
For the Zenith issue, Gilmore said that young people felt let down by city commissioners, who approved a Land Use Compatibility Statement that would allow the company to expand its operations in Portland.
Because city leaders failed to act, Gilmore said, it now falls on the state to step in.
"It's super Important that this permit is denied by the DEQ," Gilmore said. "It's our only chance to regulate Zenith Energy because we know that our city government will not listen to the people."
Gov. Kotek's office expressed support for the protesters and pointed to actions Kotek has taken to stem emissions, but stopped short of agreeing to issue an emergency declaration.
The governor is thankful for all of the youth activists who are committed to climate action. Oregon's environmental priorities require continued and urgent action — especially in the face of the worsening climate crisis, where the consequences are already being felt across our state, from drought to wildfires to deadly weather events, Kotek said in a statement.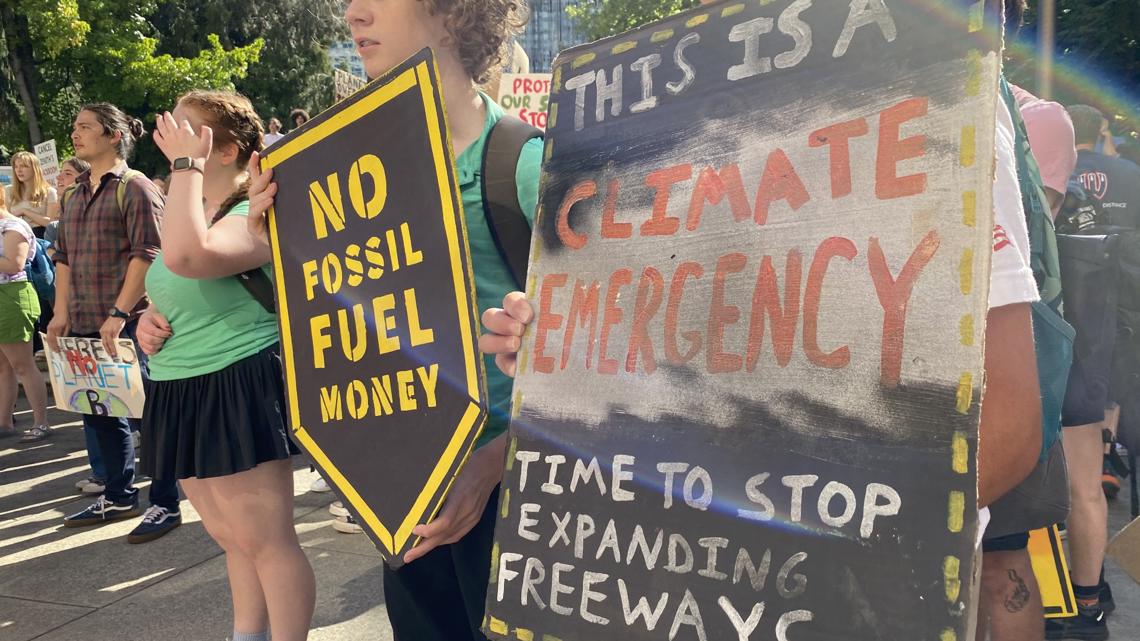 Harry Esteve, a spokesman for the Department of Environmental Quality, similarly lauded the goals of the protestors, saying the agency "appreciates the energy and dedication of the Youth Climate Strike and supports their goal of reducing greenhouse gas emissions to combat human-caused climate change."
Esteve said the agency is still analyzing Zenith's permit application and that the public will have a chance to weigh in before any final decisions are made.
As the march snaked its weigh through the downtown streets, there was palpable excitement and enthusiasm among the crowd, but it was tempered by the seriousness of the issue they were protesting.
For many, climate change has gone from an abstract idea they learned about in science classes to an issue they encounter in their everyday lives.
"I remember I walked out one day, and the sun was just red and there was just so much smoke. It was a horrible feeling," said Minerva Morgan, a 16-year-old McDaniel High School Student. "It's genuinely really terrifying."
And that might be Gilmore's biggest area of concern. While it was encouraging for her to see so many people equally as passionate as she is taking to the streets, it was also depressing that climate change has gotten to the point where young people are having to call on the politicians who represent them to take action.
"It is sometimes disappointing that our elected officials are not following through with the promises they made," Gilmore said.