VANCOUVER, Wash. — The Vancouver Police Department is investigating an attempted kidnapping at the Vancouver Mall Saturday evening.
Police were called to the mall just before 5 p.m. after several people pinned a man to the ground, who they say tried to kidnap a little girl.
Steven Hayes, 49, was arrested on charges of kidnapping, assault and felony harassment.
Hayes was in Clark County Superior Court, but his case was held over until Oct. 4 until a mental evaluation is completed. His bail was set at $500,000.
Hayes has a prior conviction for kidnapping, according to a news release from Vancouver police.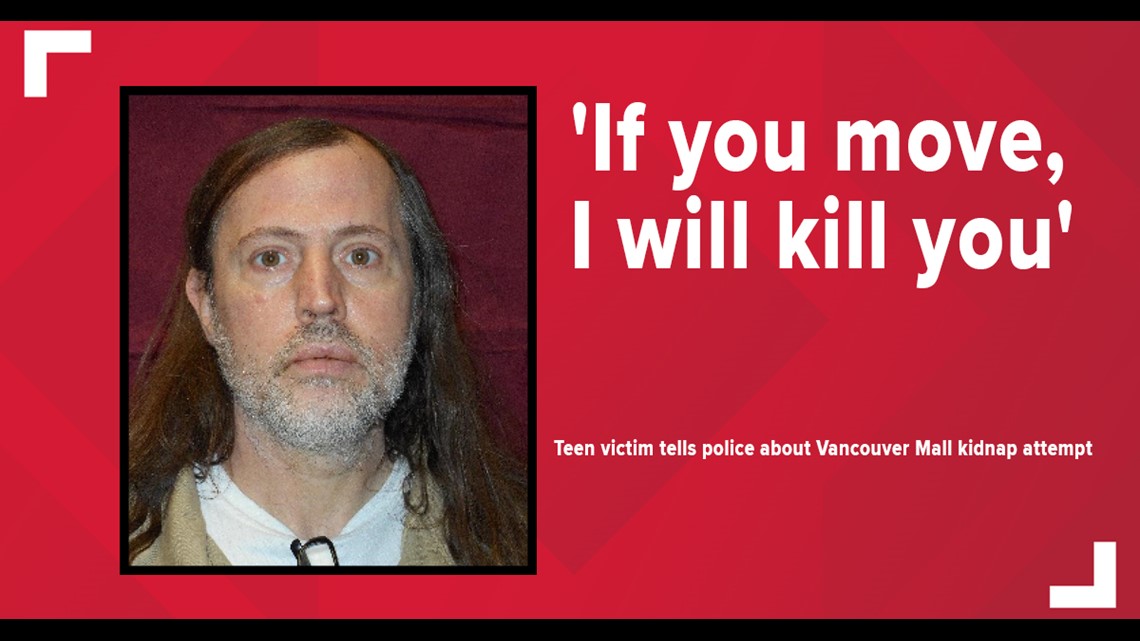 Here's what happened Saturday evening at the mall, according to witnesses and police:
When officers arrived to the mall, they met with the 14-year-old victim inside of an American Eagle store. She was visibly shaking and appeared in shock with teary eyes and her hands up to her mouth.
The victim told police she was outside of the dressing room alone and two of her friends were in the dressing room trying on clothes. She says a white man in his 40s put his face to hers and asked if she was OK.
She said that she was fine and tried to back up. The victims says the man quickly grabbed her head, placing one hand on the back of her neck and one hand over her mouth.
She says she had a hard time breathing as he covered her mouth and was pinching her nose shut. The man pulled her close to him and said, "If you move, I will (expletive depleted) kill you."
He then attempted to pull her out of the store.
The young victim says she panicked and began to pry the mans hands away from her mouth and was able to let out a scream which attracted the attention of other people in the store.
Other shoppers sprang into action and came to her aid, prompting the man to flee on foot. He was chased out of the store and into the main mall where he was eventually held down on the ground by witnesses until police arrived.
A woman named Patricia was in the store with her daughter when she noticed a man by himself. She saw that he watched the 14-year-old and her friends come in the store and slyly follow them around.
She watched as the man tried to forcefully take her out of the store and once she heard the girl scream she intervened and confronted the man. He let her go and ran out into the mall, chased by an employee.
In a Facebook post Saturday night, the girl's father thanked the bystanders for their quick action.
"Thank God for the angels on hand who helped her!! Thanks to them my daughter comes home tonight!" Jason England wrote in the post.