OREGON CITY, Ore. — An Oregon City woman has spent much of her adult life helping others.
For more than 30 years, Mary Elledge has helped parents deal with the murder of a child.
"So, it doesn't depress you to be dealing with death all the time?" I asked as I walked with Elledge through a cemetery.
"No," she answered. "Because I know we're helping other people."
That one line could sum up the story of her life for much of the past 77 years.
Mary Elledge was born to serve others.
"I've always wanted to be something in counseling or help people. Because, I have a brother I took care of for 40 years who was mentally ill. So, I understand -- I understand I feel -- so much that's going on. And now what I understand of when you lose a loved one in a violent manner," she said.
For decades, she's been the glue that held together the Portland area chapter of a group with a chilling name: Parents of Murdered Children.
And yes, she is a member.
"Nearly 33 years ago - my son was brutally murdered in our home," Elledge said.
Her son Rob was 21 years old.
Shortly after his death, a friend told Mary about the group.
"At first I didn't want to go," she said.
"I didn't, when your loved one has been murdered you feel that you're -- it's a stigma on you. You know, why would someone murder my son?" said Elledge.
But she found a group who understood.
"Those people were so awesome. Nobody judged anybody," she said.
And so, she kept going back. And then she became the leader.
Her efforts have included helping raise $300,000 for a memorial at Mountain View Cemetery in Oregon City. It was built seven years ago.
David West designed and it.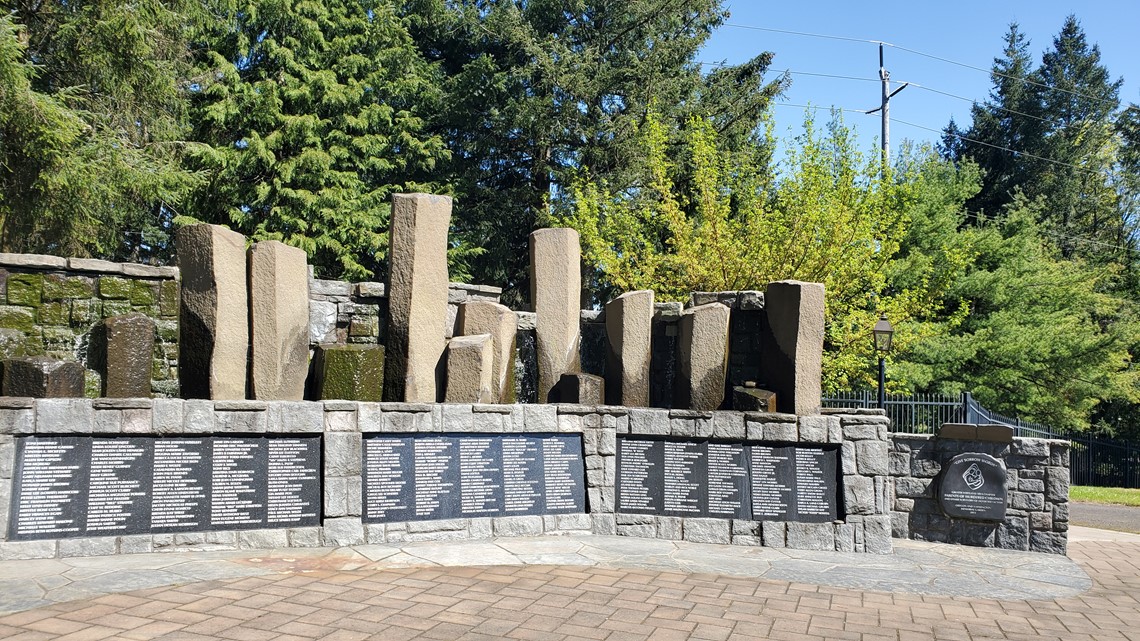 "We wanted to build a facility where they had a place to come and grieve and have reflection, with the whole Northwest you know, Oregon, Washington, Alaska, Idaho, there'd not been a facility where parents could come and recognize what happened to their children," said West.
The memorial has rock pillars that form around a wide waterfall. The stones carry comforting quotes and poems. The front has space for the names of the murdered. In seven years, it has filled up with more than 500 names.
Elledge and West are now planning to expand it.
"I would say if you wanted to get as close to an angel as possible you would go put your hands on Mary Elledge's shoulders," he said.
She is a seemingly tireless advocate.
"She's fought day and night -- not just for her own loss or her own son but for hundreds if not thousands of other people," said West.
She's lobbied state lawmakers for better treatment of victim families and tougher sentences for killers.
And she's kept the group going for parents like Bob Pfeifer.
"Right there, Robbie Pfeifer," he said as he pointed to the name on the memorial wall.
His son Robbie was murdered 12 and a half years ago in east Portland on Christmas night.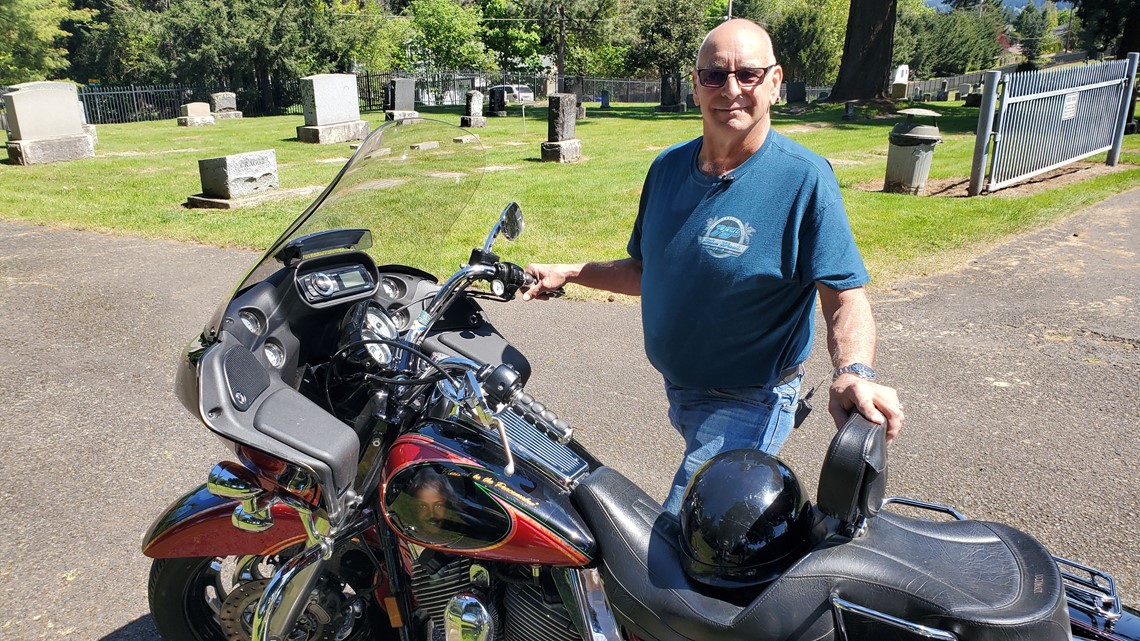 We talked next to the memorial.
The grief is never far away.
"It's a beautiful setting, it's nice, quiet, calm peaceful," he said. And then his face changed as he sobbed, "I miss him so much!"
Pfeifer put several of his son's images through the years on his Harley motorcycle.

He credits Parents of Murdered Children with saving his life -- surrounding him with others who can relate to his unique pain.
He said Elledge has helped the community a lot.
"A lot. With all the people that have gone through the organization, or the club that nobody wants to belong to, that have kept them sane, shall we say. For those that have problems she's found help for," he said.
As for Mary Elledge, she plans to continue leading the group as long as she can.
"I get more back than I could ever give," she said.
She had trouble explaining exactly what inside compels her to serve others. She simply knows she must.
"And also, the fact that we love people. After I hear someone's story I can't help but tell them I love. I am so sorry for them. They are so hurt," she said.
She's turned away from the anger and hate that a murder often spreads and instead embraced love.
"I guess because of the people that needed help like I did when I came in. I see more, and it's not stopping. It's getting worse. The trauma and the violence. If I can help them, it's a tribute to my son, and it's an honor to help them. It's truly an honor," said Elledge.