PORTLAND, Ore. — A large group of demonstrators picked up Thursday night where they left off the day before, gathering at Southeast Portland's Revolution Hall and marching in protest of racism and police brutality in the wake of George Floyd's death in police custody.
This was the seventh day in a row of huge protests in Portland. Among those protesting Thursday night was Portland Trail Blazers All-Star Damian Lillard.
Lillard was at the front of the group as they marched onto the Morrison Bridge, took a knee and stayed for a short gathering. Then, they marched across the bridge to Waterfront Park as they had on Wednesday night.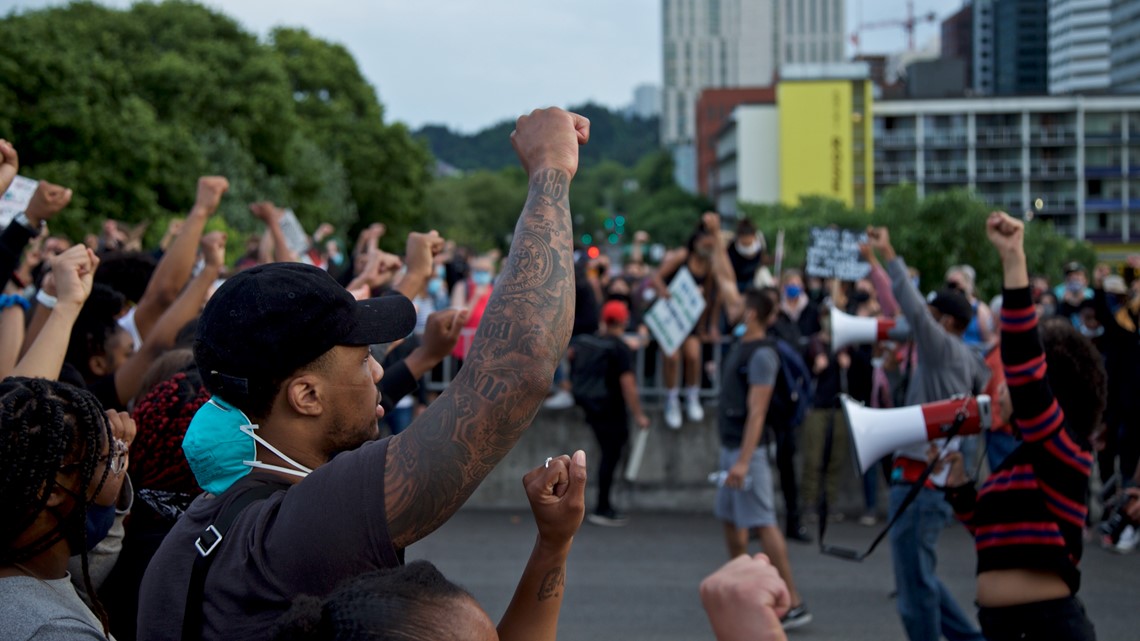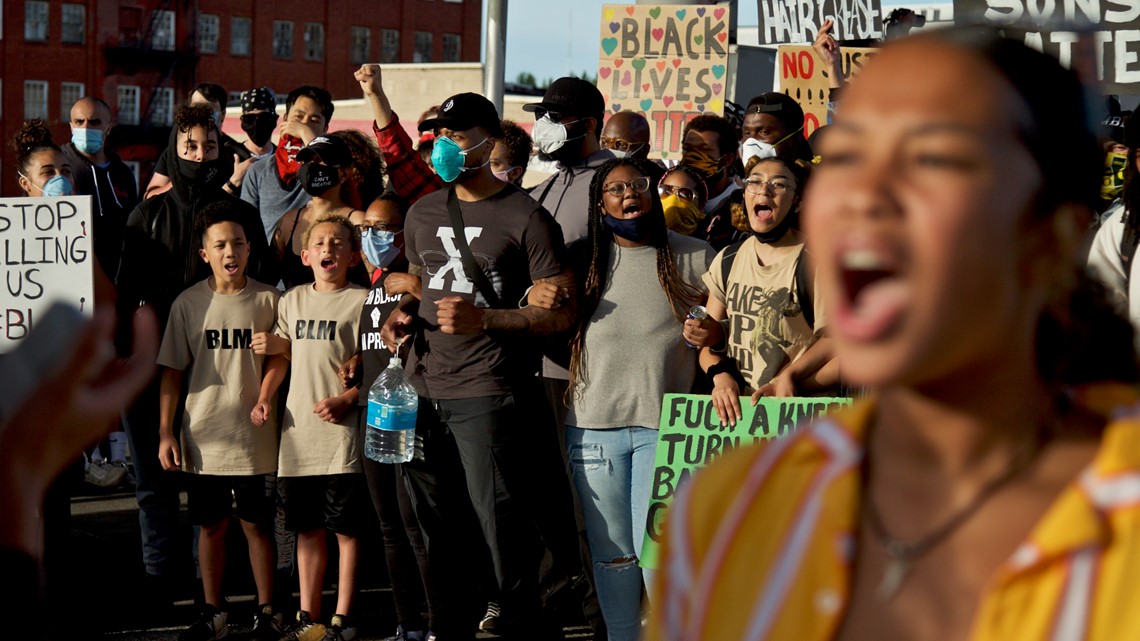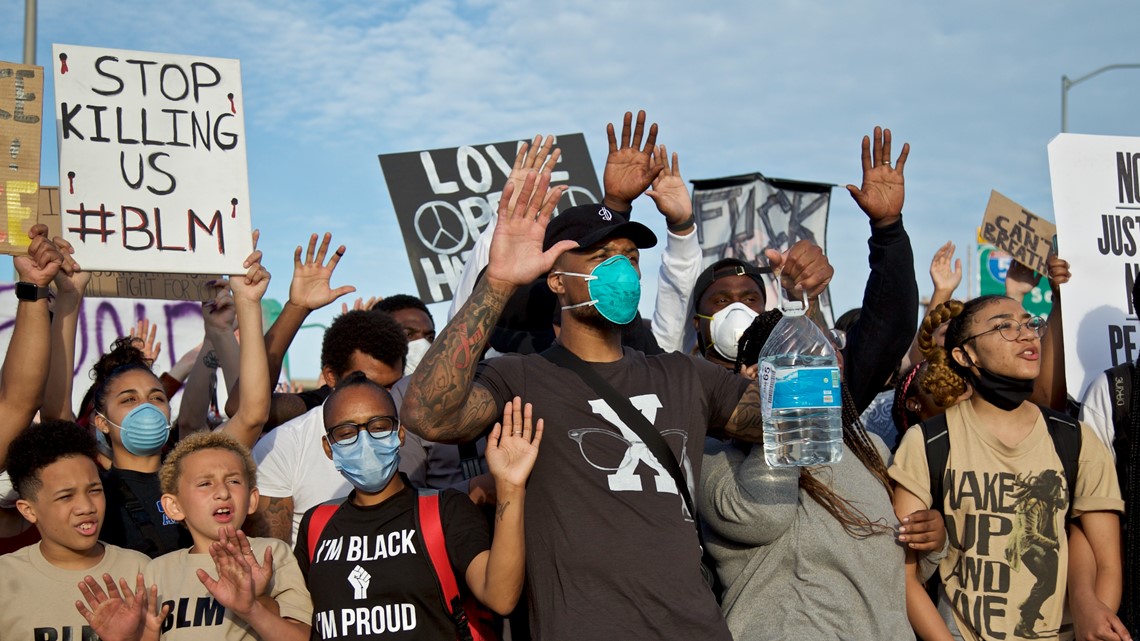 At Waterfront Park, the large crowd gathered to listen to several speakers, including Marva Campbell, whose son Aaron was fatally shot in the back by police officers in 2010. Officers were responding to a call that he was suicidal; he had just found out his brother died.
The rally at Waterfront Park concluded around 10:30 p.m. and remained peaceful throughout.
Meanwhile, police said there was criminal activity in an area where a second group had gathered near the Multnomah County Justice Center. Nearby streets have been closed to traffic, and the building fenced off, since vandals on Friday set a fire inside the building.
Despite the initial claim of criminal activity, the crowd outside the Justice Center remained peaceful, as well, though Portland police reminded demonstrators several times not to throw projectiles or tamper with the fence around the building.
Hours after Thursday's peaceful protest ended, Portland police said some people began lighting fires downtown, blocking streets and street racing. Police said they made 12 arrests and towed three cars because their occupants were breaking the law between 1:30 a.m. and 3:30 a.m. Friday. By 4 a.m., the crowd had dispersed.
"For another night, thousands of peaceful demonstrators were able to demonstrate, march, and express their First Amendments rights in a safe manner. We thank them once again for managing a successful event," said Portland Police Bureau Chief Jami Resch. "Several hundred others remained downtown after the primary group left. This group engaged in criminal activities despite repeated warnings to stop. Officers did a fantastic job of safely and effectively stopping several involved vehicles and occupants and effecting arrests. We will continue to facilitate free speech and assembly and focus efforts on arresting those who engage in criminal activity that reduces our public safety."
Before the marches even began, Portland Fire & Rescue paid tribute to the peaceful protesters they'd seen passing by Station 1 downtown. In a tweet, PF&R shared video of some of them and announced a fire boat would be doing a fountain display Thursday night: "That's us saying hello."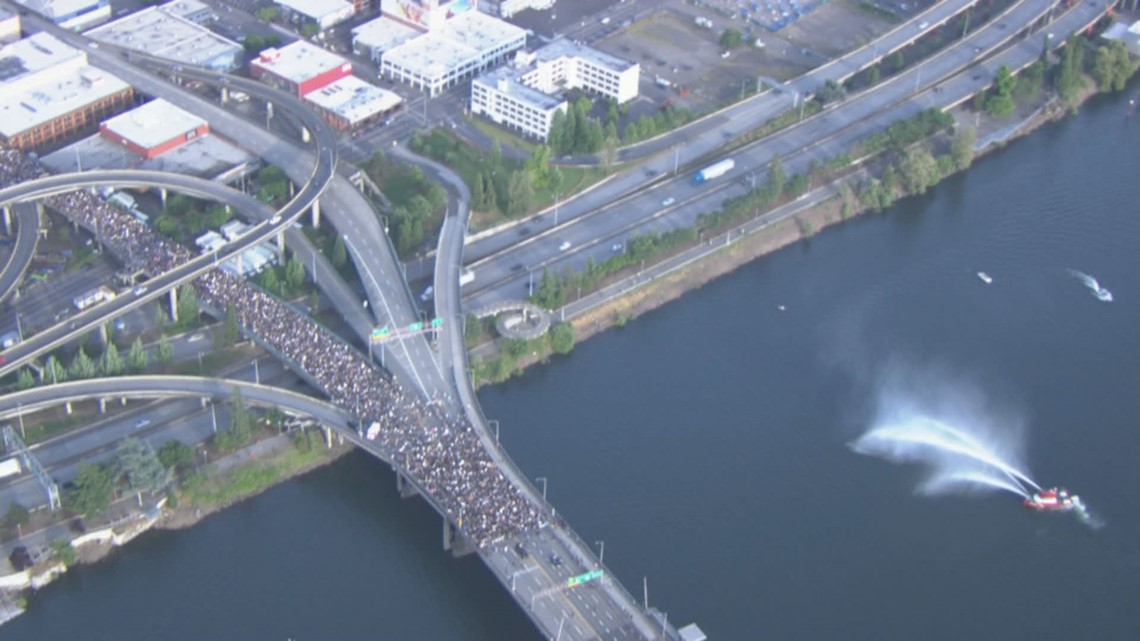 Overall the demonstrations for the past several nights have resulted in little conflict, while sending a clear message that there needs to be change to prevent continued racial injustice.
One of those changes, which pleased some protesters Thursday, was Portland Public Schools discontinuing the regular presence of school resource officers from the Portland Police Bureau.