PORTLAND, Ore. — The Portland City Council voted Wednesday to purchase most of the Morrison Bridgehead blocks for Portland Parks & Recreation, seemingly cementing the site's future after a long-running plan for a public market ultimately failed to launch.
The Bridgehead blocks consist of the four blocks beneath and between the ramps on the downtown side of the Morrison Bridge; three contiguous blocks along Naito Parkway and a fourth block on the other side of Southwest 1st Avenue, separated by MAX light rail tracks.
The city only appears to be buying the three blocks along Naito; the council agenda describes the 3.26-acre parcel as being situated between Naito, Morrison, Harvey Milk and 1st, which would exclude the fourth block.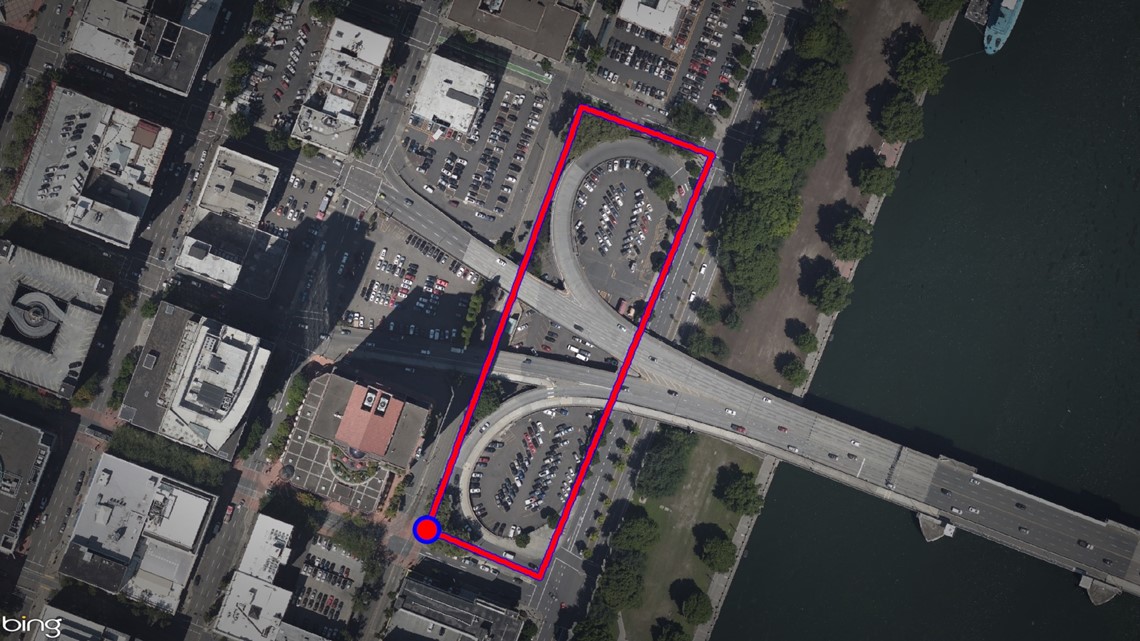 All four blocks are currently surface parking lots, and the city appears to want to keep it that way for the three blocks moving over to Parks and Rec, at least for the immediate future.
The council agenda states that the site will be added to the Waterfront Park to provide parking for existing events, and could also serve as an area for festivals, fairs and other new events. A Parks & Rec staffer told the council that the bureau has no major redevelopment plans for the blocks and plans to use them as-is.
"This property is a once-in-a-generation opportunity to add large, open area to Waterfront Park," Commissioner Dan Ryan said at Wednesday's meeting, adding that "large trucks and equipment won't take up as much valuable Waterfront Park lawn space during events."
The purchase price is $8 million, paid with Parks and Rec system development charges. The site is projected to become a revenue generator due to parking fees, according to the city, although it will take time for demand to build up.
Shifting redevelopment plans
Multnomah County originally acquired the blocks to serve as a staging area during construction of the Morrison Bridge in the 1950s, and they've been used as surface parking lots ever since.
The county sold the blocks (except for the bridge infrastructure) for $10.4 million in 2012, with a plan in place to redevelop the site as the James Beard Public Market, envisioned as an indoor-outdoor food market on the three contiguous blocks. A high-rise tower would be built on the fourth block.
The developers of the market worked with the county to plan out the project, but there were some disputes over possible reconfigurations of the bridge ramps, according to The Oregonian, and the market's developers abandoned the plan in 2016, opting to seek out a new site.