YAMHILL, Ore. -- About 20 feet back from the two-lane highway running through Yamhill, a light blue ranch-style house sits with a large, plywood-covered hole where the front door should be.
Neighbors ironically call it "the lucky house."
"You can still see shards of glass," said Cindy Edwards, opening the back door into the kitchen of the house she and her husband have owned since the early 90's. "The roof was sagging on both sides because of that."
In this case, "that" is a wreck that came early one August morning when a drunk driver lost control driving on the nearby Highway 47 and came crashing into Edwards' living room.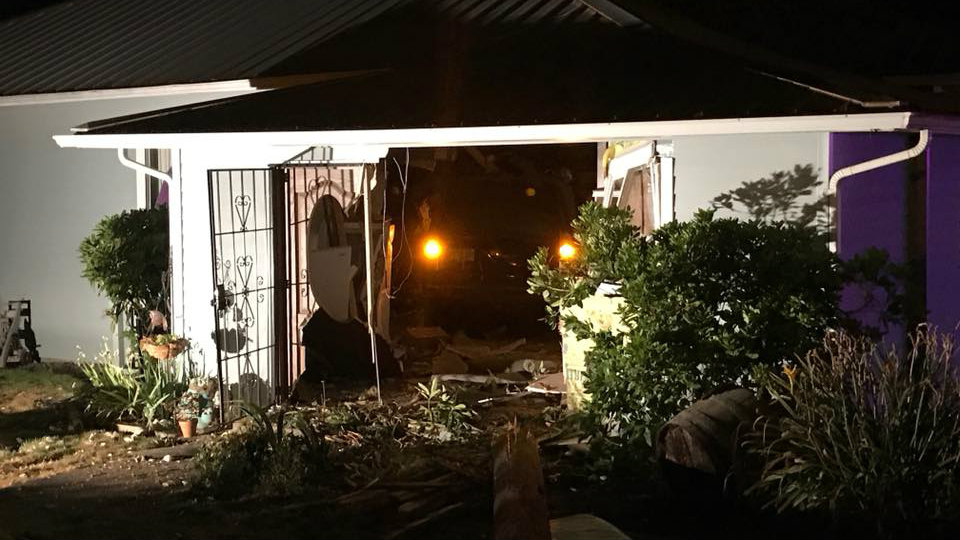 "We were laying in bed, and there was a giant explosion, and my husband's like 'Oh my god! Oh my god!" she said.
The car landed on the couch, where Edwards' 6-year-old granddaughter and 2-year-old grandson like to sleep when they stayed over.
The family had planned a sleepover for that night.
At the last minute, Edwards decided she felt sick and called to cancel.
"They would have been sleeping on the couch right where the car landed," said Edwards' daughter-in-law, Jean.
While the close call was shocking, the family said Wednesday the wreck itself wasn't. They'd been expecting one for years.
"He told me the federal stipulations for corners with sharp turn signs have changed, and that's why they took them out. He said 'This corner no longer qualifies,'" recalled Edwards.
A few years ago, officials with the Oregon Department of Transportation took down warning signs leading up to the sharp curve in Highway 47, which bends right in front of the Edwards' house.
Even with a speed limit of 25 mph, she said drivers fly down that highway, unaware the turn is coming.
Dozens, she estimated, have hit the guardrail.
In the summer of 2016, one hit it so hard, that the guardrail came largely unhinged and hit the house, damaging the exterior.
Roughly a year later, the big wreck happened.
Throughout that time, the family said they've been calling and emailing ODOT incessantly, asking for the signs and a stronger guardrail to be installed.
"It didn't make national news, and nobody got hurt," said Edwards' son Clint. "So until two people are found dead in their bed from a car hitting them, I feel like they're not going to do anything."
ODOT officials told KGW they are aware of and "very concerned" about the Edwards' situation.
They said the agency is in the process of getting approval to install signs and a stronger guardrail.
A spokesman for the agency said Wednesday he couldn't provide a timeline as to when that might happen.
Cindy Edwards and her husband, who are also waiting on insurance payments, are sleeping in their garage.