OREGON CITY, Ore. – Court documents reveal more details about the death of a newborn infant in March after two young parents failed to seek medical treatment in favor of faith healing.
The parents, Sarah Mitchell, 24, and Travis Mitchell, 21, were arrested Monday and charged with murder and criminal mistreatment in connection with the baby's death. They were booked in the Clackamas County Jail and are being held without bail.
They were arraigned Tuesday afternoon and pleaded not guilty.
The Mitchells were members of the Followers of Christ Church. Followers of Christ Church members believe in using prayer and oil over medical care.
A probable cause affidavit obtained by KGW details what a medical examiner found the day the Mitchells' baby died.
On Saturday, March 5, Sarah Mitchell gave birth to twin girls, Ginnifer and Evelyn, at her parents' Oregon City home. Ginnifer developed breathing complications and died a few hours later.
An autopsy of Ginnifer, who was born premature, showed that her lungs were not developed enough to work on their own. X-rays taken during the autopsy showed the lungs had collapsed.
About 60 people, including family members and church members, were at the home for the birth, according to Clackamas County Deputy Medical Examiner Eric Tonsfeldt. No one in the home called 911.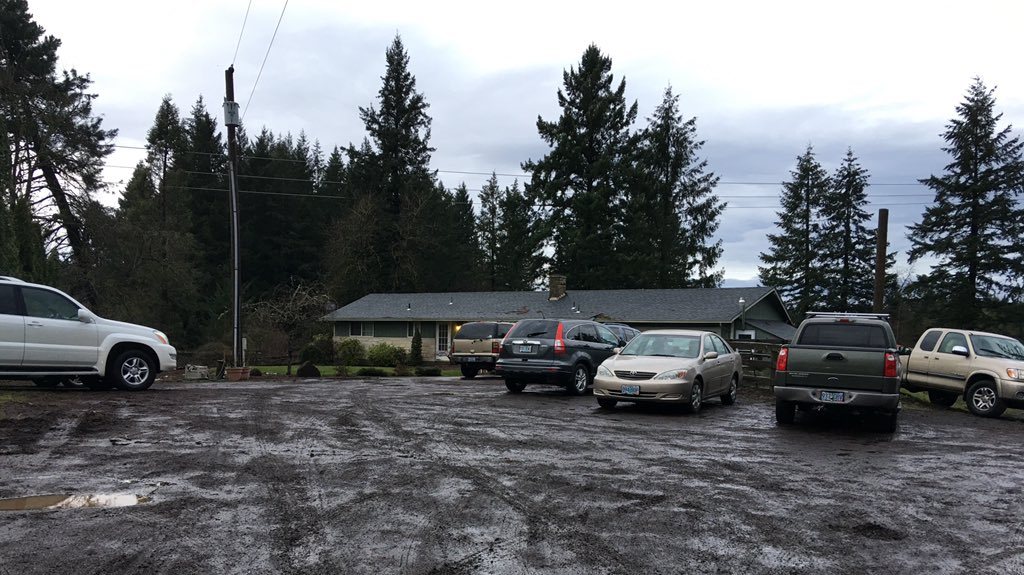 After the baby's death, at about 8:25 p.m., church elder Carl Hanson contacted Tonsfeldt. It is common for the medical examiner's office to receive a call requesting a direct visit from the deputy medical examiner when there is a death within the Followers of Christ religious community, according to Tonsfeldt.
Tonsfeldt arrived at the home in Oregon City at about 8:43 p.m. He found Sarah and Travis Mitchell in the master bedroom of the home. Also in the room were Sarah's father, Walter White, and Travis' father, Joshua Mitchell, as well as a birthing assistant.
Sarah Mitchell was in the master bed, holding the deceased infant, who was wrapped in a blanket.
When Tonsfeldt began asking questions about the pregnancy and birth, he said the answers he received from those in the room were vague, "stilted and forced" and that the responders wouldn't look directly at him. He was told Sarah Mitchell went into labor shortly after midnight on March 5 and Ginnifer was born at about 2:55 p.m. the next day.
According to those in the home, Ginnifer was alive, breathing and being fed from an eye dropper for about four hours after her birth. After four hours, she stopped fussing, became lethargic and stopped breathing. They estimated that Ginnifer died at about 7 p.m.
Tonsfeldt took the deceased infant into another room and performed a physical examination. She weighed 3 pounds, 6 ounces and was 16 inches long. He said the child was born after about 32 weeks, according to the pregnancy timeline given to him by the parents.
Doctor Karen Gunson, who performed Ginnifer's autopsy the next morning, told a detective that shortly after she was born, a caregiver would have noticed it was becoming more difficult for Ginnifer to breathe. The baby would have appeared uncomfortable and would have started fidgeting. Skin discoloration and bluing would have been visible as she struggled for oxygen. Gunson said the death would not have occurred suddenly like the family reported to Tonsfeldt.
Gunson said the baby's death would have been preventable if she had received proper medical care in a neonatal intensive care unit.
After Tonsfeldt re-entered the room following the examination of the deceased child, family members in the room informed him Sarah had also given birth to a twin girl, Evelyn. He asked to see her and was taken into the master bedroom bathroom, where several women were sitting in chairs caring for a similar-sized baby. Tonsfeldt said Evelyn appeared healthy.
Tonsfeldt instructed family members in the home that because of her size and because her twin sister had just died, Evelyn was "at medical risk" and needed to go to the hospital. He repeated this instruction two times. On both occasions, Sarah Mitchell's father responded with the words, "Thank you for your input."
After the medical examiner left the home, he called Oregon City Police and requested a "welfare check" on the surviving baby to make sure the family had taken her to the hospital.
When officers arrived, Sarah Mitchell's father came to the door and the officers told him they were there to do a welfare check on the baby. He asked the officers to wait, went back in the house and returned with Travis Mitchell's father and another unidentified man.
The officers again said why they were there and that the baby needed to go to the hospital. Joshua Mitchell asked the officers, "Are you telling us we have to go to the hospital?" The officers responded yes. The three men went back inside the house. After about five minutes, they returned and agreed to take Evelyn to the hospital in a personal car.
Travis Mitchell left with the baby in one car and drove to Willamette Falls Hospital with the patrol car following behind.
Evelyn was seen at the Willamette Falls Hospital emergency room, stabilized there and then transferred to the Neonatal Intensive Care Unit at Oregon Health & Science University.
On March 15 and 16, authorities executed search warrants at the home of Sarah and Travis Mitchell and at Sarah's parents' home. They seized into evidence cell phones, tablets, computers, external hard drives, birth records, footprint cards, notebooks and a camcorder from the two homes.
This is not the first infant death from Oregon Followers of Christ members.
Church members Shannon and Dale Hickman in 2011 were convicted of second-degree manslaughter and sentenced to six years in prison following the 2009 death of their infant son two hours after delivery.
Sarah Mitchell and Shannon Hickman are sisters.