PORTLAND, Ore. — Testing of the air and surfaces on TriMet MAX trains detected the widespread presence of drug residue, according to the results of a study released by the University of Washington on Thursday. Despite the prevalence of these traces, local public health officials stressed that the actual amounts were "extremely low" and unlikely to pose a health risk to passengers.
The study's big headline results aggregated sample data from five different transit agencies, TriMet and four in Washington. Testing detected fentanyl in 25% of air samples and 46% of surface samples, with amounts in the latter ranging from one-hundredth of a nanogram to just under a nanogram. Methamphetamine was more prevalent, found in "very low" levels in 100% of the air samples and 98% of surface samples.
Researchers from the UW placed air pumps on TriMet MAX trains — 10 two-car trains and one single-car train — in addition to collecting surface samples from seats, windows and doors. A total of 16 air samples and 26 surface samples were collected over a two-day period in late June between the hours of 7 p.m. and 12 a.m.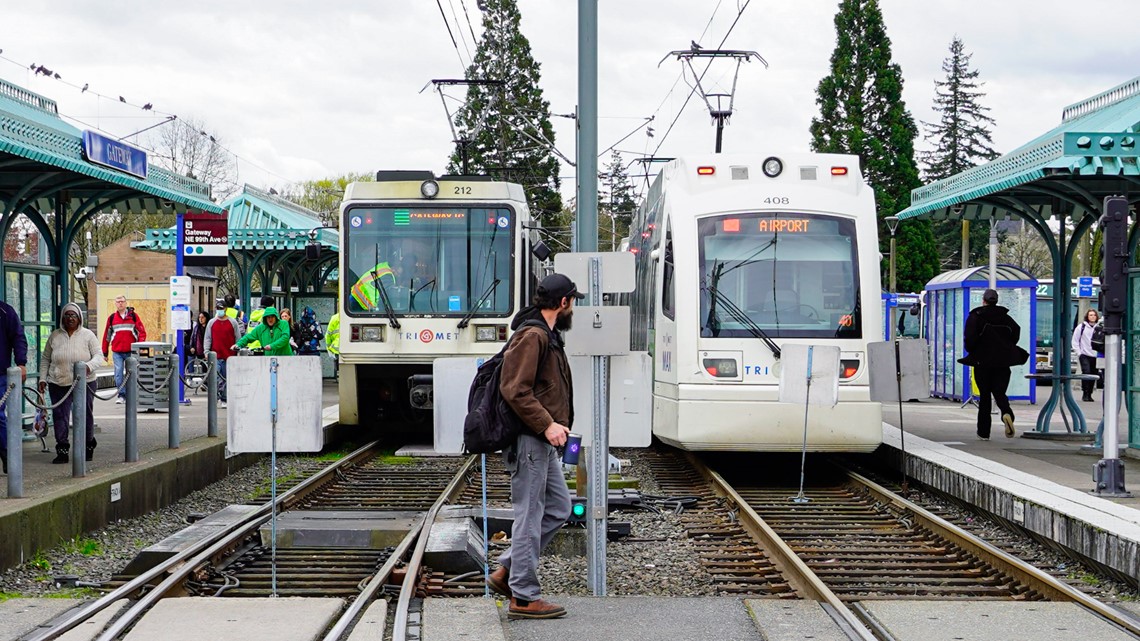 According to TriMet, the trains chosen were ones that traveled through areas with reported incidents of people smoking drugs. Researchers tested the samples for fentanyl, methamphetamine and cocaine.
Of those TriMet samples, 19 were positive for fentanyl and all of them were positive for meth. Not all of the samples were tested for cocaine, making the results more difficult to compare, but the six surface samples all tested positive, as did one air sample.
This means that testing found fentanyl in 45% of all MAX samples, meth in 100% of samples, and cocaine in 54% of samples tested for cocaine.
Is it safe to ride?
TriMet stressed that the quantities detected were essentially trace amounts. A single crystal of sugar from a restaurant sugar packet comes in at roughly 20 milligrams, 20 million times more massive than a single nanogram and equivalent to 20,000 micrograms.
To quantify the potential health consequences of these results, TriMet consulted with OHSU medical toxicologist Dr. Robert Hendrickson, medical director of the Oregon Poison Center. They also spoke to staff at Multnomah County Public Health.
"The concentration of drugs detected in the air and on surfaces in this study were extremely low and would not cause harm to TriMet riders and operators," Hendrickson said. "There is no threat to the public related to these study results, and individuals who use public transportation for travel needs should continue to feel safe doing so."
Hendrickson said that the amounts of fentanyl and meth detected in the MAX samples were thousands of times below the amounts that would be used even for prescribed medical purposes. The highest concentration of meth found in an air sample was 0.039 micrograms, 78-thousandths of a 5,000-microgram medical dose of methamphetamine sometimes used for treating ADHD.
These assessments were primarily looking at the air samples. Studies have shown that fentanyl in particular is not absorbed through the skin, although meth can be absorbed with significant enough contact. The latter tends not to be harmful in short-term, public exposures.
Hendrickson compared the presence of these substances to the well-known statistic that cocaine is present in small amounts on the vast majority of paper bills. Regardless, Hendrickson said, drug smoking on public transit is not something that medical professionals want to see.
"We want to decrease the exposure to anyone to any kind of second-hand smoke," he said. "I think that would be the goal for all of us."
UW flagged just three samples of the 180 collected throughout the overall study as potentially harmful. One of the air samples exceeded Environmental Protection Agency occupational exposure guidelines for fentanyl — which the study noted is an advisory standard, not an enforceable regulation. Two surface samples exceeded the Washington State Department of Health decontamination guidelines for methamphetamine.
The study authors determined that the drug levels observed in the study would be unlikely to cause any short-term physical health effects for the public. However, they expressed more concern about potential long-term effects for transit operators who spend dozens of hours each week on a bus or train.
"Long-term health effects related to daily secondhand exposure to these substances are not established," the authors noted. "In the absence of data relating the amount of these substances found in the air or on surfaces to human health outcomes, protective measures are prudent to keep operators safe."
A call to action
Though TriMet made clear in its own assessment of the study that the results did not imply any measurable health affects for public transit riders, the agency also expressed in the strongest terms yet that it needs help addressing public drug use.
Andrew Wilson, chief safety officer at TriMet, said that this was a big part of why they decided to participate in the UW study, which otherwise looked at transit agencies in Washington.
"This is new, trying to understand what secondhand drug use, smoke will do to riders, employees," Wilson said. "In our communities right now there's a real clear epidemic of open drug use in our public spaces. So we really wanted to understand that exposure for riders — and even more importantly, our operators, who are out there everyday in those conditions."
Wilson said TriMet has made efforts to crack down on drug use on the MAX and on buses, doubling its safety and security presence since last year. The agency's budget for these measures has also more than doubled since 2020, he said.
Actually addressing the problem in the long-term, Wilson said, is going to take local, state and regional government help, however.
"Some of these efforts, TriMet can't solve alone," he said. "What is going on around the city we are as much a victim of, and our riders and our employees, as anybody else in the city of Portland. We're all dealing with a very very difficult time in the city right now."
It's an issue that's very much in the air at present. Just a day before the study's release, Portland City Council passed an ordinance that will criminalize public drug use, assuming state statute changes enough to allow it. Meanwhile, recent polling suggests that many Oregonians who voted to decriminalize user amounts of drugs via Measure 110 have since soured on the law and the results it has thus far produced.