PORTLAND, Ore — The city of Portland is extending its program that allows businesses to use space on sidewalks and streets for their costumers, due physical distancing required during the COVID-19 pandemic.
Hundreds of Portland businesses put up tables and chairs in street parking spots and on sidewalks over the summer.
"Demand has been really good. People are excited to get outside and be somewhere where they can be socially distanced," Jam on Hawthorne co-owner Katie Prevost said. "It's really been a lifesaver for us being able to offer people a safe space outside."
The free permits were set to expire Nov. 1. PBOT extended the program through March 31, 2021 after owners and customers told the city they wanted the permits to push them through winter.
Many restaurant, bars and retail shops feared they wouldn't make it through a Pacific Northwest fall and winter without the option to do business and seat people outside.
"We are waiting until things are a little bit safer before we reopen inside. So it would be a big hit," Prevost said.
"It would be pretty catastrophic for our business. With dining rooms - indoor dining - at 50-percent capacity there's very little way we'd be able to do the type of numbers we would need to do in order to stay open," Pine State Biscuits co-owner Brian Snyder added.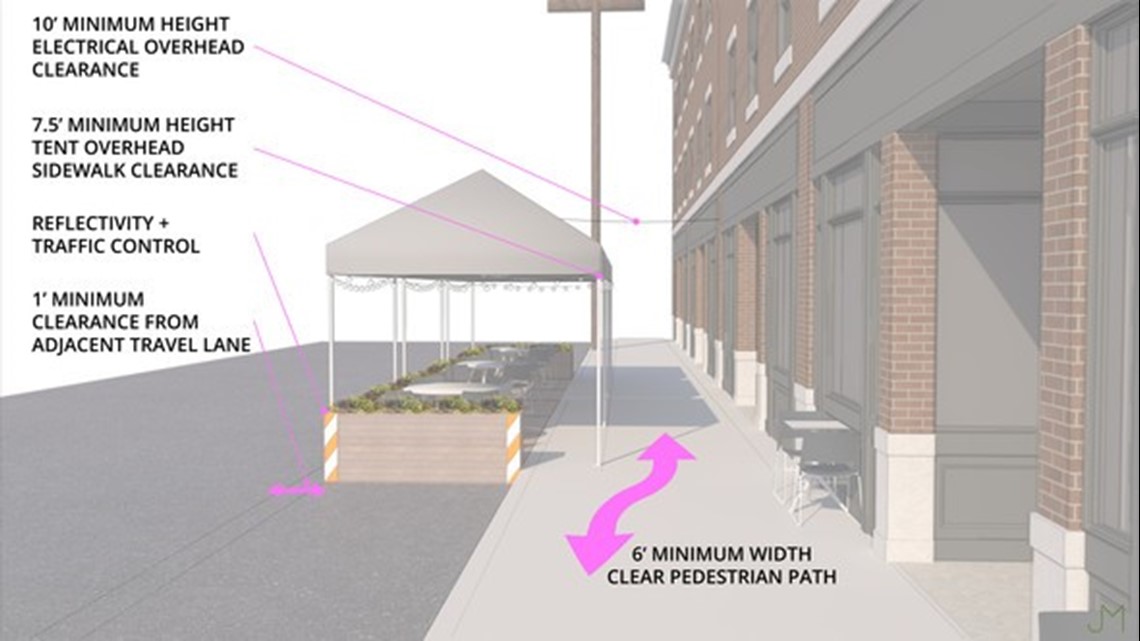 "I think [winter is] going to have an impact on business, and not a good one. We are definitely going to lose some customers who don't want to sit outside in the cold and rain. But we're going to do everything we can to ensure that we create warm comfortable seating as much as possible," Snyder said.
Businesses will have different needs than they had during the summer. Many want to purchase heaters and tents to keep people comfortable during rain and chillier temperatures. With that, comes new requirements from PBOT to keep drivers and pedestrians safe.
The Winter Healthy Businesses Program allows tents in on-street parking space but doesn't allow tents within 50 feet of an intersection for visibility and safety reasons, unless an exception is granted. The program also gives guidance on extension cord and heater use.
"Now the challenge is making sure that we can cover seating, condition the spaces and also avoid any issues with sight-lines for pedestrians and cars," Snyder added.
Bars and restaurants are hustling to get heaters and tents, including Pine State Biscuits which is planning to do a long open enclosure with two sides open and the others closed to maintain heat.
Snyder says they've been proactive the past couple months in anticipation of chillier temperatures but supplies are dwindling.
"We've got canvas tents rented for our multiple locations. And we're trying to source heaters right now which are scarce all over the country because we're not the only restaurant that's trying to maintain outdoor seating."
"We've got some canopies on order and are trying to find more. They're in short supply right now but I've been looking far and wide and located a few, at least, so they should be here in time for the weekend rain," Jam on Hawthorne co-owner Gordon Feighner said.
Businesses using outdoor space on private property, including off-street parking lots, may be able to do so without a permit from the city.