CASCADE LOCKS, Ore. — The ODFW Bonneville Dam Fish Hatchery is a popular spot in Oregon to get out there and see all the young salmon and trout growing in their pools. And one huge Sturgeon named Herman!
In this week's edition of Let's Get Out There, we take you to the fish hatchery to meet Herman and learn about the fish species that dates back to prehistoric times and hasn't changed much since.

"It's the perfect place to have an interpretive center for sturgeons and talk about conservation of the species and then just enjoy a really a wonderful day on grounds that are beautifully manicured and landscaped," said Tim Greseth, executive director of the non-profit conservation group Oregon Wildlife Foundation. The pond where Herman and his fish friends live was built in 1998, thanks to a big fundraising effort by OWF.
And now the sturgeons are well represented here with their own special place, where you can learn about them.

It's the number one place where people want to come when they come to the hatchery grounds, and it makes sense right? You get to see a prehistoric and really large fish," said Greseth.

Evolving from Jurassic times, they are amazing creatures. And the most amazing one here is Herman. At 10 feet long and weighing more than 500 pounds, she — yes, she, just celebrated her 88th birthday earlier this summer; that's the best guess at Herman's age. Fun fact: this Herman is not Oregon's first show sturgeon.

The name Herman and sturgeon has been associated with the Oregon Department of Fish and Wildlife since 1930s, when Greseth explained a hatchery superintendent first raised a sturgeon, naming it Herman. There have been several sturgeons named Herman since, with at least one "Herman" earlier on being shown off at the Oregon State Fair. That practice ended when it was decided it was too hard on the fish to transport them.

Sometimes it takes a little patience for Herman to appear. But most often patience pays off, as it did for us when we got out there to the interpretive center. We saw Herman up close and personal, on the other side of the glass.

In fact she came right up to it on her final pass while we were there, showing off the beautiful markings on this long-living creature. It's a treat for a family from West Texas, where they don't have fish like this. The kids are especially amazed.

"They come out here and they see a big seven-foot sturgeon and they think it's pretty neat, they love the fish hatchery. You know, we're not by any big body of water, so this is just a completely different experience for them, so they love it," said Chris Baldelomar of Lubbock, Texas.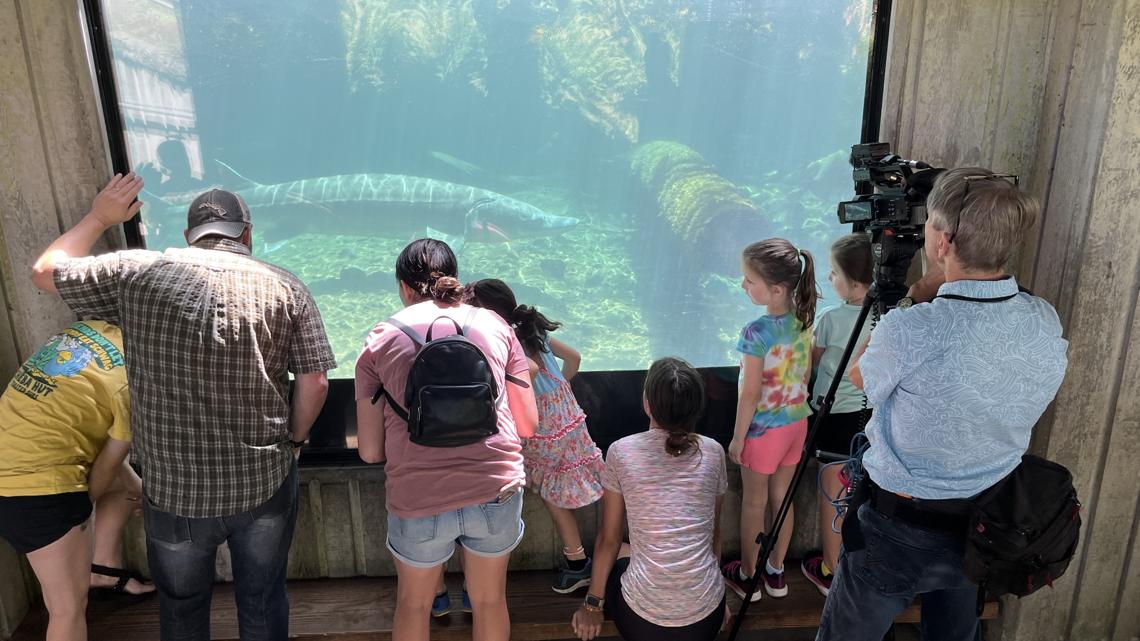 Greseth hopes you'll get out here to the fish hatchery to learn about sturgeons and the modern challenges they face, from warming waters, to dams that block their ability to return to spawning grounds.

"We want people to have that information so they can learn more about how to protect that species, and see it perpetuated over time. We want the next generation to enjoy sturgeons too."