OREGON, USA — We're dispensing the drafts for "The Sudsy 16" of this year's Oregon Beer Showdown and not all the matchups in Round 2 turned out as some may have expected.
Click here to vote in Round 3 of the Oregon Beer Showdown, presented by the Portland Business Journal and KGW. The survey ends Sunday, Nov. 6.
After getting the most votes of any brewery in Round 1, three-time showdown winner Ecliptic Brewing (3-seed) of Portland was eliminated by a smaller fast-growing Rose City brewer, Ex Novo Brewing (6-seed), which is known for donating its profits to charities and has opened additional spots in Beaverton and Corrales, N.M., and plans another in Hillsboro this summer. Hood River's esteemed pFriem Family Brewers (2-seed) takes on Ex Novo next.
No. 16-seed Upright Brewing pulled off another upset, beating Sasquatch Brewing (9-seed), also of Portland, but as both have a relatively low profile more voters chose "neither" or "no preference" than either of the breweries. Upright now faces Central Oregon's Sunriver Brewing.
In other upsets: Bend's Boneyard Beer (3-seed) lost to Corvallis-based Block 15 (6-seed); Bend's Monkless Belgian Ales (14-seed) beat Hood River's Double Mountain Brewery (6-seed); while a Hood River upstart, Ferment Brewing (13-seed) edged out Little Beat Brewing in Portland (12-seed).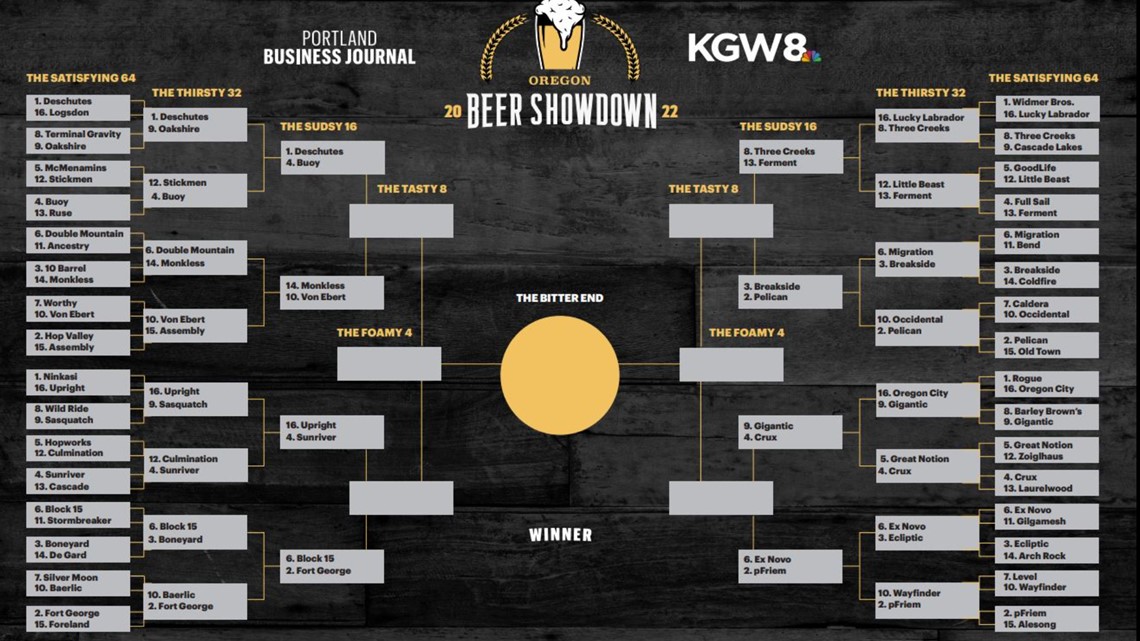 Oregon's largest craft brewer and the only No. 1-seed left in the contest, Deschutes Brewery of Bend, racked up the most votes in Round 2, closely followed by Astoria's Buoy Beer (4-seed and two-time showdown champion), pFriem, Breakside Brewery of Portland (3-seed) and Fort George Brewing (2-seed) of Astoria.