The cost of fighting wildfires in Oregon reached an all-time high $514.6 million in 2018, according to data from Northwest Interagency Coordination Center.
Fueled by wildfires that started early and threatened communities all summer, Oregon's costs skyrocketed past last year's record-setting total of $447 million.
"The difference this year — what made it so expensive — was having so many large wildfires that lasted not just weeks but months," said Carol Connolly, information officer for NWCC. "We also had a lot of large fires close to populated areas."
All totaled, Oregon had 1,880 fires that burned 846,411 acres or 1,322 square miles — an area larger than Rhode Island.
Humans were blamed for 1,217 wildfires, while lightning caused 664 fires but also burned a much larger area.
The number of acres burned isn't a record, but it's well above historic averages and continues a trend of more extreme fire seasons.
"We've reached a point where people have stopped calling it 'summer,' — instead, they just call it 'fire season,'" said Natalie Weber, information officer for the Oregon Department of Forestry in Southwest Oregon.
Southern Oregon devastated by wildfire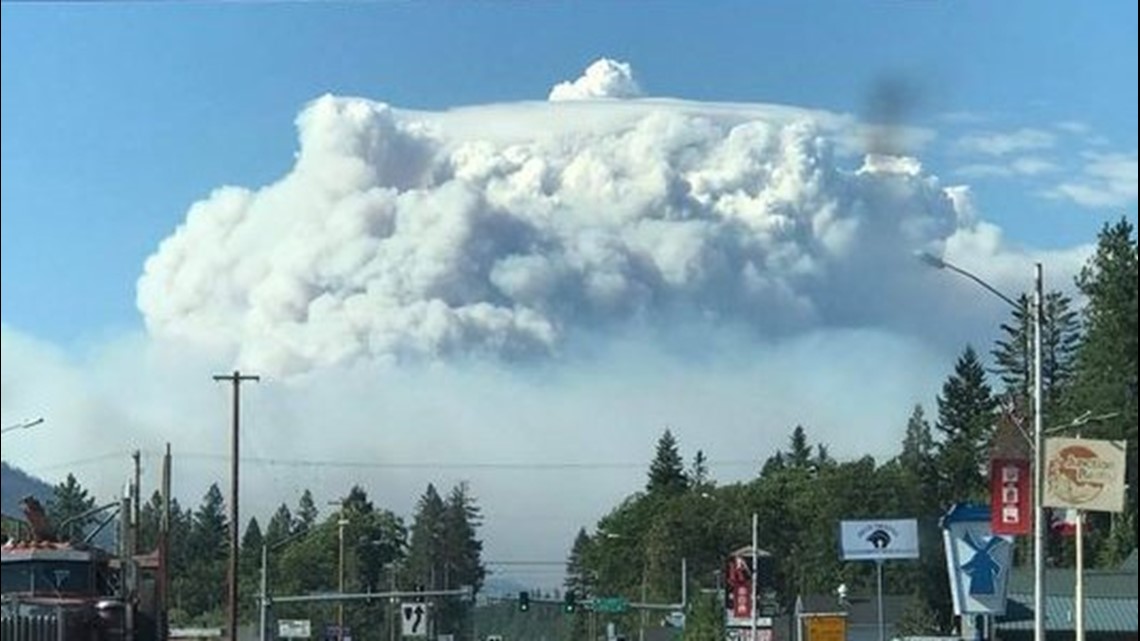 The most expensive wildfires were in southwest Oregon, where a mid-July lightning storm ignited 160 wildfires during a historically hot and dry summer.
From those starts, eight major wildfires and multi-fire complexes emerged into long-term events, blanketing the region in toxic smoke for months.
The calamity strained tensions in a region that saw major wildfires in 2017 and has seen hazardous air quality three of the last four years.
"It's the first time I've heard a lot of talk from people saying they want to leave," said Oregon Rep. Carl Wilson (R-Grants Pass). "They're talking about selling and moving on. To me, it indicates that we've reached some kind of critical mass."
The biggest conflagration was the combination Klondike and Taylor Creek fires, which burned together west of Grants Pass. Combined, they torched 220,000 acres and cost $128 million.
Oregon's most expensive complex was the Miles Fire, which included 19 different blazes near Shady Cove. The fire's cost as of Oct. 9 was $95.8 million, according to NWCC.
The Garner Complex, even at just 8,886 acres, cost $43.7 million due to its proximity to Wimer and Interstate 5.
Eastern Oregon wildfires bring death, devastation
The early season brought a number of destructive grassfires to Eastern Oregon, led by the 78,425-acre Substation Fire east of The Dalles.
Substation briefly became the nation's top priority and cost $9.7 million — a smaller amount because grassfires go out quicker than timber fires.
The Boxcar Fire, another early season brush fire that briefly shut down U.S. Highway 97 and brought evacuations to Maupin, burned 100,200 acres and cost $3.2 million.
Terwilliger Fire burns iconic hot springs
Despite a major wildfire season statewide, northwest Oregon didn't see major activity until the arrival of the Terwilliger Fire in August.
The fire sprung up near popular Terwillger Hot Springs east of Eugene, nearly trapping 20 people.
The fire eventually grew to both sides of Cougar Reservoir and reached more than 11,000 acres. It has cost $40 million to fight, according to records and torched the hot springs area, which remains closed. The fire's cause remains under investigation.
Relief in sight for wildfires costs
To pay for the increasing cost of wildfires, Congress passed a measure in March that would set aside $1 billion the U.S. Forest Service could use for firefighting starting in 2020.
Previously, the Forest Service was required to pay for firefighting costs out of its own budget, raiding money it wanted to use on measures that limited future fires — a process called "fire borrowing."
"I am proud to have worked on several steps to deal with wildfires in a comprehensive way, including making sure the Forest Service addressed hazardous fuels backlog in the woods and ending the deeply flawed practice of fire borrowing that forced federal agencies to steal from fire prevention," said Oregon Senator Ron Wyden, who championed the fix for years. "While those steps and others mark significant gains, these wildfire costs in Oregon show clearly that much more work remains to be done."
By the numbers
Cost of fire suppression in Oregon
Source: Northwest Interagency Coordination Center
*Not all costs have been reported
Acres burned in Oregon over the years
Most expensive wildfires of 2018 in Oregon
Miles Fire: 54,334 acres, $95.8 million
Klondike: 167,423 acres, $87.7 million
Natchez: 38,134 acres, $44.2 million
Garner Complex: 8,886 acres, $43.7 million
Taylor Creek: 52,839 acres, $41 million
Terwilliger: 11,555 acres, $40 million
South Umpqua Complex: 28,723 acres, $25.9 million
Watson Creek: 59,061 acres, $18.8 million
Sugar Pine: 8,729 acres, $16.8 million
Hendrix: 1,082 acres, $10.5 million
Currey Canyon: 3,100 acres, $10 million
Substation: 78,425 acres, $9.7 million
Zach Urness has been an outdoors writer, photographer and videographer in Oregon for 11 years. He is the author of the book "Best Hikes with Kids: Oregon" and "Hiking Southern Oregon." He can be reached at zurness@StatesmanJournal.com or (503) 399-6801. Find him on Twitter at @ZachsORoutdoors.