DUFUR, Ore. — A wildfire that has prompted evacuations and burned several buildings in Wasco County has burned 34,550 acres and is 95 percent contained as of Tuesday afternoon.
The Long Hollow Fire is being fought by almost 300 firefighters from across the country.
On Friday, the fire jumped from the west side of the Deschutes River to the east bank. The fire has also spread on the west side of the river from Macks Canyon to Beavertail campground.
Friday night, crews completed burnout operations along Browns Road, Highway 216 and the Deschutes River to create a line that will hopefully stop the fire from spreading southward.
In Wasco County, Boyd is under a Level 1 (Get Ready) evacuation notice. A Level 3 (Go) evacuation order is in place along the Deschutes River, from Sherars Falls to Macks Canyon.
Photos: Wildfire burns in Wasco County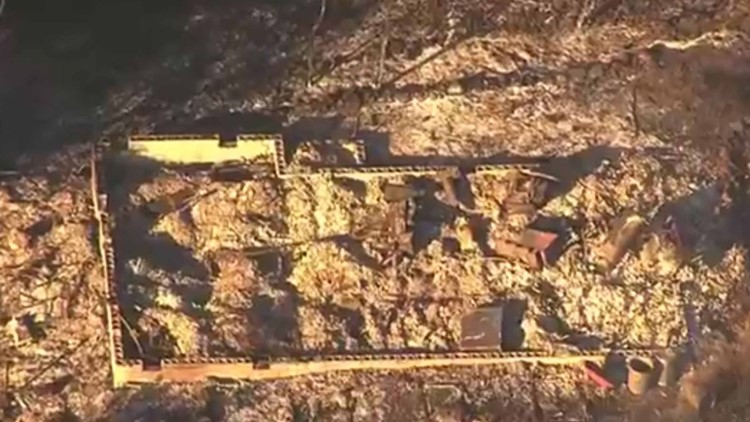 Due to the fire jumping to the east side of the river, the Sherman County Sheriff's Office issued a Level 1 evacuation notice to communities south of Rutledge Road.
Highway 216 is closed from the junctions with Highway 197 to Highway 97.
Crews have created a line on the south edge of the fire, along Browns Road, Highway 216 and the Deschutes River. More than 150 firefighters, with the help of local ranchers, are battling the blaze. They continue to battle difficult conditions with high temperatures and gusty winds.
The fire broke out at around 4:30 p.m. on Thursday Long Hollow Road, south of Dufur. Officials said a combine, a machine designed to harvest wheat, sparked the fire.
Last week, the Substation Fire burned nearly 80,000 acres in Wasco and Sherman counties and left one man dead. The Long Hollow Fire has burned to some of the fire lines created for the Substation Fire.
Anyone affected by the fire can call 541-316-7711 for more information about the fire.