PORTLAND, Ore. — Much of Oregon and Southwest Washington woke up to hazy skies and worsened air quality due to wildfire smoke on Friday.
Air quality alerts are in effect for the Southern Willamette Valley, most of Southern, Southwest Oregon and Southwest Washington until Friday afternoon. KGW's Chris McGinness said the alerts may need to be extended into Saturday.
The south central part of the state had the worst air quality, with the Air Quality Index running over 200 which is considered 'very unhealthy.'
"Meanwhile there are many large wildfires billowing out smoke across the Pacific Northwest, from California to Washington and beyond," said McGinness. "On these very hot, dry days fire activity typically increases, the air around the fires becomes unstable, and accelerates the fires growth and subsequent smoke plume."
Oregon Occupational Safety and Health (OSHA) is working with several construction and contractor companies and homebuilding associations to distribute hundreds of thousands of respirator masks to their workers.
The wildfire smoke has helped lower temperatures around the Portland metro area. Temperatures were expected to be more than a 100 degrees Friday, but that no longer looks likely to happen. Still, the city of Portland and Multnomah County sent out a Wireless Emergency Alert for the severe heat to most phones in the county around 10:15 a.m. Friday morning to warn people.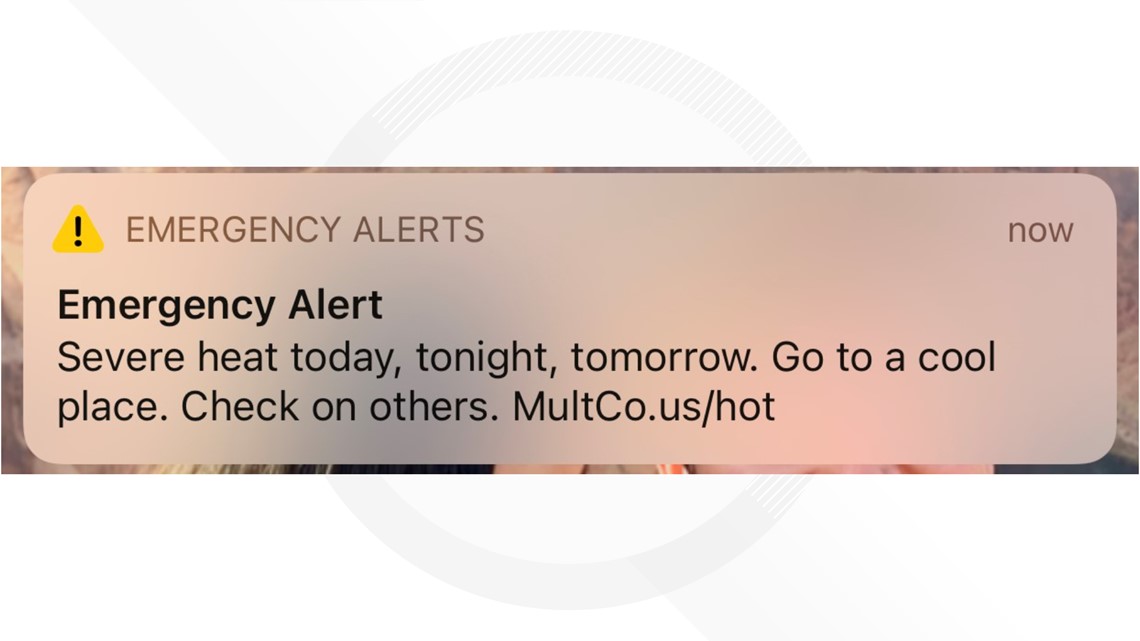 Portland hit 103 degrees on Thursday and the smoke, which limits incoming heat and sunshine, helped prevent further warming.
"Nonetheless PDX did tie another record yesterday, for the most number of 100-degree days in one summer. We achieved that twice before, in 1971 and 1944. We may add another one [Friday]," said McGinness.
Portland has recorded five 100-degree days so far this summer.
When will the smoke clear out?
McGinness said there could be some subtle improvement late Friday or Saturday with the development of a light onshore wind.
"We're not likely to completely clear out the wildfire smoke until Monday when a weak cool front sweeps through the region," said McGinness. "That will buy us a couple days of clear sky and cooler temperatures. 90-degree heat looks like it returns later next week."
How to stay safe when air quality is poor
Stay inside and keep windows and doors closed
Avoid outdoor activities
Use high efficiency particulate air (HEPA) filters in portable air purifiers or create a DIY air filter
Cloth, dust and surgical masks don't protect from the harmful particles in smoke.