PORTLAND, Ore. — The headline for this upcoming winter season is a 75% confidence from NOAA that La Niña conditions will remain in place through the entirety of the winter season.
The projection is for Pacific waters in the equatorial region off the coast of South America to average -1 to -1.4 degrees Celsius below climate average. That would classify as a moderate La Niña, and those conditions are the basis for this active winter outlook.
Looking at La Niña years dating back to 1950, and especially zeroing in on moderate La Niña episodes, the forecast headline for this coming winter is that a dry season would be highly unlikely. In fact, it's practically unheard of to have a dry winter during a La Niña year.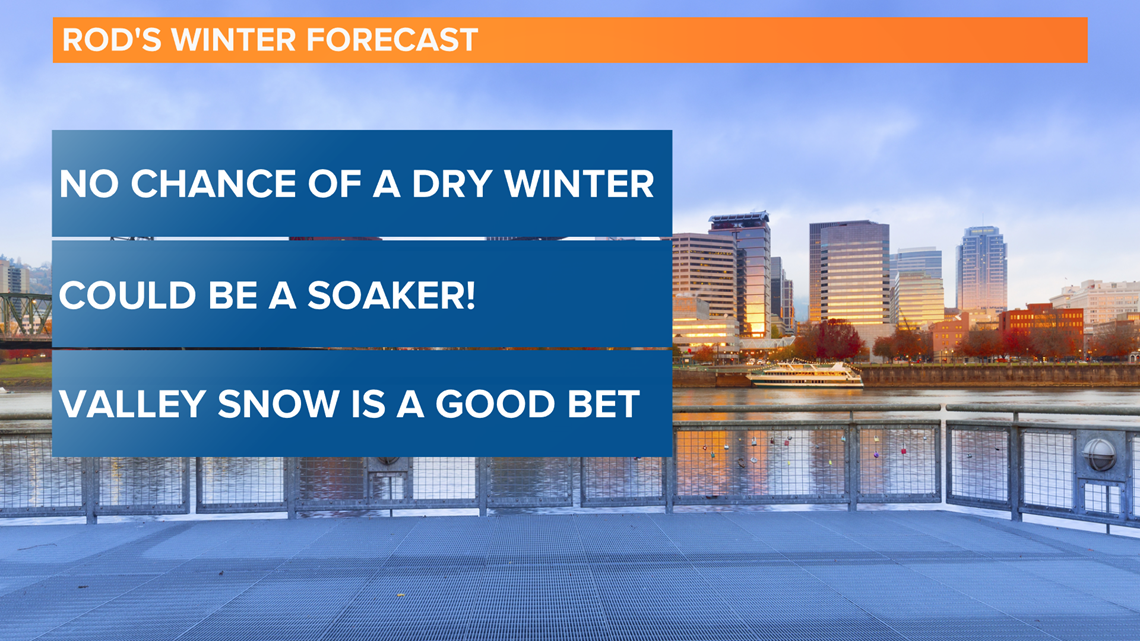 Valley rain
The highest confidence of my outlook is the call for heavier-than-normal rainfall from November through March.
Having 6 inches of rain or more in November will be key to a wet water year. My projection would lead to 40 inches or more for the 2020-21 season. The normal rainfall for an average water year (Oct. 1-Sept. 30) recorded at Portland International Airport (PDX) is 36.03 inches.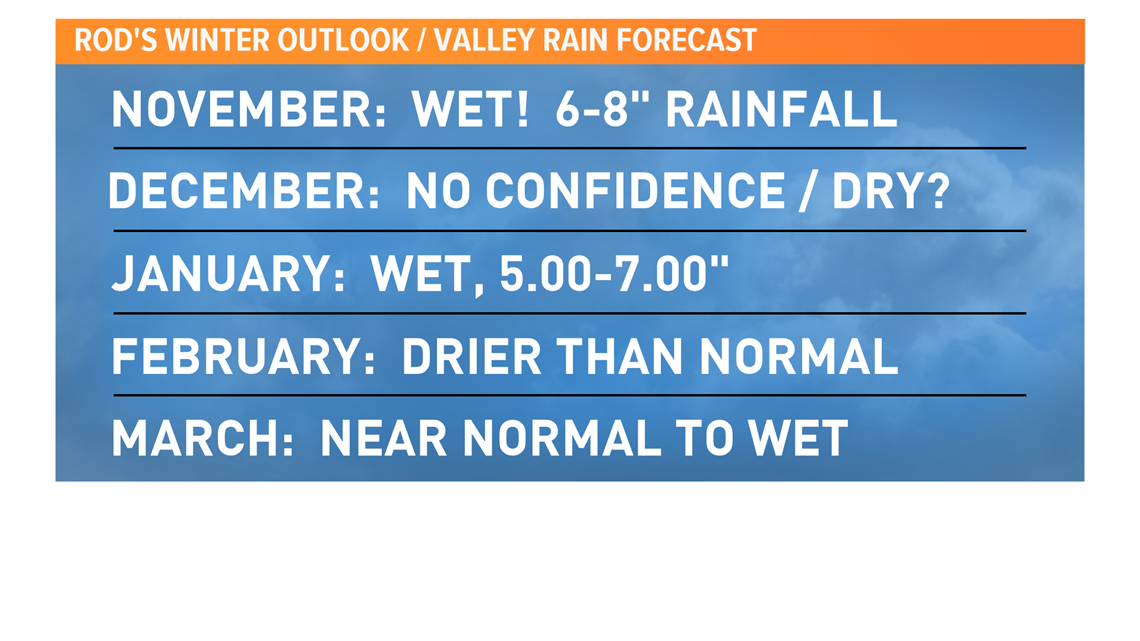 Valley temperatures
The valley temperature outlook calls for a warmer-than-normal season, largely due to mild overnight temperatures being produced by an active, wet westerly flow pattern.
I am watching the possibility of a dry streak in December that would lead to freezing overnight temperatures. February appears to be the best chance of seeing an arctic air mass with temperatures well below normal.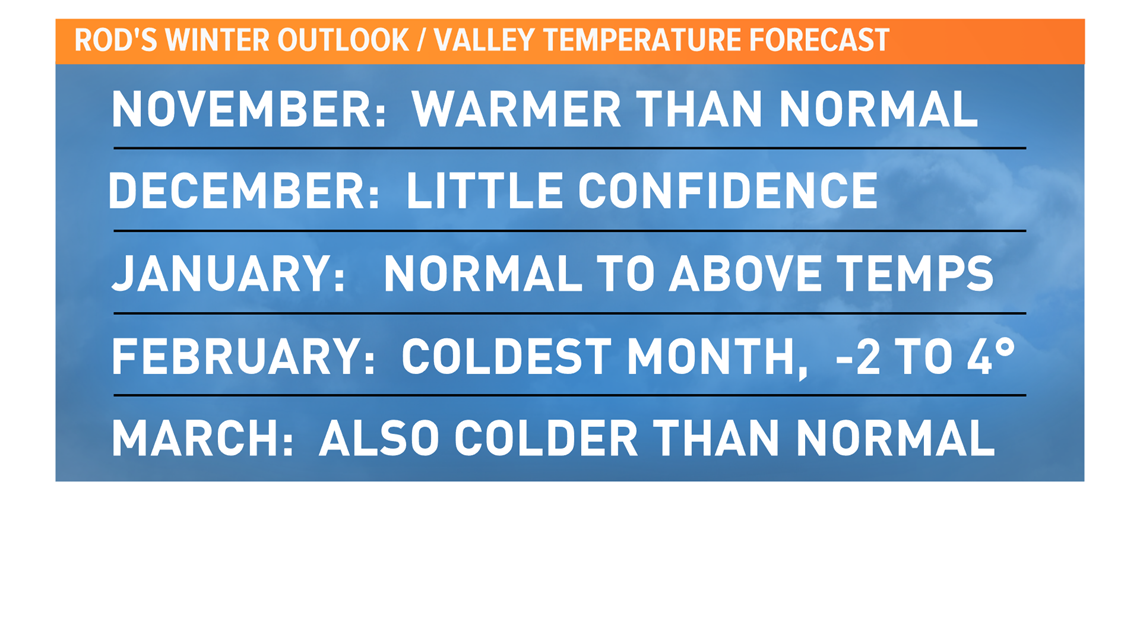 Valley snow
Of course the big question when it comes to winter projections is the valley snow forecast. La Niña years offer the highest probability to see valley snowfall.
The snowy December of 2008 happened during a weak La Niña season, which stands in slight contrast to the expected moderate La Niña this winter. That year, in December 2008, we saw 19 inches of snow, including a record 10 inches falling on Christmas Day, and 24 inches for the winter season!
While some snow is likely this season, the biggest winter snows for the valley since 2000 have come during weak La Niña years and neutral years.
This year is expected to be a moderate La Niña season and in the past, those have produced between 3 and 22 inches of snow, dating back to 1950, meaning we have always had at least some snow and the chance of a big snowstorm is elevated.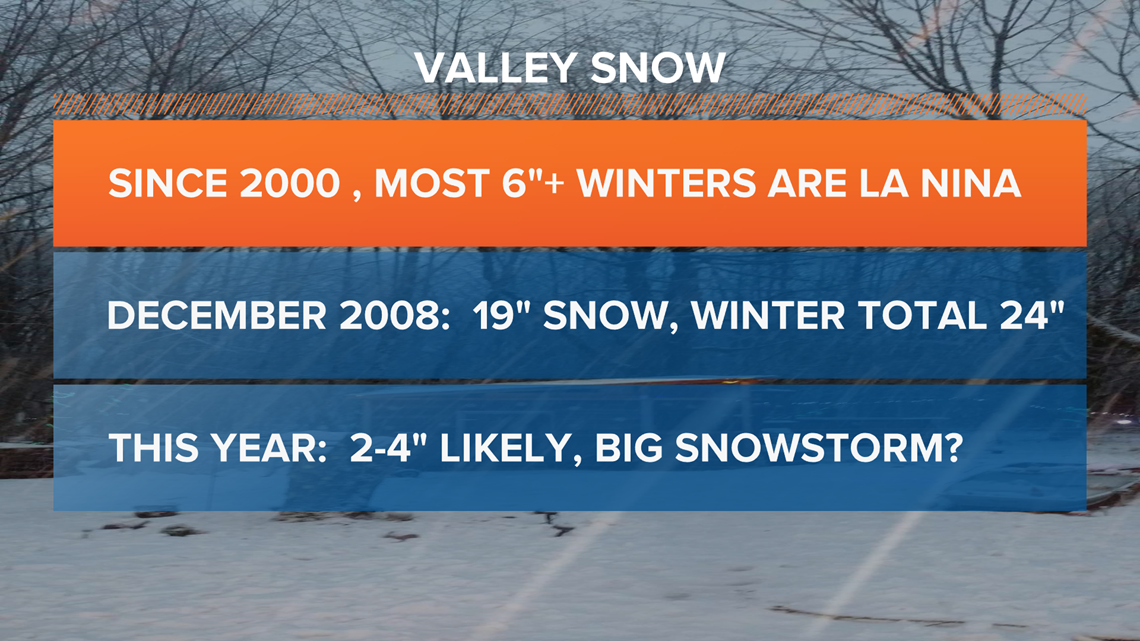 Snow in the mountains
The Mt. Hood snowpack is also of particular interest and the news is good as La Niña seasons typically bring good to great seasons.

Here are the final headlines for my Portland Winter 2020-2021 Outlook:

I chose not to include valley windstorms in this outlook. It is not uncommon in any winter season to have several events with 50-mph wind gusts, including east gorge winds. The Columbus Day storm of 1962 was a neutral ENSO Year.
Looking back at last year's forecast
I projected a normal amount of snow on Mt. Hood, but the winter turned out to be much drier than normal. I projected 100% of normal and the season total was 64% of normal.
I projected that there was a good chance we'd see one 8-inch snow event in Portland. PDX had a half-inch in the month of March. This was a big fail on my part.
My rainfall forecast was good! I projected a total of 18.39 inches between November and March, and the season total was 17.47 inches.
I do believe the lack of cold weather and snow was in large part due to the Pacific "blob" of warm waters that formed off of the Northwest coastline last winter. January saw the sixth-warmest high temperature average recorded at PDX in the record book!