PORTLAND, Ore. — Some roads in the Portland metro were icy Tuesday morning.
Temperatures dipped into the 20s overnight with some areas farther south in Western Oregon dropping into the teens.
Icy road conditions this morning prompted two-hour delays for many school districts, including Portland Public Schools and the Lake Oswego School District. Gresham-Barlow shut down for the day.
Tap here for the last school closures and delays.
"We are seeing reports of freezing fog, but minus a few flurries, a dry day is expected with partly cloudy skies and daytime metro highs warming to near 40 degrees," says KGW meteorologist Rod Hill.
The Willamette Valley may see snow flurries Wednesday but little to no accumulation, Hill says.
"As March begins on Friday, we should see mainly dry weather for the weekend," Hill says."If we get enough sunshine, Saturday may warm to near 50 degrees. The last time PDX touched 50 was back on February 2nd."
Monday snow
Snow fell in the Portland area for several hours Monday morning, with accumulations ranging from a trace to a couple inches.
Most of that snow on the ground had melted away by afternoon, even as flurries continued off and on.
Northwest Germantown Road was the most impacted location in the Portland area. The road shut down between Northwest Skyline Boulevard and Northwest Bridge Avenue after snowy, icy conditions caused multiple wrecks, including multiple flipped cars.
VIDEO: Flipped cars, icy road conditions on Germantown Road
Beaverton School District and Salem-Keizer Schools were among several districts that closed Monday. Portland Public Schools and other districts opened two hours late.
Areas south of Portland saw much more snow. Eugene set a new record with 11 inches of snow, which broke the mark for the snowiest February day in the city, KGW Meteorologist Rod Hill said. Salem picked up 2 inches of snow.
An Amtrak train has been stuck since Sunday evening after it struck a downed tree on the tracks.
More: 'We're stranded': Amtrak train stuck in Oakridge since Sunday night
Amtrak says the train will eventually head back to Seattle, where it originally departed, and passengers will be dropped off where they boarded the train.
RELATED: I-5 reopens after heavy snow shuts down freeway, highways from Eugene south
Interstate 5 between Sutherlin and Cottage Grove was shut down for most of the day because of heavy snow, downed trees and power lines. The freeway reopened around 4:30 p.m. but drivers should expect winter conditions, Oregon Department of Transportation officials said.
An avalanche closed Highway 20 in both directions about two miles west of the Santiam Pass summit. The highway reopened Monday night.
Highway 58 was closed from Lowell to Oakridge, from mileposts 13 to 40.
Check road and traffic conditions at tripcheck.com.
Timberline Lodge reported 74 inches of snow over the past 10 days, according to Hill, who said the number is likely to reach 80-plus.
Your Pics: Snow around the Portland metro area
Your Pics: Snow in Portland and other areas in Oregon and Washington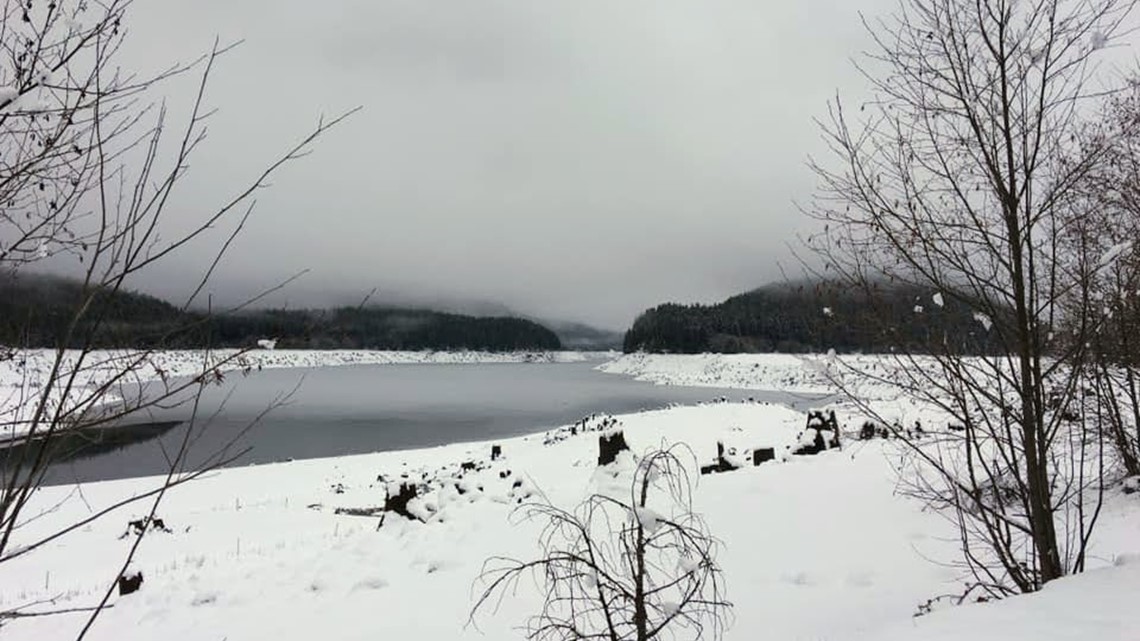 Weather tools: