The outlook for the upcoming winter: Mostly normal temperatures for the valley with precipitation above normal, and a Mt. Hood snowpack looking a bit healthier than the last couple years.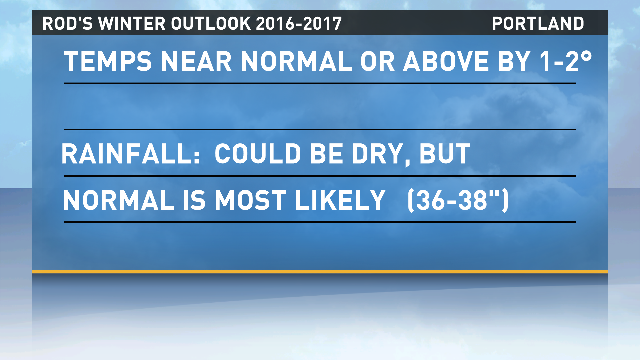 For a deeper look at the 2016/2017 winter, let's start with last winter, which was, as expected, a strong El Nino pattern. It produced a healthy snowpack on Mt. Hood, much above normal rainfall for the Willamette Valley in terms of the water year (Oct. 1 through Sept. 30), and above normal temperatures overall.
Headlines for the water year:
Mt. Hood test site snow ending April 30: 90" depth, 41.7" of water storage (67% of normal)
Portland (PDX) total water year precipitation: 47.02" (10.99" above normal)
Portland season snowfall: 1.3"
Highest wind gust (PDX): SW G 55 mph, December 21, 2015
Portland Temperature average: 2.5 degrees above normal mean temperatures.
The strong El Nino of last winter weakened during the spring and ENSO neutral conditions are in place. NOAA projects a 55-60% chance of neutral conditions holding through the winter of 2016-2017.
My forecast projection work is based on data sets showing neutral conditions, dating back to 1950. I further examined neutral seasons following a strong El Nino winter. My outlook is based on averages of the above mentioned data sets.
Here is my Winter forecast for the Portland metro valley and Vancouver:
Temperatures: Likely to be near normal or above by no more than 2 degrees.
Rainfall: While a dry season is possible, odds favor rain totals near 37.90" (1.87" above normal). November and December are likely to combine for a wet start to the rainy season.
Valley snowfall: At least one or two mini-snow events are likely, dumping 3-6" of total snowfall. Also, I see an elevated chance for an 8-12" snow event. The historical average for this winter's pattern is 6" of total season snowfall. But the odds of seeing a big snow event are aboutthe same as the odds of seeing less than 3" for the year. The December 2008 sno dump that left behind 19" and the winter of 2003-2004 that produced 12.6" are in the data set.
Windstorms: Odds are heightened for valley windstorms with south wind gusts reaching 50 mph or higher. The majority of Willamette Valley windstorms happen in neutral and El Nino years. Most recently, neutral years brought the windstorms of December 2014, when PDX had a 67 mph wind gust (the highest since 1981) and December 2006, which saw a gust of 80 mph in Salem and 70 in downtown Portland, but 53 at PDX.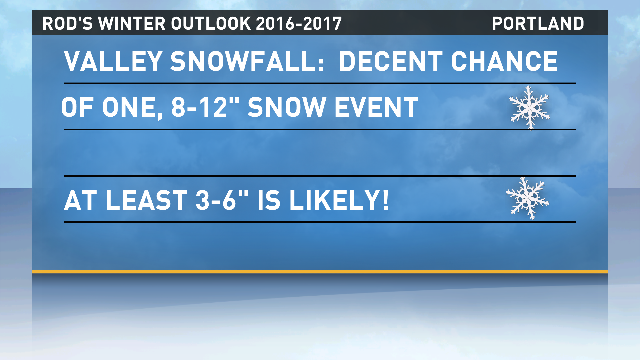 My snow records for Mt. Hood only go back to 2000. Of these years, I found eight seasons in the data set matching this upcoming winter scenario and six of the years had solid snowpacks.
The projected snowpack for this upcoming winter is 72% of average, which would be slightly higher than last winter.
I do want to point out that the two bad seasons I looked at include the record-low snowpack season of 2014-2015 (in other words, there is reason to be cautious with the snow projection). But the best bet calls for a solid year with Timberline seeing more than 500" of total snowfall and Mt. Hood Meadows getting more than 400"; both would be considered just about normal. Also, odds favor a good start to the season with a decent snowpack build during the month of December.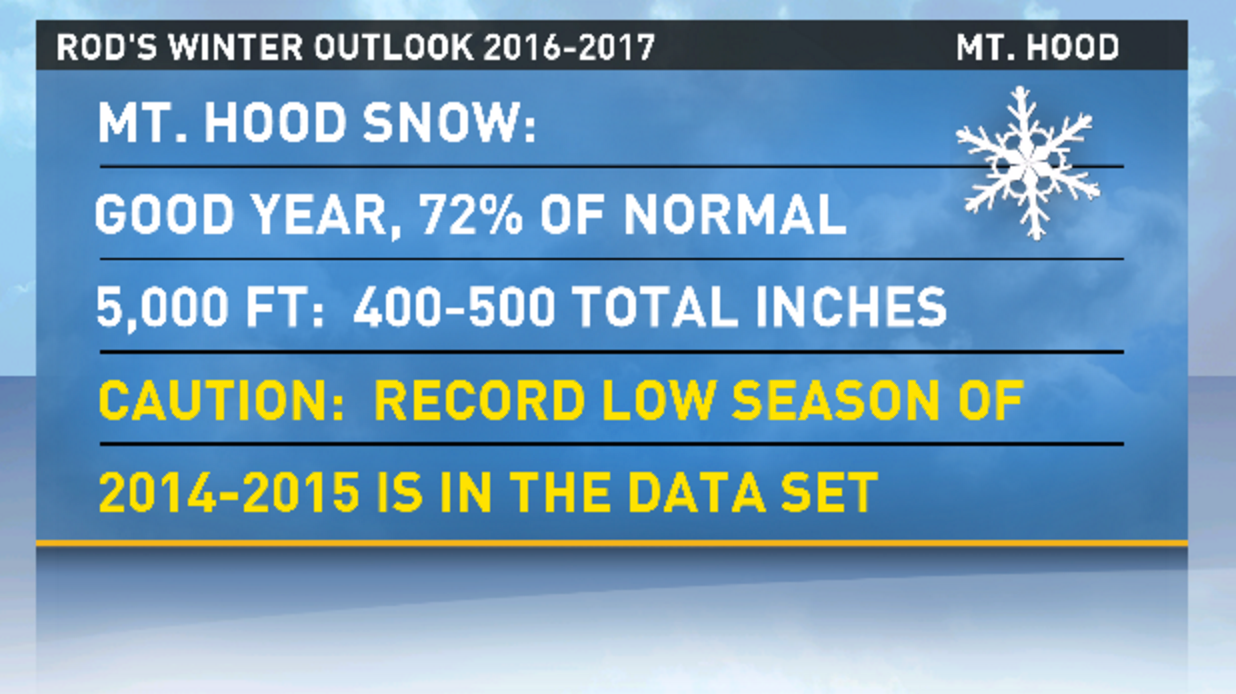 My seasonal forecast track record dates back to 2001 and has a 67% accuracy rate, including my 2016 summer prediction of less than 16 total 90-degree days at PDX (the airport hit 90 degrees 14 times this past summer).
By industry standards, seasonal prediction is actually considered to be less than 50% for precipitation and 55% for temperature outlooks.