PORTLAND, Ore. — This year's winter outlook begins with something that is fairly rare, a back-to-back La Niña winter season. Our region is projected to have a moderate La Niña winter, matching last season's so-called El Niño-Southern Oscillation (ENSO) cycle. This will become just the 10th back-to-back La Niña since the cycle was documented, starting in 1950.
Using history as a guide, this winter will have a greater possibility of being dry to very dry than being a wet soaker. Below are the main points this outlook will be graded. Notice that colder-than-normal temperatures and a good snow chance round out the headlines.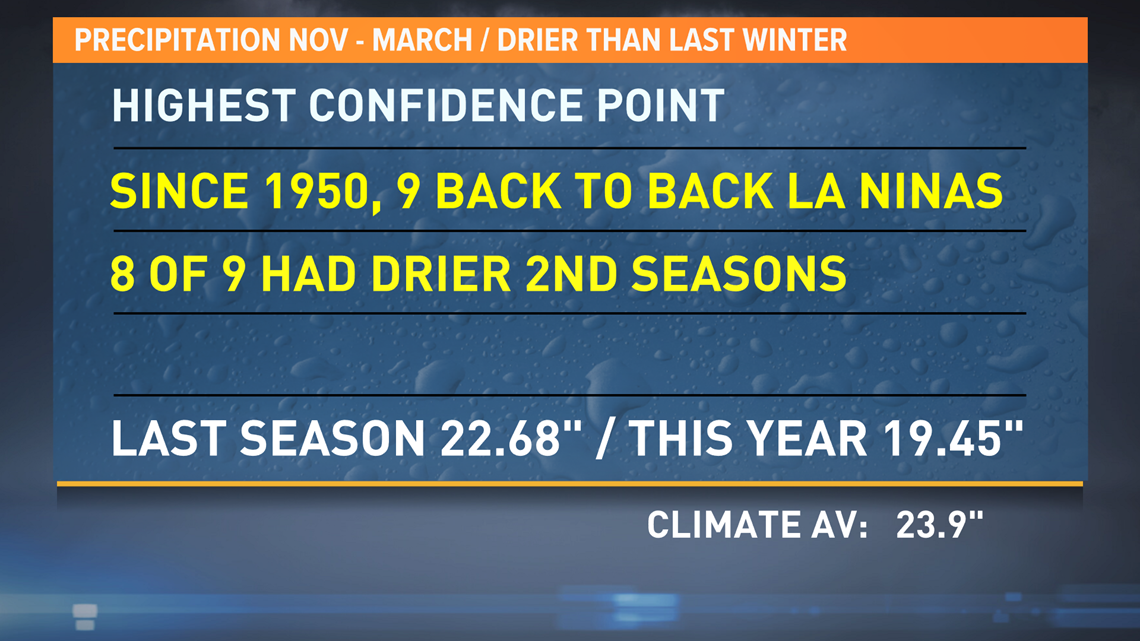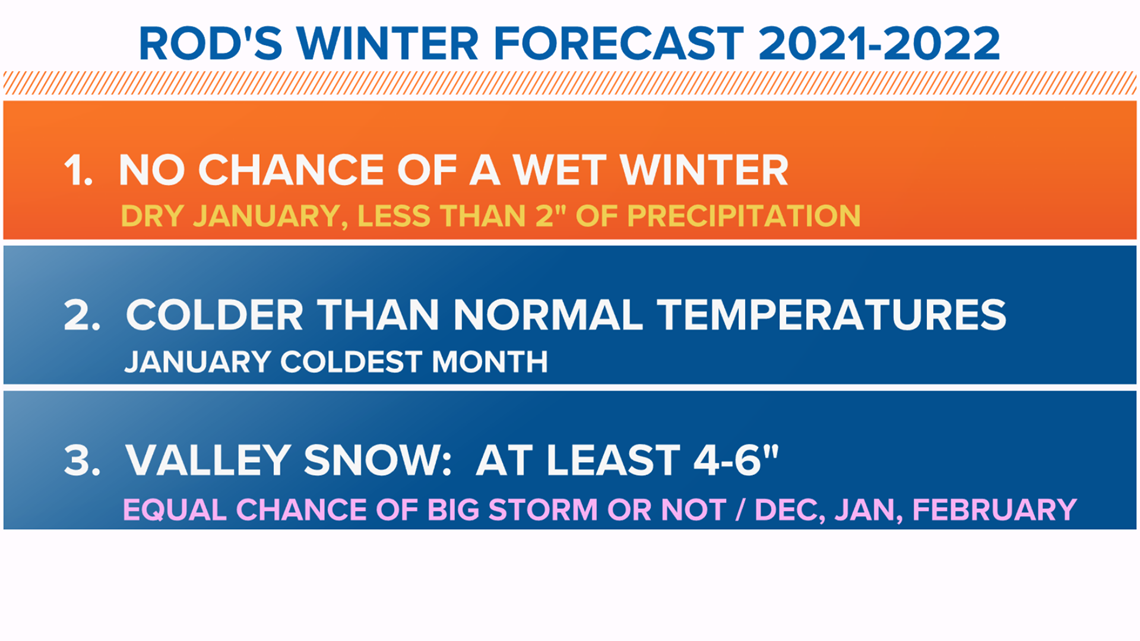 Notice my projection calls for an equal chance of snow in December, January and February. The month that looks the most interesting to me is January. Nearly all weather models show a colder and drier-than-normal start to the new year. Take a look at the following weather model projections: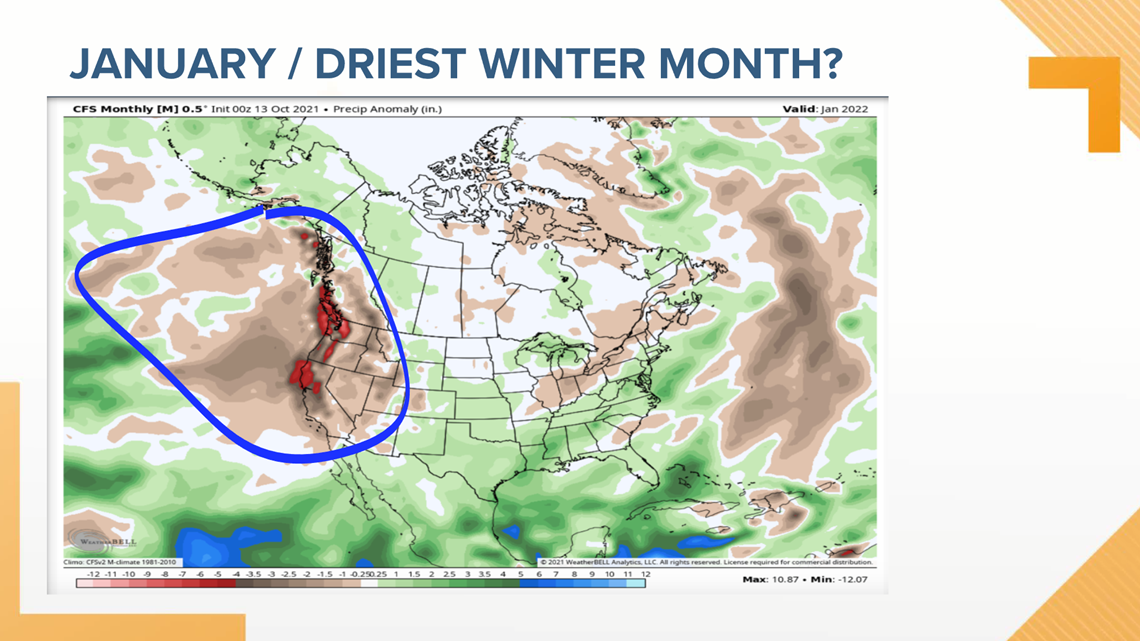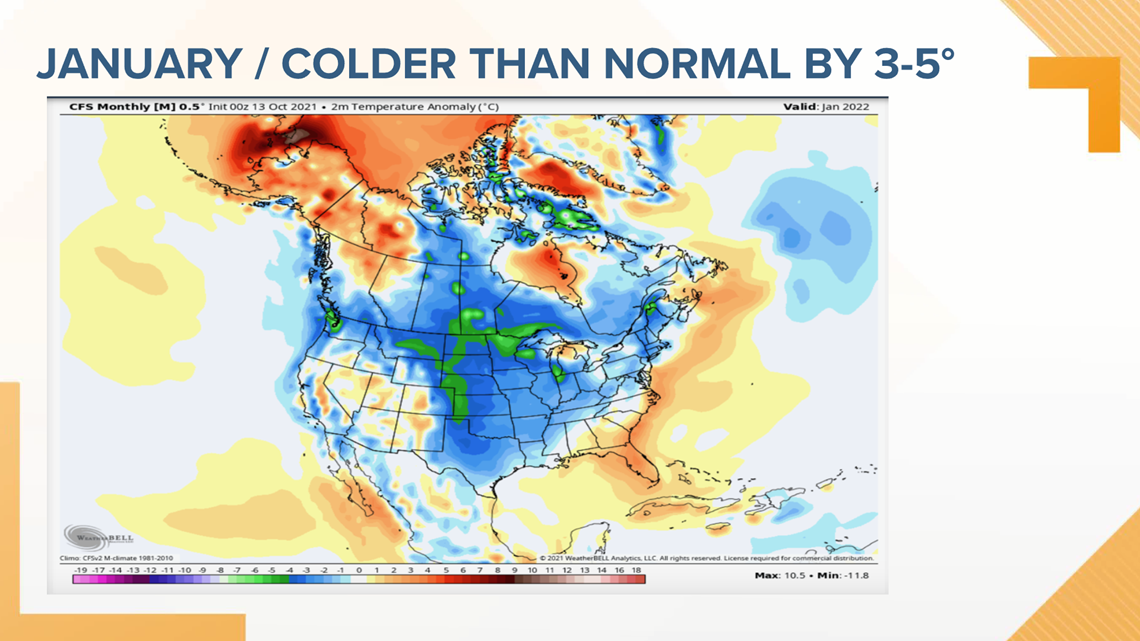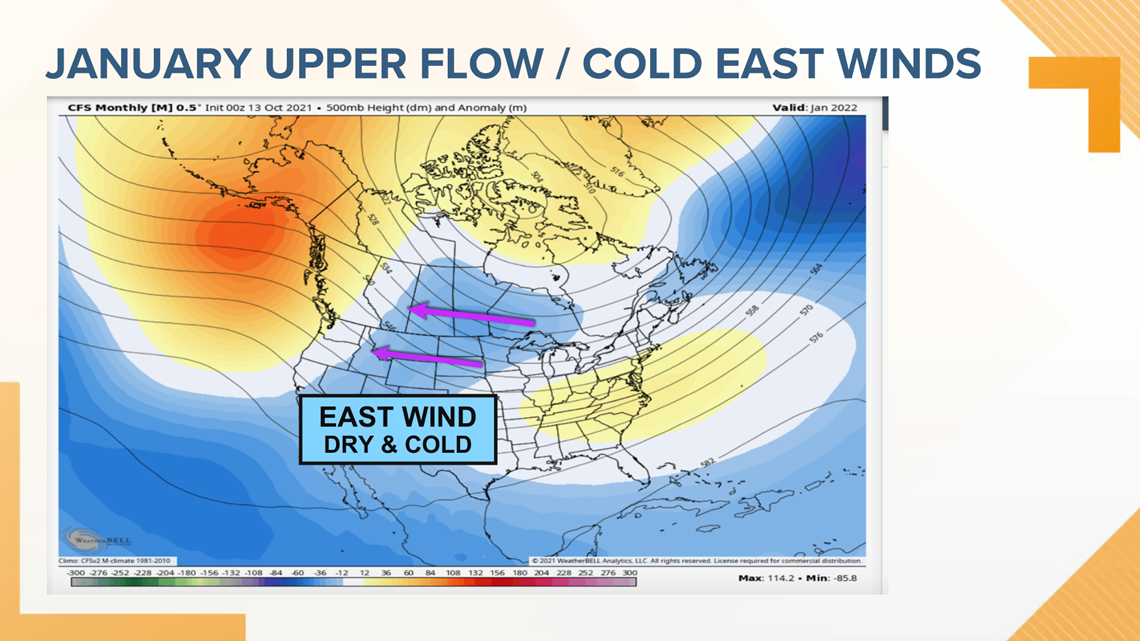 The flow pattern shows cold air building over the Rockies that could ignite a cold east wind into the valley, setting the stage for bitterly cold nights and possibly a snow and or ice storm.
Here are my overall particulars, beginning with monthly temperatures. Notice all months, except November, show potential to be colder than climate average.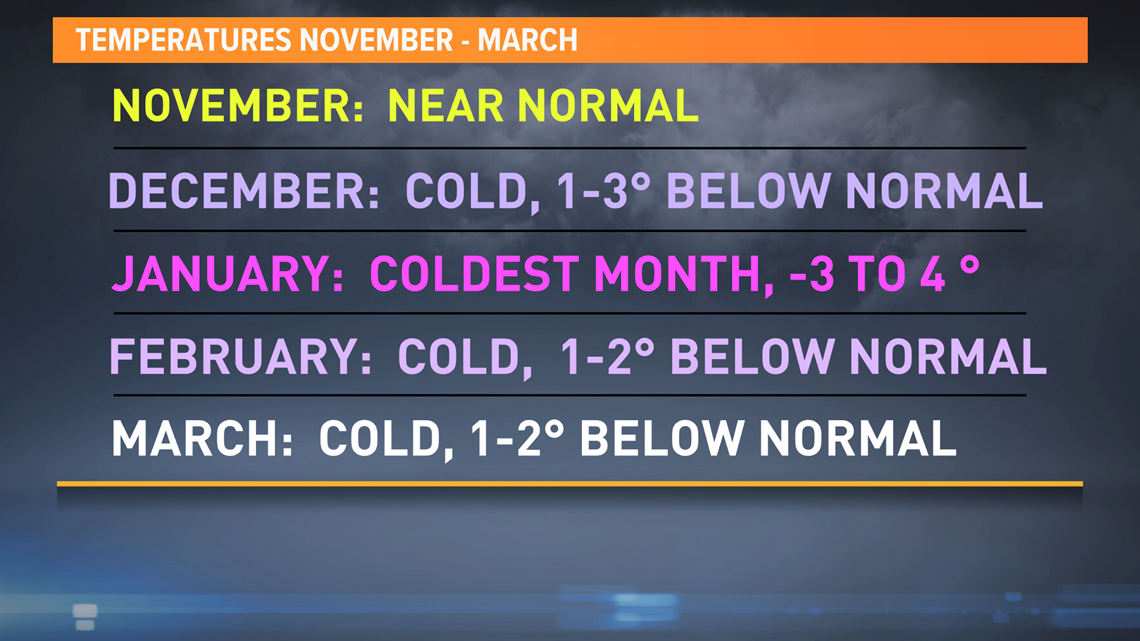 Valley snow was touched on earlier, but again 4 to 6 inches of total snow is likely. Past years show little confidence to forecast a big storm or simply a few smaller events, but each month starting in December has an even chance of snow on the ground.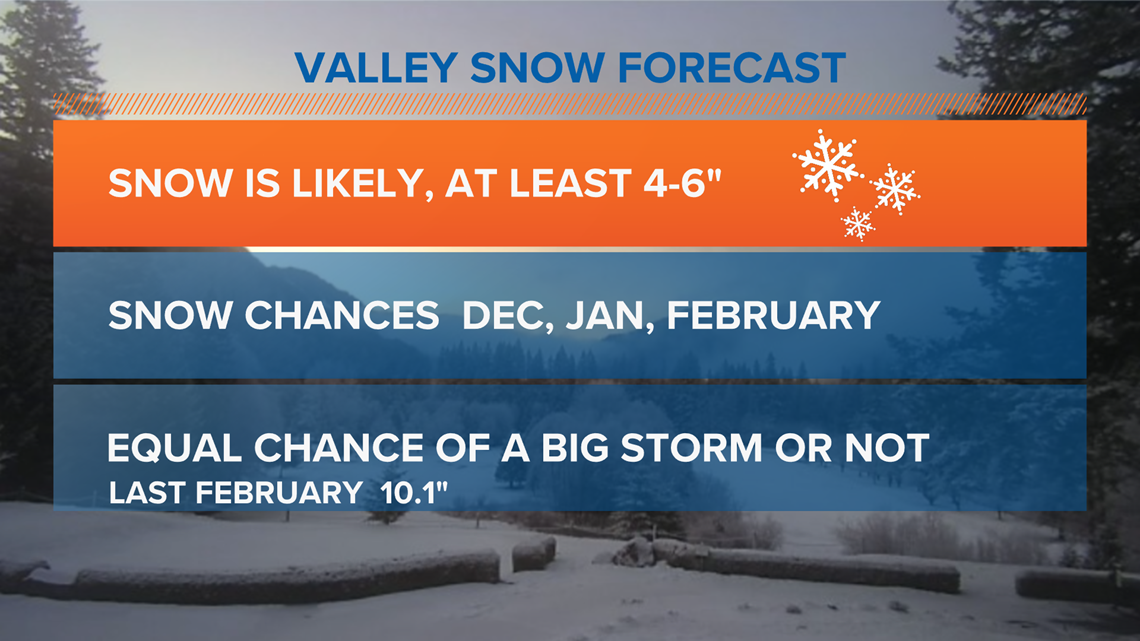 Skiers and boarders on Mt. Hood have good reason to feel excitement regarding the upcoming season. While history shows this winter will likely have less total snow than last year, 80% of normal snowpack would be a good year and nearly equal to the 2017-2018 winter that showed an early November start to the season and generally a healthy base into the spring months.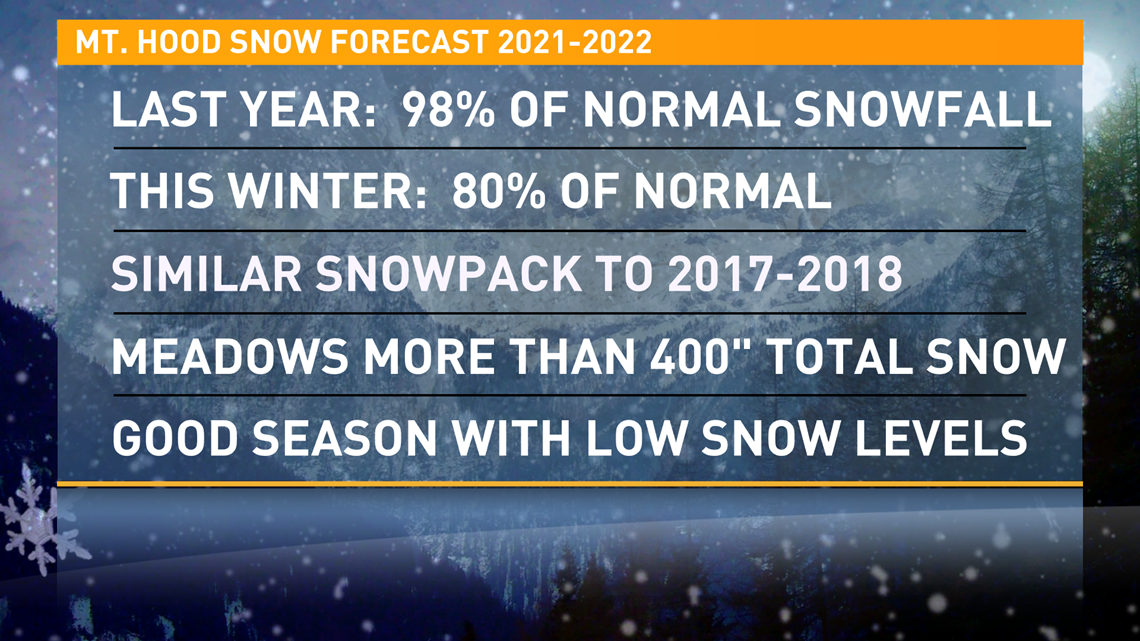 The conclusions of this outlook are solely taken from National Weather Service records and assume past back-to-back La Niña seasons will reflect our local weather in the coming months. It is important to understand, nearly all data sets taken over decades of time include outliers and I rely on conclusions that are most likely to occur.
Looking back at last year's forecast
No chance of a dry winter (November - March). This was a good call. Total precipitation was nearly normal at 22.68 inches. Climate normal is 23.9 inches.
I said a good chance of a real soaker: This was not true, although January was our wettest month at just over 7 inches of moisture.
At least 2-4 inches of valley snow and a heightened chance of a big storm. I also projected no possible valley snow until January. This was a good forecast as the 10-inch snow storm hit Portland in February.