PORTLAND, Ore. — Snow fell across the Portland metro area Sunday and stuck in some areas, especially in higher elevations. A winter weather advisory was in effect for much of Oregon all day Sunday before ending at 10 p.m.
Whether the snow stuck to the ground depended on elevation. Downtown Portland and Vancouver were less likely to see accumulation though some low-elevation areas experienced a dusting of snow on the ground. Higher terrain above 500 feet had a better chance of snow accumulation.
Other areas that were expected to see snow sticking on the ground included areas of western Washington and Yamhill counties, as well as communities along the Highway 30/I-5 corridor throughout Columbia, northern Clark and Cowlitz counties.
Early Sunday morning, temperatures were a little warm for snow to stick Sunday morning with temperatures near 40 degrees through 8 a.m. The temperature dropped quickly and as of noon Sunday, the temperature at PDX had dropped to 34 degrees. The temperature at the airport stayed between 32 and 35 degrees most of the day Sunday.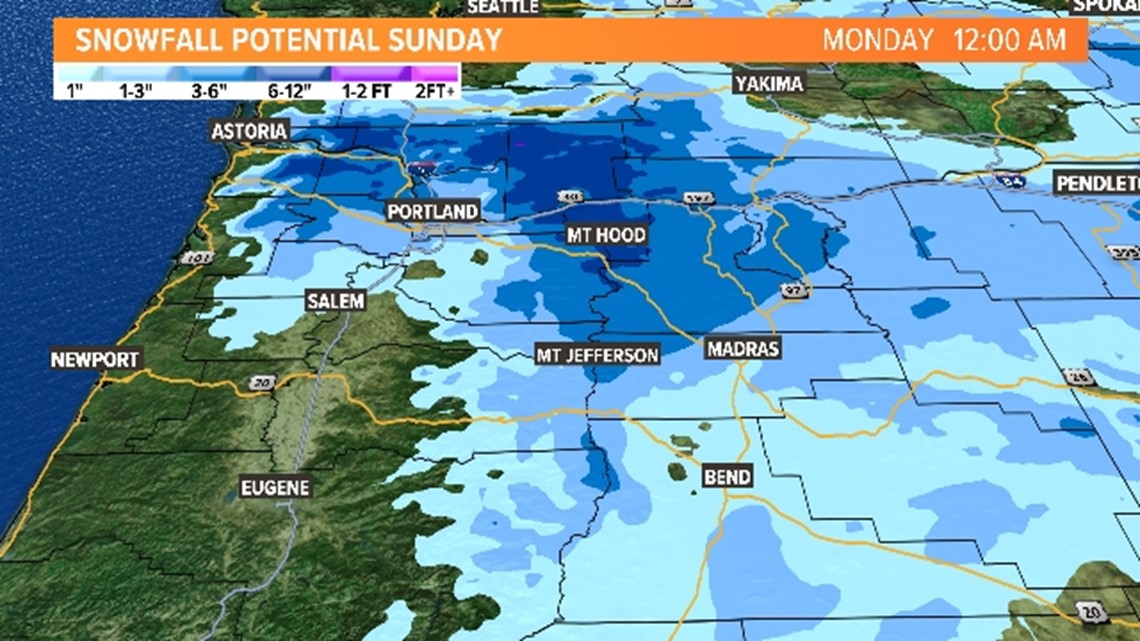 The Portland Bureau of Transportation (PBOT) reported Sunday morning that crews placed 4,750 gallons of de-icer on "designated anti-icing routes" Saturday night. To see a map of PBOT's priority snow and ice routes and where they deploy salt, visit their Get Home Safe website.
There were multiple crashes on I-84 east of Corbett in eastern Multnomah County. The right lane of eastbound I-84 was closed at mile post 25 due to a jack-knifed semi truck. Officials said the road was covered in snow and asked people to avoid the area if possible.
In areas east of the Cascades, up to 2 inches of snow were expected to accumulate with higher amounts possible in higher elevations and throughout the Columbia basin.
Some parts of the Columbia River Gorge were expected to see some freezing rain. Interstate 84 was expected to be slick at times throughout Sunday, especially in the east end of the Gorge. A winter weather advisory was in effect for the eastside of the Gorge through Sunday night. Check current traffic conditions at TripCheck.com.
Temperatures Sunday night into Monday morning were expected to stay around the low to mid-30s, which means there could some slick roads overnight and on Monday's morning commute, Raineri reported. The next significant weather event rolls in later Wednesday or Thursday with valley rain and mountain snow.