PORTLAND, Ore. — The Rose City wrapped up May by setting a multiple weather records. Among them, Portland International Airport (PDX) recorded 16 straight days of dry weather, marking the longest dry streak during the month of May.
The previous record of 15 consecutive dry days was set in May 1995, according to KGW meteorologist Rod Hill.
PDX saw a rain total of 0.91 inches this month, which is just 36% of the normal rain total for May, according to the National Weather Service. The driest May on record at PDX recorded just 0.10 inches of total rainfall back in 1992.
"Portland's wet April leaked into the first week of May, but since May 8, only .03 inches of rain has fallen at the airport and that was 16 days ago on May 15," Hill said.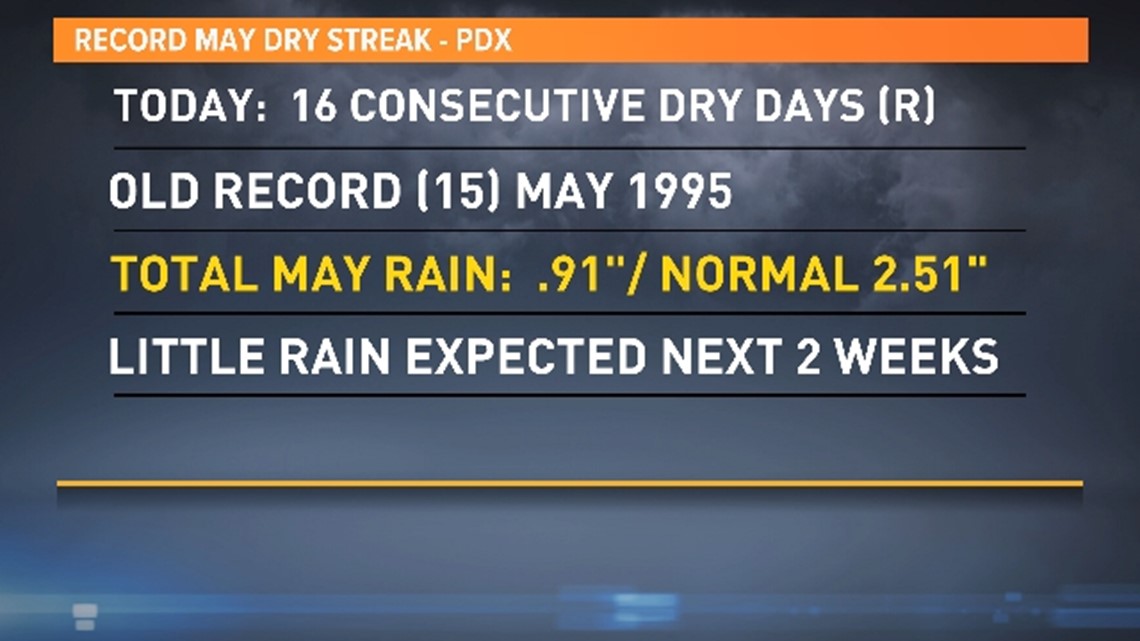 Hill said that weather models show the current lack of precipitation extending through mid-June.
"If rainfall patterns fail to increase, it is safe to say the dry season has begun, dating back to mid-May with little hope for days of soaking rainfall through August," Hill said. "June typically sees 1.63 inches of total rainfall, but below normal moisture is expected."
He said the fast transition into dry weather could mean a higher risk for wildfire danger.
KGW spoke with the Oregon Department of Forestry (ODF) earlier this week.
"We're getting to that point where fire season is approaching across the state in the next month or so," said Natalie Weber with ODF.
Weber noted that although Oregon saw a wet spring and a healthy year for snow pack, fire season is still going to come.
"We still live in a very fire prone environment and it is time to start thinking about that and being aware of the risks that we're going to be facing and make sure that ourselves and our families are prepared for that."
Other records set in May
PDX set a number of other notable records, including the warmest mean temperature, making it the warmest May in the record book. Records at the airport go back to 1941.
The final temperature report shows an average high of 75.5 degrees, which is the second warmest ever, Hill said. The average low also set the all-time record for warm nights at 53.1 degrees.
"It is worth noting that the low temperature of 62 degrees [on] May 14 tied the all-time record for warmest," Hill said.
The graphic below illustrates some of the most notable weather record categories.