PORTLAND, Oregon — The Portland metro area is in for a stretch of increasingly warm weather this week. It began on Wednesday and will continue through Mother's Day weekend.
High temperatures are expected to climb to at least 90 degrees on Saturday and Sunday, which would mark Portland's hottest day of the year so far. It would also break records previously set on those days in 1973 and 2014.
"Weather models continue to show consistency and confidence that a strong ridge of high pressure will build later this week, bringing Portland's first 90-degree temperatures of 2023," said KGW meteorologist Rod Hill.
The week got off to a cool start, with highs that were in the low to mid 60s on Monday and Tuesday. The warmup began Wednesday, with PDX reaching 78 degrees. Thursday could hit closer to 80 degrees, followed by 85 degrees on Friday before 90-degree heat arrives on Saturday and Sunday.
The bar graph below compares this week's forecasted highs with record-high temperatures on the corresponding days.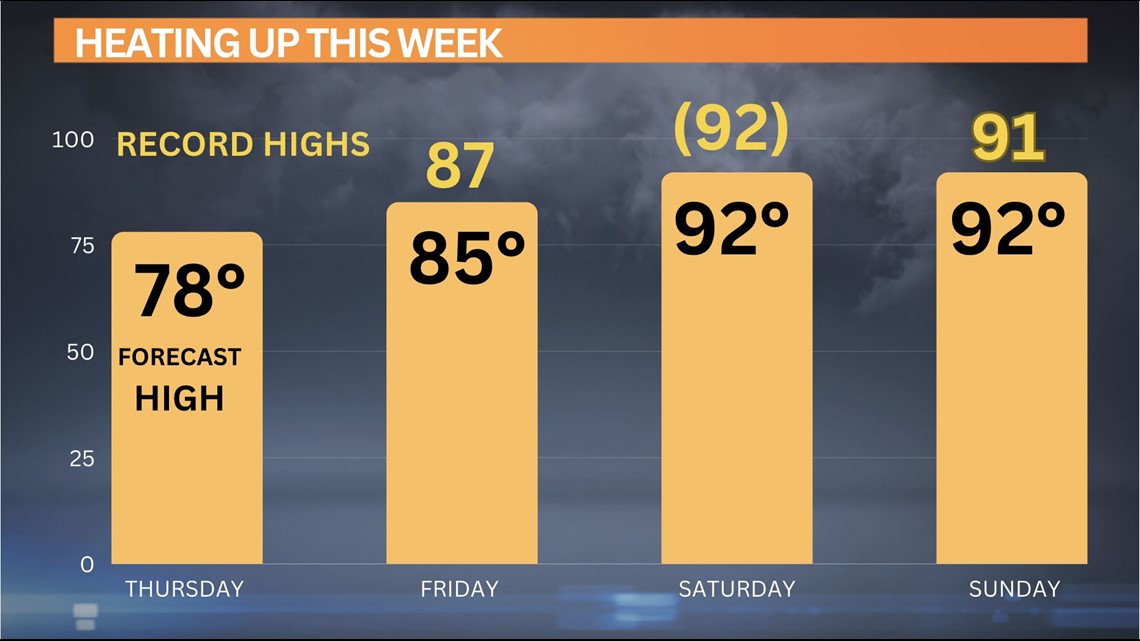 "The east wind will lead to low humidity, as actual air temperatures rise into the lower 90s are hotter," Hill said. "Record highs for Saturday and Sunday could be broken. Saturday's PDX record of 92 dates back to 1973 and Sunday's record high of 91 was set back in 2014."
Hill added that it's not out of the question that temperatures could rise into the mid-90s this weekend.
He also noted that while 90-degree weather is coming to Portland for the first time this year, Salem did hit 91 degrees on April 28.
Seattle and parts of western Washington are also likely to see the warmest temperatures of the year this week. Highs there are forecasted to climb into the 80s, or 15-20 degrees above average for this time of year.