PORTLAND, Ore. — Showers and thunderstorms are making their way north through the Willamette Valley, with some expected in the areas where several wildfires have been burning for more than a week. The storms are expected to wash out the smoke that has blanketed Western Oregon and put an end to widespread air quality warnings across the region.
KGW Chief Meteorologist Matt Zaffino reported the first lightning strike over the Cascade foothills, southeast of Canby, at around 5:30 p.m.
Shortly after 8 p.m., radar showed storms over Salem and heading north.
Zaffino said the storms could be strong, which is why a flash flood watch was issued Thursday night along the west slope of the Cascades, where fires have burned out the vegetation in some areas. Zaffino said downpours, erratic winds and large hail could be possible.
The areas that should be on alert for flash floods are the fire zones where the Riverside Fire, Beachie Creek Fire, Lionshead Fire and Holiday Farms Fire have been burning.
The Oregon Department of Geology and Mineral Industries (ODGMI) said the flash flood watch applies to portions of the following counties: Hood River, Multnomah, Clackamas, Marion, Linn, Lane, Douglas, Coos, Jackson and Klamath.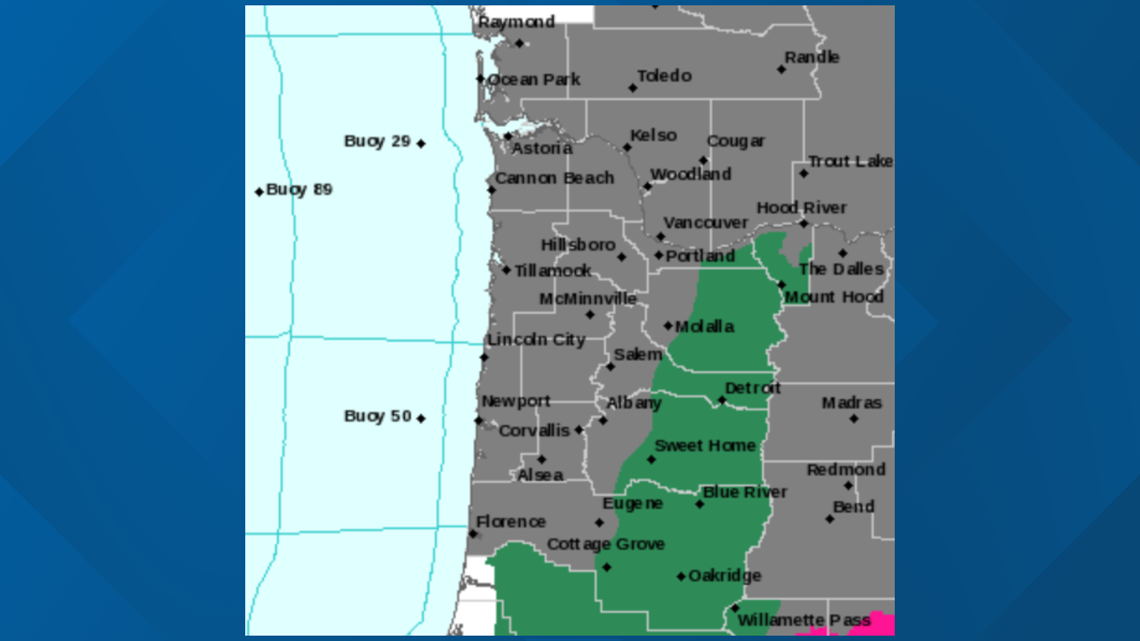 KGW meteorologist Rod Hill said downpours could result in an inch of rain in certain areas over the span of 20 to 30 minutes
"Heavy rain like that in these burned areas could lead to rapid runoff and even debris flows, where you have some downed trees and rocks and that type of things being moved around," he said.
ODGMI shared the following advice for anyone whose home, work or route is in a watch area:
Stay alert. Track the flood watch by radio, TV, weather radio or online. If told to evacuate, do so immediately.
Listen. Unusual sounds might indicate moving debris, such as trees cracking or boulders knocking together. A trickle of falling mud or debris may precede larger landslides. If you think there is danger of a landslide, leave immediately.
Watch the water. If water in a stream or creek suddenly turns muddy or the amount of water flowing suddenly decreases or increases, this is a warning that the flow has been affected upstream. You should immediately leave the area because a debris flow may soon be coming downstream.
Travel with extreme caution. Assume roads are not safe. Be alert when driving, especially at night. Embankments along roadsides may fail, sending rock and debris onto the road.
Hill also said while there may be lightning with the thunderstorms, he doesn't think it will pose a threat because of the amount of rain that will be coming down at the same time.
"The lightning will be right in the middle of these big-time downpours coming down, so I really don't think there's a reasonable threat for lightning to start any new fires," Hill said.
There could also be strong winds with the storms, which is a benefit and a concern, Zaffino said. The benefit is the winds will mix out the smoke. But if strong winds get on a fire, that could make it spread quickly. Strong outflow winds from thunderstorms don't always happen where the rain is falling, Zaffino said. The winds can spread out a few miles from the storm, and they can come from any direction, depending on the movement of the storm where the storm is in relation to the fire.
Looking at the big picture, Hill said the rain is something the area desperately needs.
"The overwhelming positivity of this is we need this type of downpour rain to really start to get these fires even more under control and start to turn the tide of getting out of this pattern we've been in since Labor Day night," he said.
Once the rains come in Thursday night and breaks up the large smoke cloud that's been hovering over much of Oregon since Labor Day night, Hill said he doesn't think the bad air quality will return.
"Most days, since these fires started, we've had no wind gusts of more than 10 mph, so it's been the same smoke sitting overhead, with new smoke every day from the fires," Hill said. "But once we break this [smoke cloud] up, I don't think the air quality will be this bad again."