PORTLAND, Ore. — A powerful storm that drenched much of Western Oregon and Southwest Washington Tuesday night and Wednesday morning contributed to one person's death, led to another person going missing, resulted in road closures and knocked out power across the region.
The heavy rain led to landslides across the Columbia River Gorge. One of those slides is believed to have swept away 50-year-old Jennifer Camus Moore, of Warrendale. The Multnomah County Sheriff's Office tweeted they believe Moore was driving in the Columbia River Gorge when she and her car were swept away by debris flow.
A search effort to find Moore continued Thursday. Multnomah County sheriff's deputies say they still consider it a rescue effort, but it will be slow. The hillsides may be unstable and the mud flow poses a big challenge, deputies said, because it is 10-12 feet deep.
On Thursday morning, officials from Legacy Good Samaritan Medical Center confirmed that Moore is a current employee at the hospital, a charge nurse in the Oncology unit. She has worked there for 17 years.
The same landslide led to the closure of a 20-mile stretch of eastbound Interstate 84, from Troutdale to Ainsworth State Park. The freeway was closed all morning and afternoon before reopening around 5 p.m. Wednesday.
Thousands of people remain without power and crews are working to restore power for everyone. That effort led to one person's death in what Portland General Electric (PGE) described as a "tragic accident." A member of a flagging crew contracted with PGE died Wednesday after being hit by a Digger Derrick truck while PGE crews were working to restore power in the Mount Hood area.
There were several flood and flash flood warnings Wednesday morning. The National Weather Service (NWS) issued a flash flood warning instructing residents of Dodson, a community in the Columbia River Gorge between Troutdale and Hood River, to evacuate Wednesday morning due to the landslide closed the eastbound lanes of I-84.
"If you know anyone in Dodson, Oregon, please consider calling them and waking them up," the NWS tweeted early Wednesday morning. "The situation has been deemed too dangerous to send in rescue crews."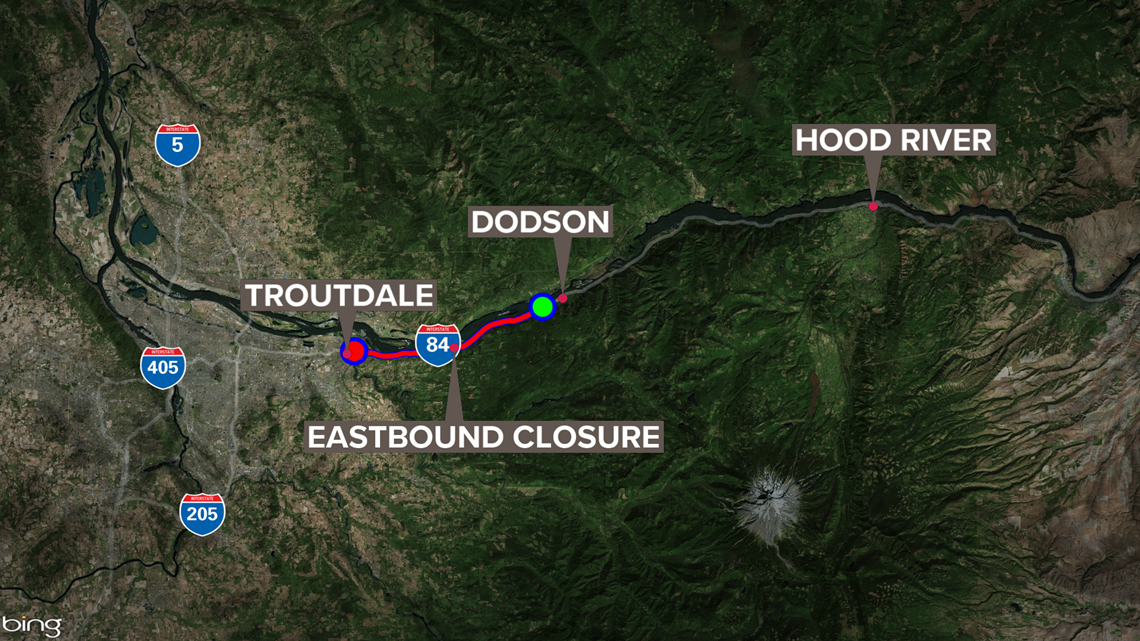 The Multnomah County Sheriff's Office (MCSO) reported that active landslides were making it difficult for responders to safely access the community. They instructed residents to leave by traveling east and said all other people should avoid the area.
Evacuation orders for Dodson residents remained in place Wednesday night. The sheriff's office said the Red Cross has rooms available for Dodson evacuees at the Best Western, located at 1108 East Marina Drive in Hood River.
KGW meteorologist Rod Hill reported Portland received 2.5 inches of rain and other areas a similar amount or more:
Bonneville (near Dodson): 5.4 inches
Tillamook: 4.8 inches
Sherwood: 4.3 inches
Salem: 2.4 inches
NWS tweeted Wednesday afternoon that several rivers were still above flood stage.


Photos: Heavy rain leads to landslides, downed trees across region