PORTLAND, Ore. — The Portland metro is in the midst of another hot spell this week. Temperatures are likely to reach close to 100 degrees on Wednesday and possibly Thursday.
The Rose City hit 90 degrees Monday and Tuesday. The round of hot weather peaked Wednesday with a high temperature of 98 degrees. Thursday is expected to cool slightly to the low to mid-90s.
The National Weather Service has issued a Heat Advisory for most of western Oregon and Southwest Washington from noon on Wednesday through 10 p.m. on Thursday.
"After a slow start, Portland has a had a pretty warm summer so far," said McGinness. "Total temperatures have been above average for June, July and through the first half of August."
Portland has recorded 20 days of 90-degree or hotter temperatures so far this year.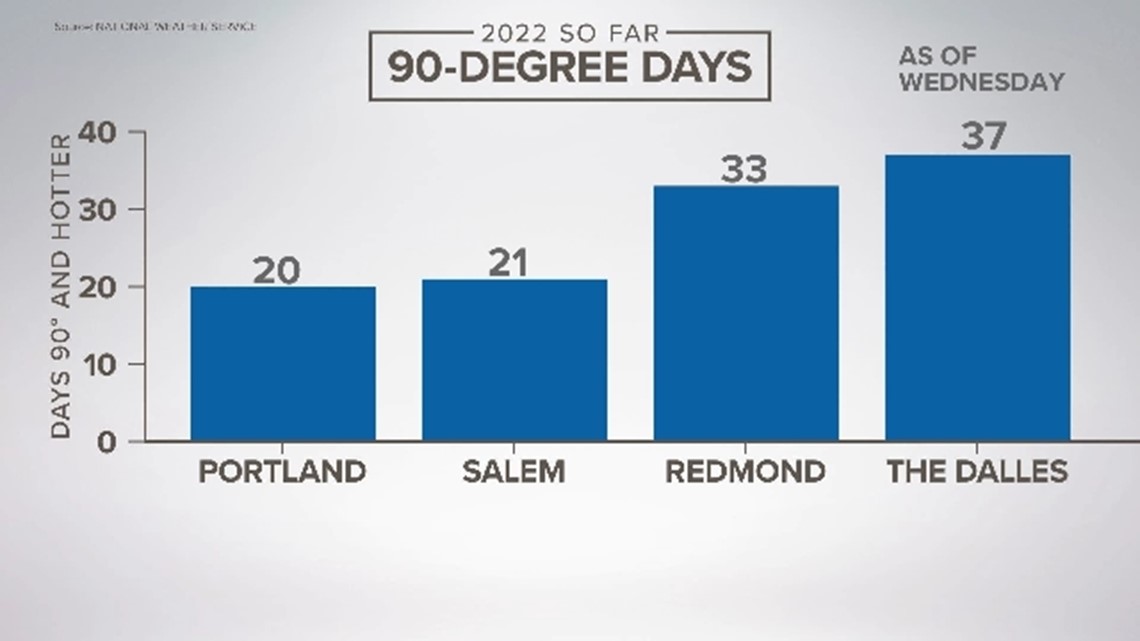 According to weather records, the 30-year average for 90-degree days at Portland International Airport (PDX) is 15. PDX has already had four 100-degree days so far this summer. Last year, Portland hit a record of five 100-degree days in a summer, which also happened back in 1941 and 1977.
This week's hot spell will likely not be the last of the summer. The latest outlook from the Climate Prediction Center shows that temperatures over the next month should stay above average.
Cooling spaces and centers
The city of Beaverton will open a afterhours cooling space at its main library from 6-9 p.m. on Thursday, Aug. 18. During regular business hours, the main library, the Murray Scholls branch and the City Park fountain are additional cooling locations.
Beaverton City Library main branch: 12375 SW 5th Street
Beaverton City Library at Murray Scholls:11200 SW Murray Scholls Place
The city of Hillsboro has several designated cooling spaces that will be open during regular business hours on Thursday.
Brookwood Library: 10 a.m.-8 p.m. Thursday; 2850 NE Brookwood Parkway
Shute Park Library: 10 a.m.-8 p.m. Thursday; 775 SE 10th Avenue
Shute Park Aquatic & Recreation Center: 5:30 a.m.-9 p.m. Thursday; 953 SE Maple Street
Hidden Creek Community Center: 5:30 a.m.-9 p.m. Thursday; 5100 NE Hidden Creek Drive
Former Salvation Army building (pet friendly): 11 a.m.-9 p.m. Thursday; 1440 SE 21st Avenue
A full map of cooling spaces, water dispensers and spraygrounds in Hillsboro can be found online.
More information about Washington County cooling resources can be found online.
Clackamas County has identified multiple public locations that people can go to during the day to stay cool. A full list of those locations can be found on the county's website.
In Multnomah County, libraries are open as cool spaces during regular business hours. The following library locations are open noon to 8 p.m. on Thursday, Aug. 18:
Central Library remains under construction, so the county will open a cooling center in the Old Town neighborhood from 2 p.m. to 10 p.m. on Thursday. Face masks are required to limit the spread of COVID:
The Lloyd Center in Northeast Portland will extend its hours until 9 p.m.
Information about cooling centers and outdoor cooling spaces are available on Multnomah County's website.
People can dial 2-1-1 to find a cooling space or transportation to a cooling space