PORTLAND, Ore. -- There are 49 emergency supply chests hidden around Portland for when a large earthquake hits the Northwest.
Not many people know about them. The locations of where they're stored is secret, but where they're to be used, like parks and schools, needs to be better public knowledge, according to city officials.
Mayor Ted Wheeler's 2018-2019 budget proposes to spend $80,000 of general fund tax dollars to design and build an experimental "art installation" to both house the chests, and be a permanent landmark to remind you where your neighborhood meeting place is.
Inside is a tent, lanterns, CPR masks, first-aid supplies, a hand crank radio and two-way walkie talkies that have been tested to communicate with the nearest fire station. According to Ernest Jones of the Bureau of Emergency Management, Portland is one of only four cities in the world to have these kind of emergency caches.
They're locked in 49 secret locations around the city that only BEECN teams of volunteer citizens know about and have the keys for. The secret locations are within blocks of where each neighborhood meeting spot is. Those spots are parks and schools where the caches will be brought to and opened up in the event phone lines, bridges and electricity go out.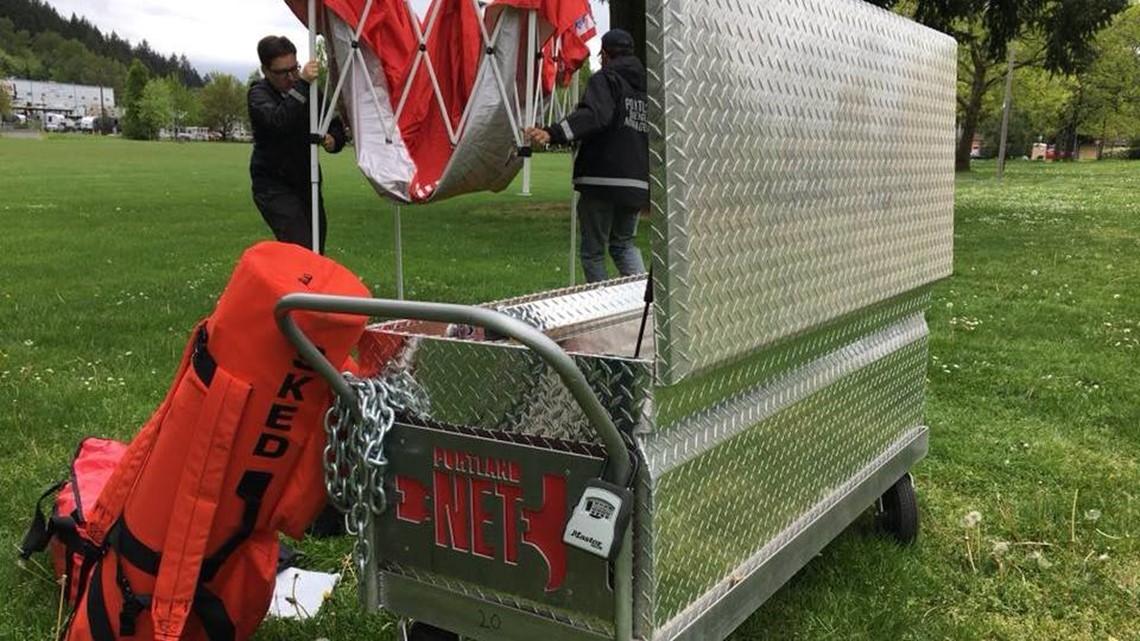 Notices of the neighborhood meeting areas went out to each home in Portland in 2012, but the city has many new residents by now, and many people have forgotten, Jones said. Now the city wants those meeting spots to be more obvious by designing and building an art installation that would house the BEECN itself.
"It would be very helpful to have so people can interact with it and have signage by it so people can say, 'Oh yeah, that's the BEECN site. I know where that is," Jones said.
There are no mock-ups of what the art installation could look like. MIT students in Massachusetts are helping design it. Money and help would also come from Portland General Electric and Portland State University. If this budget item is approved, and if the city likes how it's working, more might be built as landmarks across the city.
According to the Oregon State Office of Emergency Management, scientists believe in the next 50 years there's a 40 percent chance of a having a 9.0 magnitude or above earthquake in the Pacific Northwest, along the Cascadia Subduction Zone.
And when it happens, neighborhoods have to be ready. Trained volunteers, called Neighborhood Emergency Teams, or NETs, many of whom are trained to operate the BEECNs, could be the first or only people to help you for a long time.
Attorney Mark Ginsberg is the leader of his Southeast Portland Woodstock neighborhood emergency team.
"It's better to have a plan in place and not need it, then to suddenly need a plan and not have one," he said.
Ginsberg is trained with the caches to radio with the nearest fire station.
"We can both give them information about what it looks like where we are, and they can give us information about what they know as well. I think the awareness of BEECNs is growing, and I think the financial support of the city is crucial to make that continue," Ginsberg said.