PORTLAND, Ore. — A strong atmospheric river is taking aim at the Pacific Northwest, bringing steady rain on Friday, gusty winds and the potential for high water spots and minor flooding.
Atmospheric rivers are elongated plumes of precipitable moisture that channels into a location for as little as 12 hours to upwards of three days.
"These events have the potential to deliver flooding rainfall depending on the duration of the episode," said KGW meteorologist Rod Hill.
A leading warm front will bring hours of steady rain during the daytime on Friday extending through the evening.
"The relatively short duration of heavy rain between Friday 4 p.m. and the midnight hour should prevent river flooding except for spotty locations," Hill said.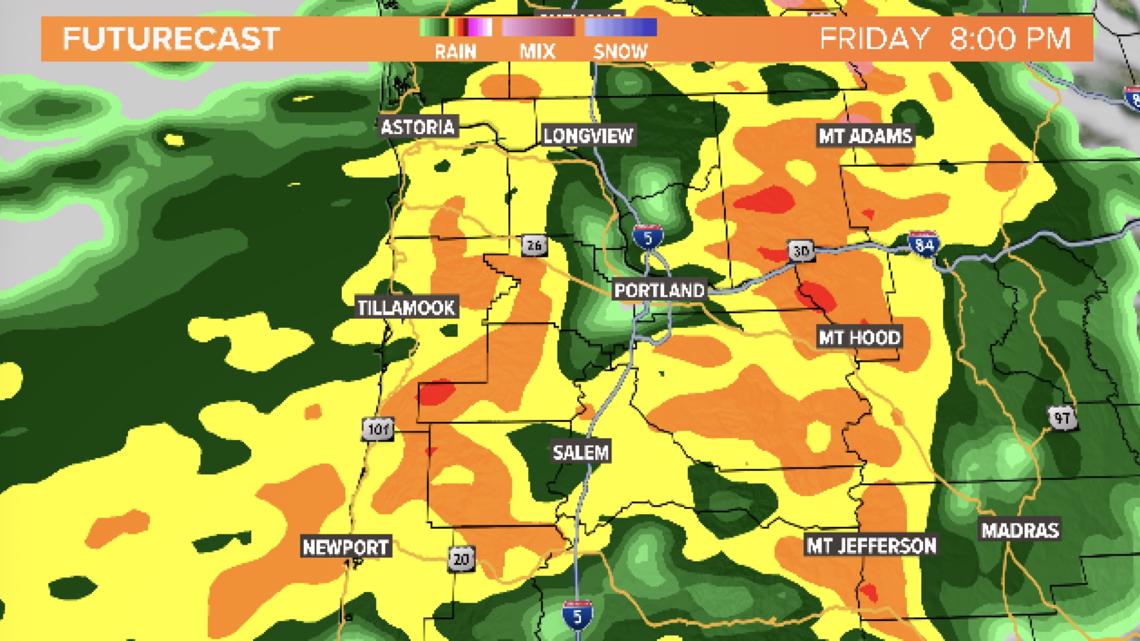 Heavy rain expected
The heaviest rain over the Portland metro area is expected to fall Friday evening. Weather models suggest "extreme rain rates" between 5 p.m. and 10 p.m., according to Hill. Some areas could see an inch of rain in an hour, which could lead to high water on roads and minor flooding of streams Friday overnight into Saturday morning.
"The main widespread impact will likely be ponding of water of roadways and typical low spots or locations with pour drainage," Hill said.
Hill added that there are no widespread flood watches, but that could change as the rain falls.
Portland and Salem could see two to three inches of total rainfall on Friday, with the Oregon coast nearing four inches.
Snow in the Cascades
Snow levels will rise Thursday overnight to 6,000 feet and will jump to 8,000 feet on Friday, bringing heavy rain to the Mount Hood area and the Cascade Mountains. The cascades could see four to six inches of total rainfall.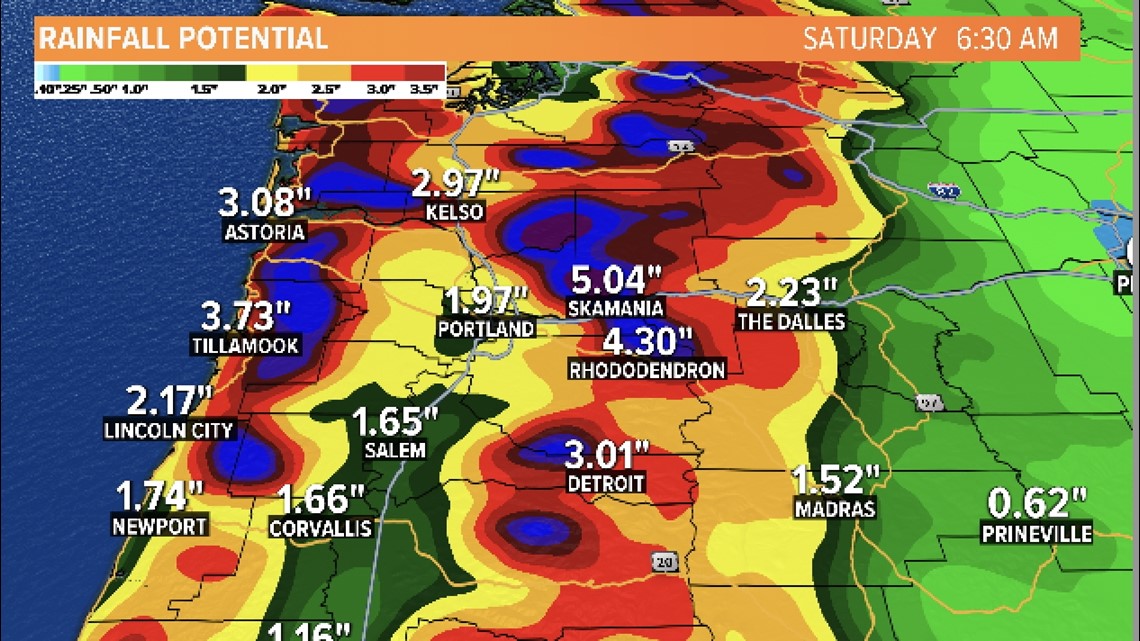 Strong winds
In addition to the heavy rain, people in the Willamette Valley can expect gusty southwest winds to blow. The National Weather Service (NWS) has issued a Wind Advisory for much of the Interstate 5 corridor through 1 a.m. Saturday. Gusty winds could reach 40-50 mph during the mid to late afternoon and evening.
"While not a windstorm, 40 mph gusts often bring down tree limbs, leading to power outages," Hill said.
The NWS said in a tweet that tree damage and isolated power outages are possible on Friday, and advised people to avoid recreating in the Cascades.
High wind warnings are in place for the Cascades and the coast range, with winds of 55 mph.
The high wind threat ends early Saturday morning when a cold front arrives, which will also break the rainfall into scattered showers.