CORVALLIS, Ore. — Just south of Corvallis along Highway 99W is an old abandoned cemetery on private property. Though covered by years of wild blackberry overgrowth, the graveyard holds a piece of history: It's the gravesite for the Irwin family that settled the former town of Jennyopolis, best known today as the site of Oregon's first reported murder.
Jennyopolis was a small town founded by Richard Irwin, who came from Ohio in the 1850s to set up a store. The meaning behind the name is unknown to multiple historians, but amateur historian Jolene Thomson said the small town built up an outsized historical footprint during its relatively brief existence.
"Jennyopolis was fairly small," Thomson recalled. "It did have a flouring mill. It had the post office and a mercantile. There was roughly about 50 people at its founding." The post office closed down about four years after it was opened.
Westward expansion drove thousands to the Oregon Territory in the mid-1800s. Under the Organic Act of 1843, men were allowed to claim 320 acres for themselves and, if they were married, another 320 for their wives. Of the men who claimed land under the act was Nimrod O'Kelly, who left his family behind in Missouri to come to Oregon in 1846 at the age of 65, settling in Jennyopolis.
"Nimrod O'Kelly comes along. He has been planning this, basically all his life," Thomson said.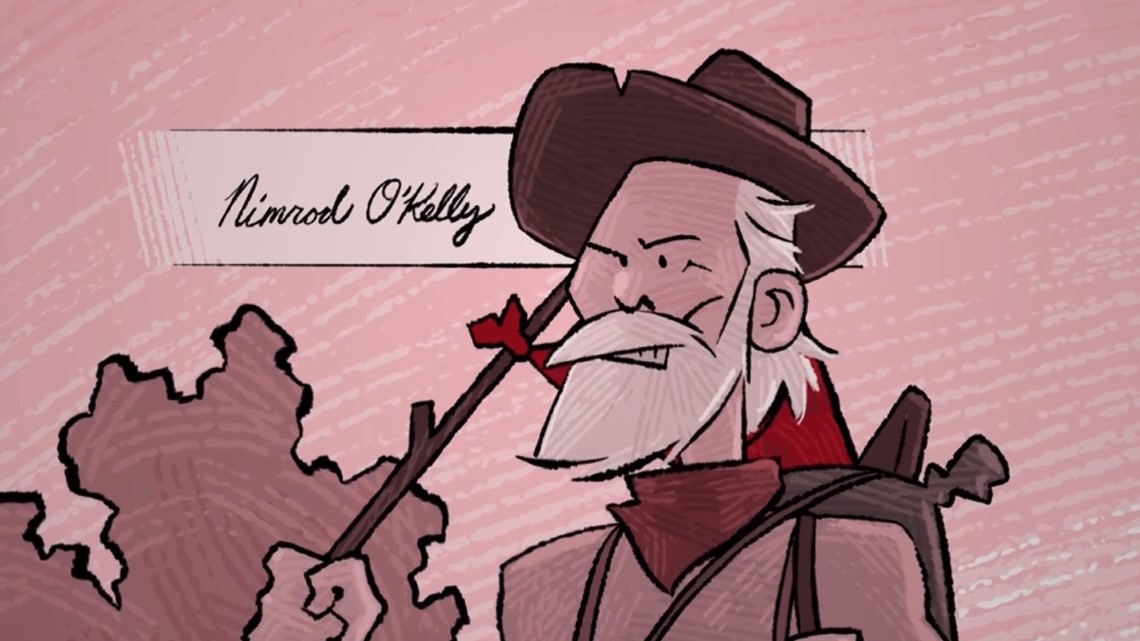 O'Kelly ran into legal trouble when he staked his claim to 640 acres of land. He thought he was entitled to it, but the law stated that both the husband and wife had to live on the property, and O'Kelly's wife had remained in Missouri. The family would later join him in Oregon, but not before he found himself in deep legal trouble.
"He had done his best documentation and provided that to the Territorial Government, and also got that information back to Washington D.C.," Thomson said.
As more settlers moved to the area, other residents' claims began encroaching on three sides of O'Kelly's property. One of the neighboring settlers was a man named Jeremiah Mahoney.
"Nimrod was definitely frustrated to see this encroachment. and advised another neighbor who had friendly contact with Jeremiah Mahoney's wife to please let her husband know he's making a terrible mistake." Thomson said.
On May 22, 1852 O'Kelly's frustration boiled over.
"Jeremiah Mahoney was on Nimrod O'Kelly's property. Nimrod approaches him. He has a rifle in his hand," Thomson said.
O'Kelly claimed Jeremiah Mahoney threatened him with a thresher tool, and that's when O'Kelly shot and killed him.
"Nimrod O'Kelly... immediately walked himself to Marysville, which is now Corvallis, to turn himself in for what happened," Thomson said.
O'Kelly wrote about Mahoney in his confession, saying "He continued coming towards me, saying if I did not mind I would get it thrashed out over my head."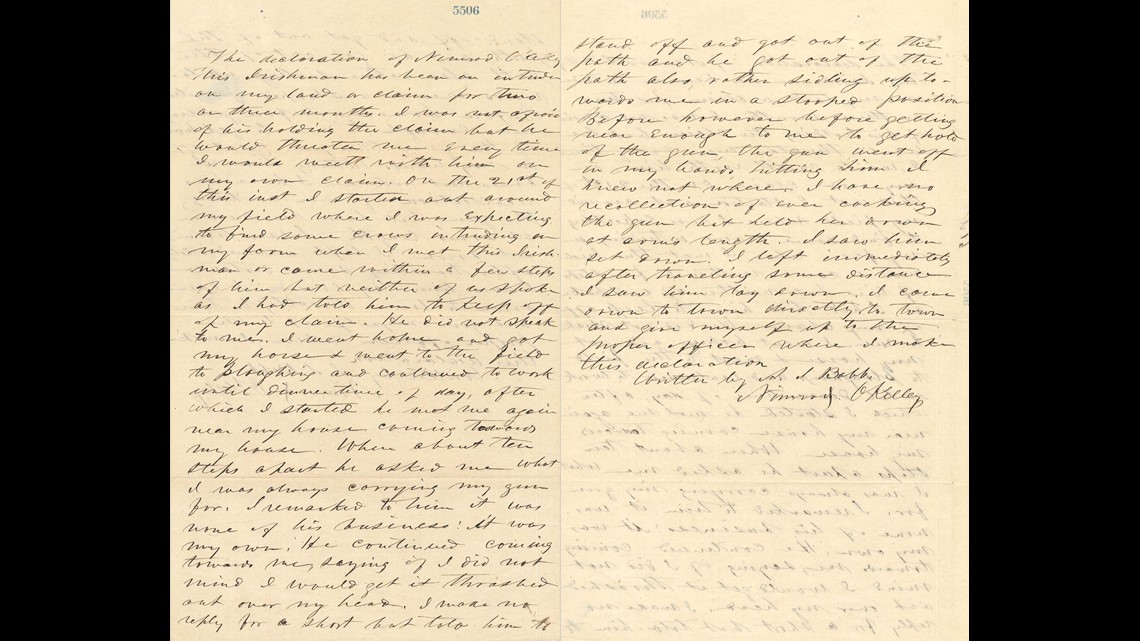 The confession goes on to say "Before getting near enough to me to get hold of the gun, the gun went off in my hands hitting him."
The incident sparked a years-long ordeal over O'Kelly's fate.
Jennyopolis founder Richard Irwin ordered an inquest, and a group of citizens ultimately determined O'Kelly should be held accountable. He was tried and sentenced to death by hanging.
"Nimrod O'Kelly is sentenced, but there are many people also working on Nimrod O'Kelly's behalf," Thomson said.
Over the next two years his case would remain unsettled. His execution would get postponed by one governor, then upheld by the Territorial Supreme Court and ultimately commuted to two years of hard labor by a different governor.
O'Kelly was scheduled to be transferred to the state penitentiary in Portland to serve that labor sentence, but things didn't go as planned.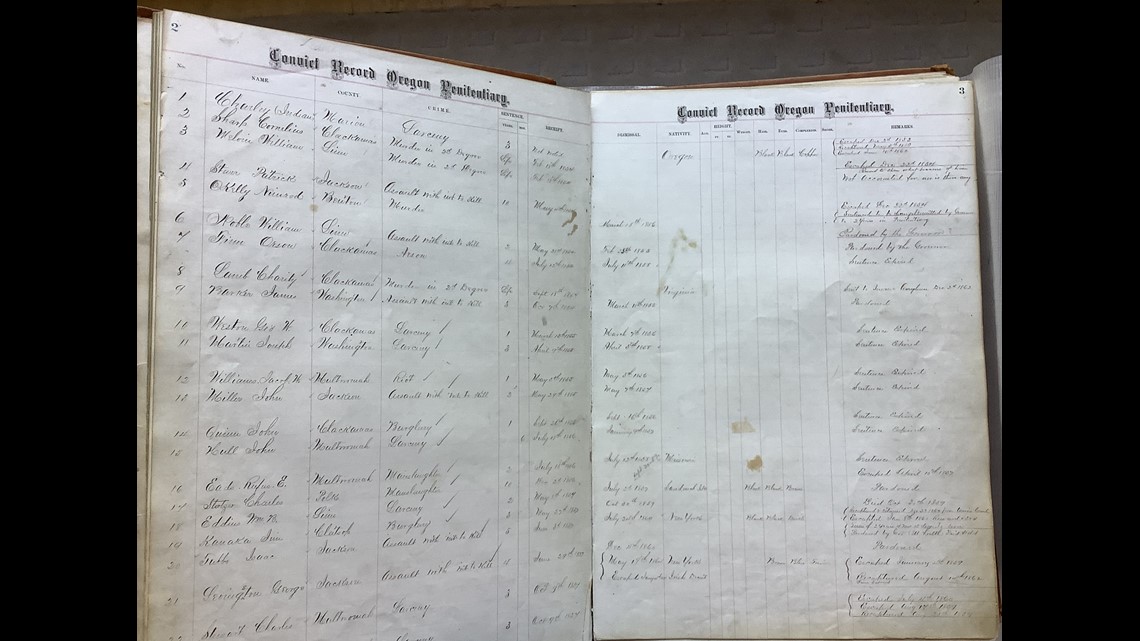 "The sheriff and a deputy-type person came to get Nimrod O'kelly, who willingly went along and was glad to do so," Thomson said.
The three made the trek by wagon from Jennyopolis to Portland, but stopped around the Oregon City area.
"Someone ingested too much alcohol, became drunk, was not able to move along and ultimately this led Nimrod O'Kelly moving along without them," Thomson said.
O'Kelly, determined to get his sentence of hard labor over and done with, started walking to Portland by himself.
"Nimrod comes to the front door of the penitentiary and says, 'I'm here. I'm here, let's get this over with.' The folks at the penitentiary are looking at him thinking 'what on earth are we going to do with this man?' They actually ask him if he can come back," Thomson said.
O'Kelly was booked into the penitentiary in May of 1855, and would only serve 10 months of his sentence before being pardoned in March of 1856, putting an end to legal saga stemming from the first reported murder in Oregon's history.
O'Kelly's land claim remained unresolved throughout the entire ordeal, only finally getting settled in 1881, 17 years after his death in 1864.
What's in a Name is a series produced by KGW Sunrise Reporter Devon Haskins focused on how places around the Pacific Northwest received their names.