MCMINNVILLE, Ore. — At 320 feet, from wingtip to wingtip, the Spruce Goose would fill up an entire football field between the end zones.
It was the largest sea plane ever built, a record that stood for decades.
"In order to give you an idea of the size of the aircraft from the inside, I have people take a look down inside the wing." Evergreen Aviation and Space Museum docent Phil Santucci said while showing off the inside of the plane.
Hollywood film producer Howard Hughes is the brains behind this behemoth beast. It's said in 1938 he had a dream of one day building a plane as big as the Spruce Goose.
"In his dream he describes, "I can dream of a day when I look out of a New York city skyscraper and as I do, I see a flying boat," said Evergreen Aviation and Space Museum CEO Tyson Weinert.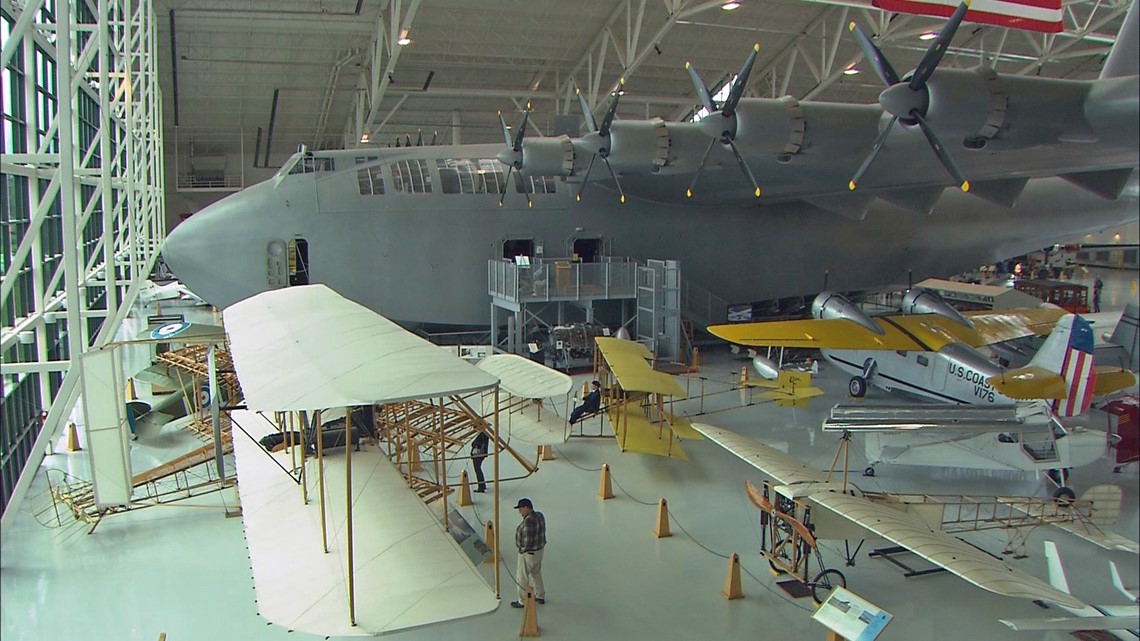 In 1942, during the height of World War II, the U.S. government was looking for a solution to keeping supply ships from sinking in the Atlantic after getting destroyed by the enemy.
The government turned to Hughes and shipbuilder Henry Kaiser to build a plane big enough to transport cargo through the air. Although he was a Hollywood film producer, he was no stranger to aviation. Hughes had purchased airline TWA and also built and flew the fastest airplane on earth.
With the war in full swing, metal was in short supply. So instead of a plane made of metal, the H-4 Hercules (the official name for the Spruce Goose) would be made of wood.
"He was able to assess the strength of a product called Duramold and then secure the ownership rights of Duramold, which is effectively a plywood, but what a lot of people don't know is that Duramold was sourced from yellow birch, which came from lumber yards here in Oregon," Weinert said.
Kaiser and Hughes eventually had a falling out and parted ways. Hughes would continue building the flying boat, but it would go over budget and past deadline. The project would get mocked by journalists and politicians for how long it was taking and how much — $23 million — it cost to build.
Those delays and costs earned it the nickname of Spruce Goose, a name Hughes himself is said to have hated and one that's not too accurate.
"There is very little portion made of spruce," Weinert said.
Hughes liked "Hercules" and its official name is the H-4 Hercules, H for Hughes and 4 for the fourth iteration of the plane that finally was built.
The long delays and cost were the subject of a contentious senate hearing, where Hughes doubled down in front of a senate committee that his plane could in fact fly.
So on Nov. 2, 1947 he set out to prove his doubters wrong.
"On that day he was only supposed to go out and complete two water taxis. and yet on that third water taxi, he surprised the world when he actually got the flying boat airborne," Weinert said.
It only traveled a mile and fewer than a hundred feet above ground, but ultimately proved his wooden structure could in fact fly.
It was the one and only time the Spruce Goose would get airborne.
"The Spruce Goose is one of one. It is a prototype in nature and is the only aircraft of its kind," Weinert said.
For years Hughes paid a hefty bill, upwards of a million dollars a year, to keep it stored in a hangar that he owned until his death.
Disney then bought it and put it on display in Long Beach alongside the Queen Mary ship.
Then in 1992, Evergreen Aviation bought the Spruce Goose to showcase front and center at their new museum.