CANBY, Ore. — Just outside Canby, Oregon – a half mile down Birch Road, after the pavement turns to gravel, slow down because a real riot has broken out!
Row after row - each straight as an arrow - the Swan Island Dahlias offers a riot of color and a place that is prime for harvest right now.
Heather Gitts-Schloe said that the fields are stunning and inviting: "I like to walk the fields and see what nature gives us because the experience is amazing and pure joy and pure relaxation."
Each day, well-trained hands cut more than 1200 bunches of dahlias (that's a dozen dahlias to a bunch) to fill hundreds of orders that the flower farm receives from florists.
Photos from Grant's Getaways: Swan Island Dahlias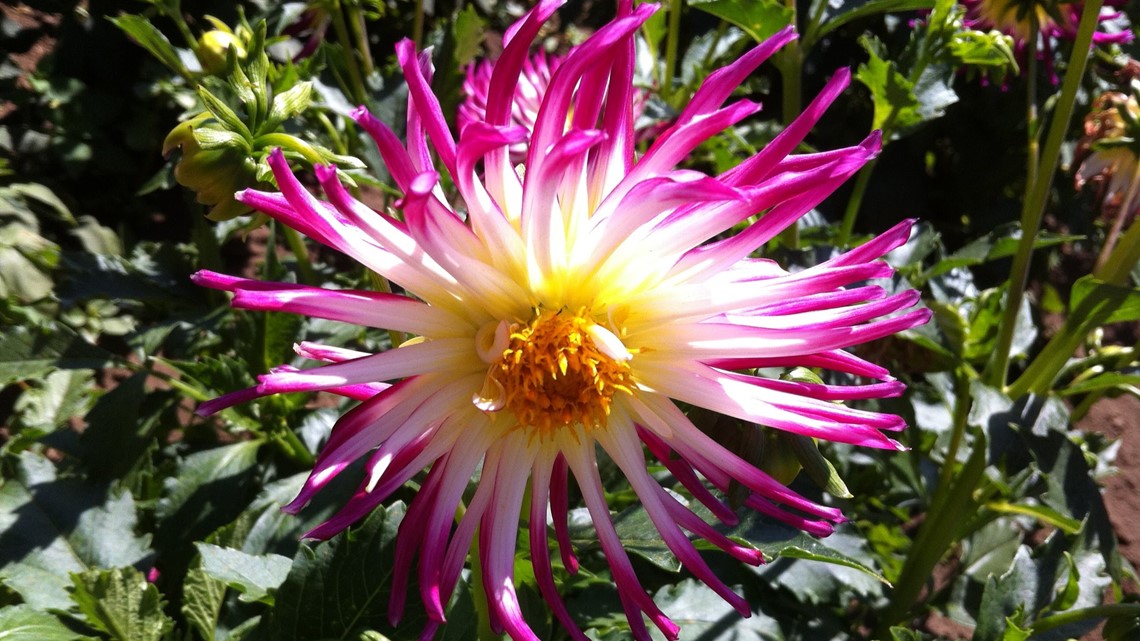 Second generation dahlia farmer, Nick Gitts, said anyone can visit the farm and watch it all happen and it's all for free:
"Everything here is open to the public from daylight to dark. As a result, we get many thanks from visitors – those are the rewards that we enjoy for all the hard work we put in."
Some orders for fresh cut dahlias go to distant locations like New Mexico overnight, but most go to the Portland Flower Market in water buckets where florists turn the gorgeous blooms into special gifts.
"Dahlias work in so many ways," noted Gitts. "There are so many varieties; you have little round buttons, water lily shapes, giant 12-inch blooms and it's that variety that makes dahlias really unique."
Three generations of the Gitts family have worked on the 40 acre farm since the early 1960's when Nick Gitts Sr and his wife, Margaret, bought the property and the business.
Young Nick said that he learned about growing dahlias from the ground up!
Today, fresh cut flowers account for 90 percent of Swan Island Dahlias world-wide business and it has become the largest in the country.
Not bad for an all Oregon family farm!
Behind the scenes, I learned that many of the dahlia flower names are special too.
"We get to name a few every year," said Heather. "That idea really reaches back to my childhood and my grandparents who wanted to name new varieties after family members. So, I have a dahlia and it's named "Heather" from when I was a baby many years ago. We are really known in the dahlia world for fun names!"
Heather Gitts-Schloe's "Heather" offers a punch of peach, salmon, and apricot and it is a stunner! Her grandparents were certainly proud!
As I discovered on my visit, dahlia blooms simply make you feel good!
Across the grounds, there are 360 varieties and more than a thousand of each variety create an ocean of color that's inviting to stroll.
The Gitt's family likes to say, "A beautiful garden is a work of the heart" and they have mastered it well!
So come and visit and hurry here soon for as Heather pointed out: "There's nothing better than standing back and looking at what nature gives us."
If you would like to visit more of Oregon – consider a walk on the wild side with my new book: "Grant's Getaways: Oregon Adventures With the Kids." You'll find activities to engage any kid, from archery to clamming on the coast to hunting for thundereggs to zip-lining through trees in an aerial adventure park.
In addition, be sure to check out "Grant's Getaways Guide to Wildlife Watching in Oregon." You will enjoy 48 uniquely Oregon adventures highlighting my fish and wildlife encounters. Scores of colorful photos by "Grant's Getaways" photographer, Jeff Kastner, show off some of our finest moments in the field. You can also learn more about many of my favorite Oregon adventures in: "Grant's Getaways: 101 Oregon Adventures"