LINN COUNTY, Ore. — As the Fall season bird migrations kick into high gear, there are many places across Oregon where you can enjoy a front row seat to an age-old wildlife story.
While there are many well-known waterfowl and raptor species that fly thousands of miles from sub-Arctic areas to Central and South America, many other bird species are harder to spot but no less showy; like the scores of small songbird species that take flight each September-November for warmer climes.
A team of scientists and biologists conduct songbird science here to learn more about many bird species that we rarely see.
"Listen up! Do you hear that? We call it the 'dawn chorus' when birds become very active as the sun rises," said OSU Assistant Professor, Dana Sanchez.
She leads a team of Oregon State University researchers in a partnership with US Fish and Wildlife biologists – together they capture and band as many songbirds on the refuge as possible from August into early November.
Sanchez added, "We are right in the middle of fall migration and here at Snag Boat Bend we are able to detect them and get them in hand."
They get them in hand with special nets, noted retired biologist, Molly Monroe:
"It's called a mist net and once it's set up you will understand why it's called that!"
Mist nets reach eight-feet high and they can be as long as sixty feet. They are set up the way you might set up a badminton net in the backyard except that the nylon mesh of a mist net is so fine that the net is nearly invisible.
Grant's Getaways: Songbird science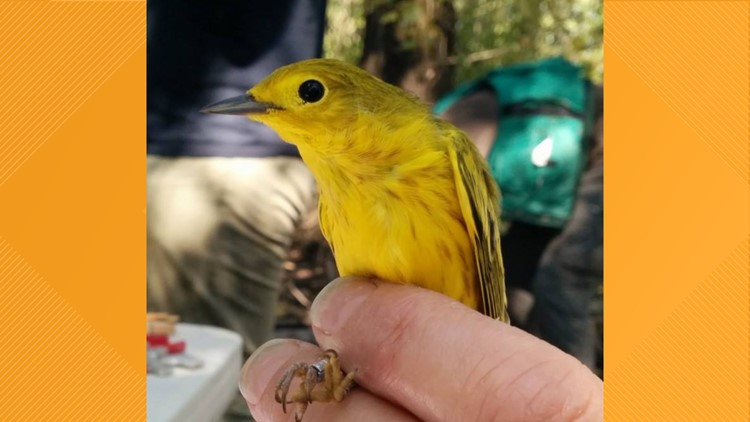 "It's pretty hard for the birds to see it," added Monroe. "They will hit the net and then they will fall into pockets of net that are folded into the mesh. It's effective and usually doesn't take us long to catch songbirds that are moving in the early morning light."
She was right! Following a short wait, the team inspected six mist nets that had been set up on the refuge property that is adjacent to the Willamette River.
The nets captured a remarkable array of birds and included three spotted towhees, a swainson's thrush, a common yellowthroat and a song sparrow.
Each tiny bird was slowly untangled from the nets by team members and then delivered to a banding station where care and caution were the bywords for folks handling the fragile songbirds.
Each bird was weighed, measured and examined before a numbered aluminum leg band was placed on each bird's leg.
The numbered band will help the research team learn more should the any of the birds be re-captured along a migration route that can reach to South America.
It is remarkable work that offers many fascinating insights to the world of small songbirds. For example, during the fall migration, Monroe said that the songbirds travel at night then rest and forage for food during the day.
And the songbird journeys are nothing short of amazing for birds that weigh ounces not pounds: "Some species migrate from as far away as Alaska all the way to South America and then return to their northern nesting grounds in Spring," noted Monroe.
Snag Boat Bend National Wildlife Refuge was selected for the survey because it offers more than 300 acres of intact riparian habitat along the Willamette River.
Sanchez offered that there is concern for songbird populations because their preferred habitat is increasingly rare: "It used to be far more common in the Willamette Valley, but with development, this riparian habitat of cottonwoods, willows, ash have become something of a rarity. We suspect these are valuable patches for breeding as well as for migrating birds. Our work will help confirm whether that is true or not."
Monroe added that Snag Boat Bend Wildlife Refuge is a good place for you to migrate through as well: "From the parking lot, there is a hiking trail that goes out to a viewing blind. When the water is high, you can see a lot of waterfowl and in the summer the area has a good population of western pond turtles that bask themselves in the warm sun atop floating logs."
Refuge visitors can watch the project too and maybe even lend a hand with a bird release. It's also a good chance to learn more about the little-known songbirds of the Oregon outdoors.
If you would like to visit more of Oregon – consider a walk on the wild side with my latest book: "Grant's Getaways: Oregon Adventures with the Kids." You'll find activities to engage any kid, from archery to clamming on the coast to hunting for thundereggs to zip-lining through trees in an aerial adventure park.