WASHINGTON COUNTY, Oregon — If there's a better match than kids 'n cricks, I really don't know who, what or where it is! That's especially true when youngsters bring new life to the creek.
Each year, hundreds of Oregon school kids lend a hand and raise thousands of trout and salmon from Eggs to Fry. It's an aquatic education project designed for Oregon classrooms.
Thousands of trout and salmon eggs leave the hatchery each spring and end up in the hands of dedicated volunteers like Leroy Schultz. He's a member of the Association of Northwest Steelheaders, a non-profit sport fishing and conservation group.
The association donates time and money to buy expensive aquariums so students can raise "Eggs to Fry" over a six-week period in their classrooms. Schultz will visit many Washington County schools to deliver individual packets of 500 trout eggs.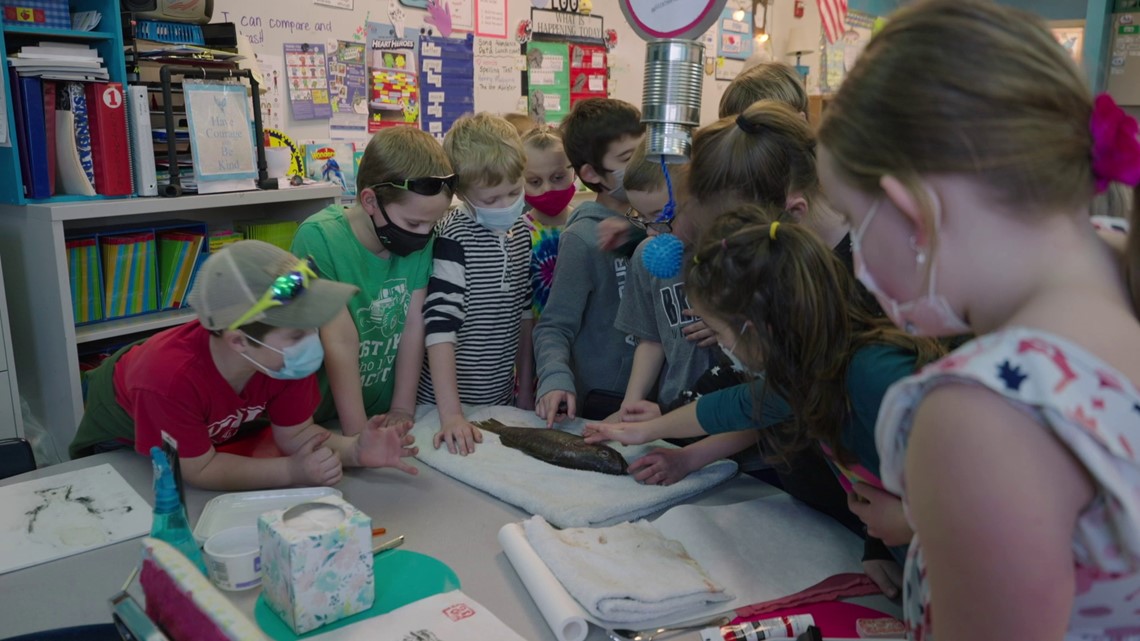 "Our particular group of Northwest Steelheaders is the Tualatin Valley Chapter, and we work with more than 50 schools each year to assist with the delivery of the eggs and the maintenance of the equipment," he said. He added with a chuckle, "Sometimes, I feel like I'm a doctor delivering all these little babies."
The experience serves as a launching point for important "teachable times" for the students, Schultz added.
"They are going to be the keepers of our rivers and lakes, and we want them to know more about that responsibility and carry it on for us in the future," he said.
Hands-on science and art
The Eggs to Fry project is the foundation for classroom writing assignments in science and math, plus art projects including a unique experience that turns fish into a piece of art that the kids can take home.
"The program takes it from that two-dimensional concept of reading in a book to a three-dimensional piece with the fish right in front of our eyes," said Banks Elementary School second grade teacher Mrs. McOmie. "The experience literally comes alive, and I like that it's across the curriculum; whether it's the science program itself or an awareness of what fish need or writing in journals, documenting week-to-week life cycle changes and then to this art project."
Local artist Chris Michel recently shared his knowledge and experience with Mrs. McOmie's second graders.
"This is a Japanese traditional way of print making called Gyotaku fish printing," he explained. "For this project, I like to use a fish like sea bass or rockfish because of the large size of their scales."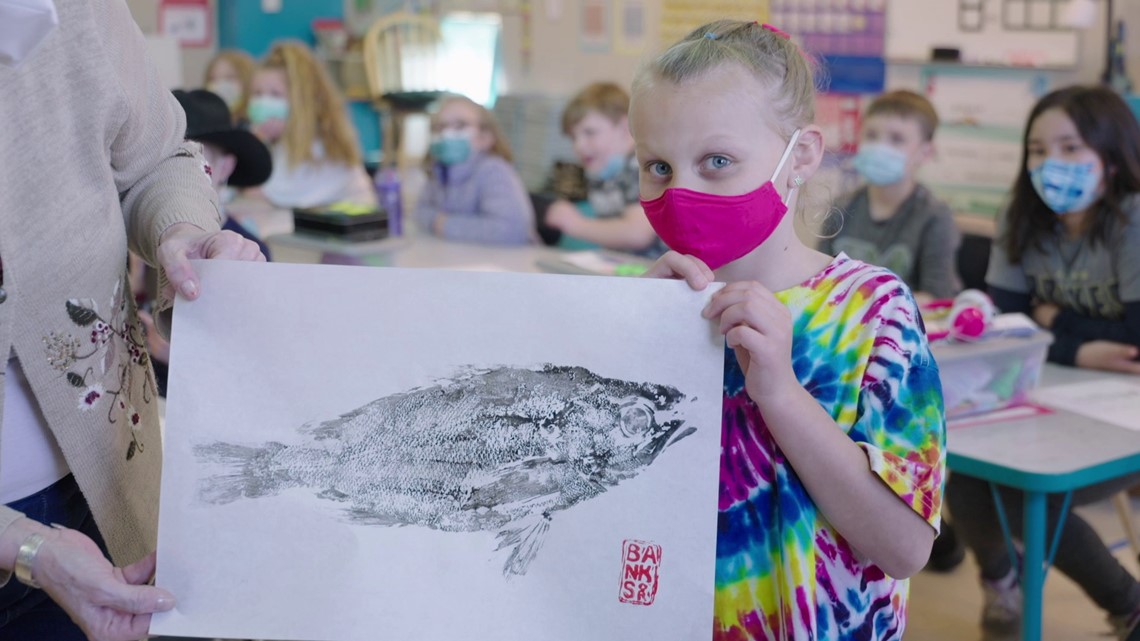 The fish print art form dates to the mid-1800s when Japanese fishermen used it to record the size of their catches.
Michel mixed a water-based charcoal ink and spread it evenly across one side of the fish.
"This is called relief print making because what we're doing is trying to the just the surface area, just print the surface," he said.
Michel laid a piece of rice paper across the inky surface and used his hands to apply even pressure the length of the fish. The rice paper is preferred for printing because of its thinness and flexibility that allow it to smoothly match the contours of the fish, he explained.
Blending art with science is not lost on the youngsters, Michel said.
"This is very tactile and it's visual," he said. "Most of these kids have told me they've been fishing too, so there's a connection to that. I love doing art with them because you just can't go wrong. It is a fine and easy art, plus an introduction to the materials so they're not as afraid of art later on."
Back to the river
Several weeks after the eggs are delivered, moving day arrives. Each student fills a bag with water for their baby fish and the kids, their parents and the fish board a school bus to Scoggins Creek, a small stream that flows into Henry Hagg Lake in Washington County.
"Water's important to all of us and to the fish, especially cold, clean water," Schultz said. "This reinforces that message. By taking care of the fish and releasing them into this stream, it's a lesson and important experience for them."
This year marks the 28th anniversary of the Eggs to Fry program, and thousands of Oregon youngsters continue to have a chance to learn about aquatic ecology and develop ownership in Oregon's great outdoors.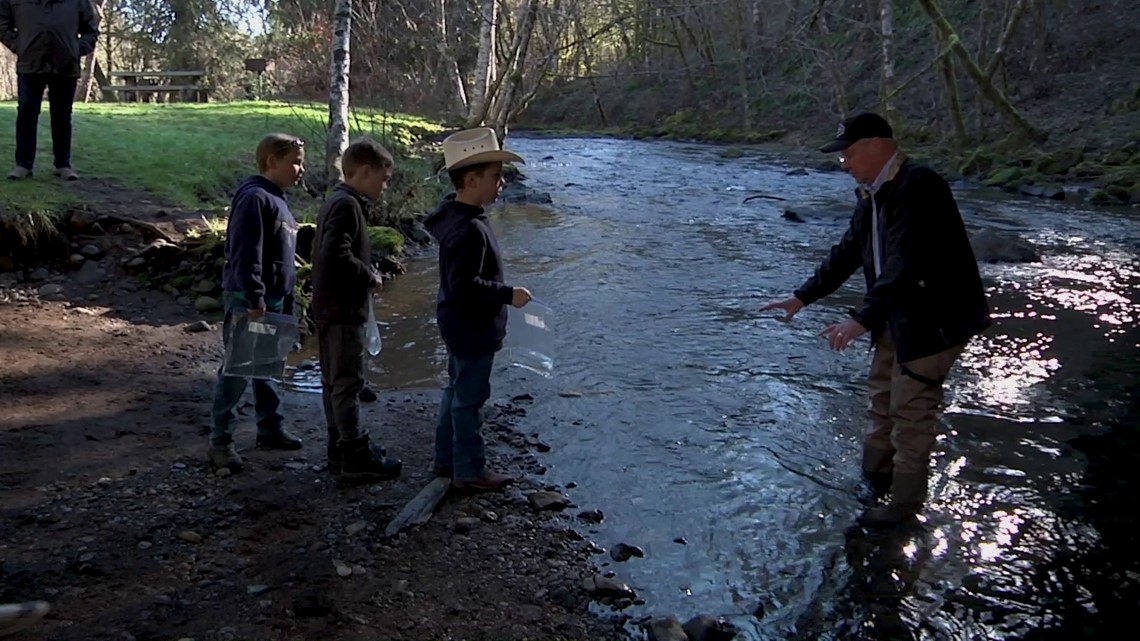 You can connect with the Association of NW Steelheaders for more information on how your classroom or school can get involved in the Eggs to Fry program, and the Oregon Department of Fish and Wildlife offers many other programs that schools can tap into for valuable educational opportunities.
Even though the young faces change each year, one thing has been a constant from year to year, Schultz said: The excitement on the kids' faces.
"It's always there," he said. "They are so excited to see those fish go in the water and wave goodbye, knowing that they have been successful at a project and that it will be for them in the future."
Be sure to follow my Oregon adventures via the new Grant's Getaways Podcast: Each segment is a story-telling session where I relate behind the scenes stories from four decades of travel and television reporting.
You can also learn more about many of my favorite Oregon travels and adventures in the Grant's Getaways book series, including:
The collection offers hundreds of outdoor activities across Oregon and promises to engage a kid of any age.
My next book, "Grant's Getaways: Another 101 Oregon Adventures" will be published in November.