PORTLAND, Ore — Join me at a forested parkland where you have a bird's eye view to the woods. It's a point of view that will take your breath away; 60 feet off the ground!
The 57-acre forested parkland is unlike anything you've ever experienced off the ground. In fact, you might consider it a playground in the trees.
Instructor Patrick Murphy guides folks across the four different tree-to-tree courses. Each course is progressively more challenging, and he helps people find steady steps on a shaky trail or across a swinging, swaying wobbly way.
Murphy said, "This is something that kids like to do – they like to come out and be active, climb in the trees – use their imaginations – pretend to be monkeys or Tarzan or whatever …all sorts of fun stuff built for young and old to play up in the trees."
Each climber must wear a safety harness that connects with two lanyards that sport lobster-claw type clips that link you to thick wire cables.
Each cable can hold up to 10,000 pounds, so once you're clipped in - you're not going anywhere except across the aerial trail.
The park is a family-owned business, according to co-owner Molly Beres. She said the park's location (a short drive from Scoggins Valley Park and Henry Hagg Lake) has attracted a following once visitors discovered their park's unique features.
"Portland is the best place for this sort of thing because there are so many outdoorsy people here. Everyone likes to be outside doing active things and extreme sports and this will fit in just fine."
Photos: Tree to Tree Aerial Adventure Park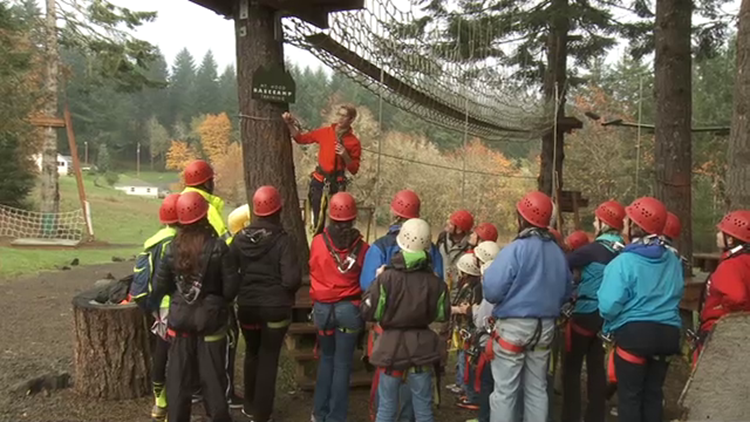 The park also offers a course for the littlest of climbers with the same elements as the adult version but it is much closer to the ground.
The course admission isn't based on age – but on height – that is, with your arms extended overhead you must be able to reach 6 feet, 6 inches, to play on the full-sized course after you've passed the Basic Training Course.
If a youngster is unable to reach 6 feet, 6 inches but can reach at least 5 feet with their arms extended, he or she can play on the smaller course.
The park's many course features are called "elements" and range from simple swaying bridges to horizontal rock walls and tunnels that you must climb across or climb through so to continue the course.
Many participants agreed that the climbing experience felt safe despite the 50-foot elevation and that it is an experience full of surprises:
First timer Pete Conklin noted, "It definitely tests your balance and your fear of heights – makes you a little nervous – but all of it is doable."
That feeling never lets up on the course either – it's surpassed only by the thrilling payoff that waits for each climber at the end.
We end every course with a zip line and so it's the payoff for your hard work because everybody loves a zip," noted a smiling Beres. "Our whole purpose is to be outdoors, enjoy nature and enjoy being in Oregon – just to love where you are – it's the best!"
"One of the things we see happening is kids coming over here and building forts," said Oregon State Park's Manager, Steve Janiszewski. "That's OK! We want to see that. We want their parents – to come out here and play with their kids too."
The park has installed the new natural play area designed with play pods mimicking the habitats of native animals.
At each pod, marked with a colorful jumbo-sized totem pole, kids can experience what it's like to be a bear clambering into a log den, a bird shaping a nest out of twigs, or a cougar tracking a deer through the forest.
Stuart Rue and Sarah Evan brought their two young boys, Archer and Anders, to explore the play area and they had a blast.
The purpose of the play area is to get kids outside and engaged with nature, as well as to spur creativity and promote a better understanding of animal capabilities and interactions between species.
"It's got a nice blend of the traditional play elements and with the nature elements and I like that," said Sarah. "We try to do a lot with our kids outdoors and we love to go camping, hiking. We all love being outside."
Silver Falls State Park's Nature Play Area is the first of its kind in an Oregon State Parks and so more are planned in the future.
If you would like to visit more of Oregon – consider a walk on the wild side with my latest book: "Grant's Getaways: Oregon Adventures with the Kids." You'll find activities to engage any kid, from archery to clamming on the coast to hunting for thundereggs to zip-lining through trees in an aerial adventure park.