ASTORIA, Ore. — When you visit Fort Clatsop National Historical Park near Astoria, be ready for an explosive experience when park rangers put on a demonstration with their black powder muskets.
It's a loud, smoky show as they fire their guns, but an exciting event that accurately portrays the tools that Lewis and Clark's Corps of Discovery used during the winter of 1805 when they were encamped at Fort Clatsop.
Fort Clatsop is the replica winter home of the Corps of Discovery who explored western America and reached the mouth of the Columbia River in 1805.
Park Ranger Jill Harding explained, "Each summer, we have rangers here who dress in period costumes and we do talks and demonstrations. We usually have a couple of folks in the fort answering questions, telling the Lewis and Clark and Fort Clatsop stories."
When you step into the Fort Clatsop Museum you will learn more about the remarkable cross-country journey through exhibits, drawings and equipment that put you in touch with history.
Photos: Fort Clatsop Park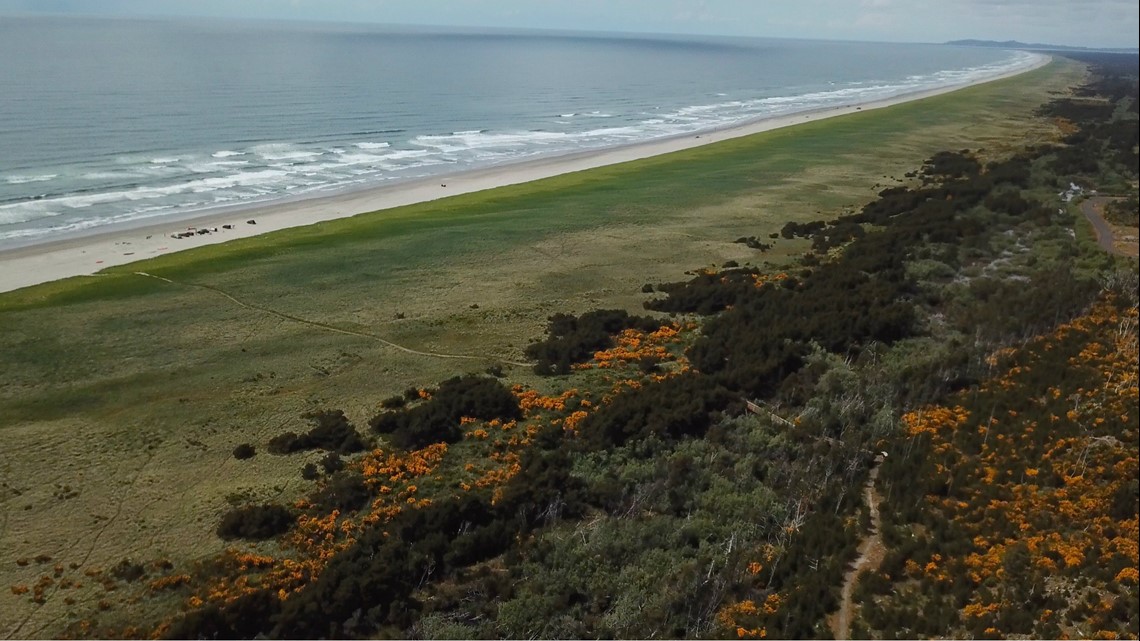 Photos: Fort Clatsop Park
The fort and visitor center certainly give you a perspective on what the life must have been like for the early day American explorers, but if you've a notion to wander a bit, set yourself on the awesome "Fort to Sea Trail."
"Fort Clatsop was home but the woods around it and the nearby ocean were the grocery stores," said Harding. "In addition, when they went out they visited their neighbors, the Clatsop Indians and they received tremendous information about the surrounding area."
You'll want to allow yourself plenty of time to walk in the footsteps of legendary American explorers Lewis and Clark as you connect with a different time, but the same place in Clatsop County.
If you are lucky when you visit, you may cross paths with Park Ranger, Carla Cole, who can teach you much about what you're seeing when you stop in at the new Ethno-Botanical Garden.
"This is a place that's easily accessed by park visitors where they can a see a nice variety and diversity of native plants of the area," noted Cole.
The garden boasts native plants that the explorers collected and documented like Pacific Silverweed or purple blossomed Camas and the arrow-leafed Wapato – all specimens were prized as staple food sources by the native people.
"One of Lewis and Clark's prime directives was to catalogue and observe the plants and animals they encountered," said Cole. "And be thinking about what might be valued economically or culturally. That's why they spent so much time and effort precisely detailing and collecting them and going to all that work."
The trail allows you to hike through several different life zones or habitat types too. You can trek for a couple of miles through a conifer forest stand, then across a freshwater marsh and wetlands and then you're exploring a tidal river environment.
Don't be surprised if you see deer or elk and then you cross under Coastal Highway 101 and suddenly reach sand dunes with freshwater lakes and soon the coastline. It's all rather remarkable.
While the Fort to Sea trail stretches from Fort Clatsop for nearly 7 miles and reaches the ocean at Sunset Beach, there are an additional 7 miles of looped trails that allow you to walk in the foot-steps of Lewis and Clark.
That's the case on the South Clatsop Slough Trail, where you can see a remarkable restoration project that has given new life to an area that Lewis and Clark documented during their stay.
In 2007, the National Park Service restored South Clatsop Slough Marsh where Lewis documented abundant bird life and even baby salmon.
"We removed a culvert and a tide gate back in 2007," said Cole. "As a result, we re-opened the marsh to tidal flow. So, what had been a horse pasture for decades, now has all sorts of native shrubs and sedges, bull rushes and cattails – they are all coming back."
Stroll the South Clatsop Slough boardwalk (keeps your feet dry above the marsh) and you will see more of the plants that Lewis collected including salmonberry and salal. While both plants are common enough today, in 1805 neither species had been seen before by western scientists.
"The plants are all still here," added Cole. "All these plants that you see here today, these are the same species that were here when Lewis and Clark were here and wrote about them in their journals."
Keep in mind that the Fort to Sea Trail is more than six miles long so allow plenty of time for the easy to moderate hike; a portion of it is even wheelchair accessible. Bring water, food snacks and dress for the ever-changing Oregon coastal weather pattern of sun-showers and back to sunshine again.
It is all a terrific time for exploration, adventure and education – Fort Clatsop and the 13 miles of varied hiking trails are waiting for you anytime.
If you would like to visit more of Oregon – consider a walk on the wild side with my new book: "Grant's Getaways: Oregon Adventures With the Kids." You'll find activities to engage any kid, from archery to clamming on the coast to hunting for thundereggs to zip-lining through trees in an aerial adventure park.
In addition, be sure to check out "Grant's Getaways Guide to Wildlife Watching in Oregon." You will enjoy 48 uniquely Oregon adventures highlighting my fish and wildlife encounters. Scores of colorful photos by "Grant's Getaways" photographer, Jeff Kastner, show off some of our finest moments in the field. You can also learn more about many of my favorite Oregon adventures in: "Grant's Getaways: 101 Oregon Adventures"