SEASIDE, Ore. — September sunrise across the Jewell Wildlife Area is cool and crisp and quiet…but not for long! Elk "bugling" is unlike any trumpet that you've ever heard, according to Wildlife Area Manager, Bryan Swearingen:
"All bull elk will bugle but the majority of the bugling that you hear out here during the rut is from the mature bulls because they are dominant and actually run the smaller bulls off. The bulls bugle at one another, they challenge one another, then they kind of pace side by side."
Swearingen added that there are many other signs that the "rut" or elk breeding season has arrived.
"The bull elk will square off and then all of a sudden they turn and lock their antlers with each other and push against one another. It goes on – back and forth for several minutes and the elk really mean business until one of them finally gives up."
It isn't a fight to the death, but a pushing match that determines strength and virility in the herd. The bull elk grow antlers up to five feet high with a tip-to-tip spread that's even wider.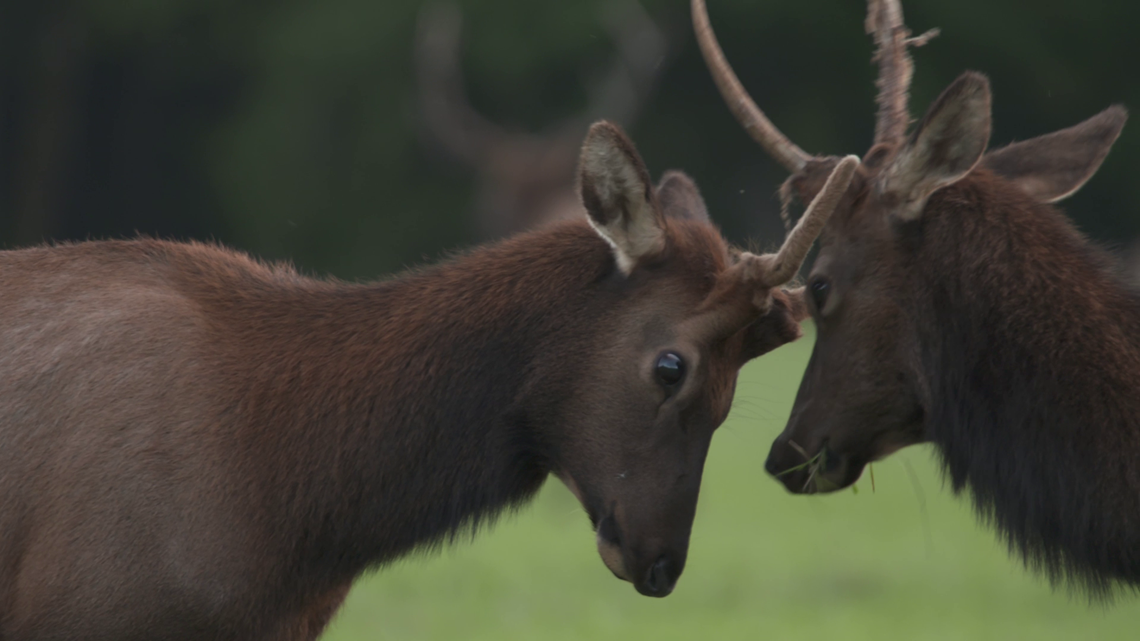 As hormones rise, the bulls become more aggressive and alder "tree rubs" are common: "I think the tree rubs color up the antlers and it also lets the elk burn up some of their aggression. It also helps establish herd dominance," said Swearingen. "If they tear up a tree, it says to the other elk I'm meaner than you so stay away from me."
Don't stay away from Oregon State Highway 202 - a roadway where leaf colors change each day!
Stephanie Beall, a recreation specialist with the Oregon Department of Forestry, noted that the timing couldn't be better: "It is gorgeous out there right now! The vine maples are brilliant oranges and reds while the alders and big leaf maples are turning amazing shades of yellow…you're going to see some amazing color."
It is amazing and there's more just off Hwy 26, at mile post 35, pull into a spacious parking area where a new information board with a trail map will guide you to one of the most unique Oregon hiking destinations called Four County Point Trail.
The mile-long hike to reach the granite marker that marks the only spot in Oregon where 4 counties meet. Beall offered, "The trail parallels a creek for a bit, so sometimes if you're out in the early morning, you may see deer or other wildlife."
Once you reach the marker, you can straddle the site and admire Clatsop, Tillamook, Washington and Columbia counties – all in a heartbeat – a fun cap to an easy hike and a geographic feature you won't find anywhere else in the state.
Grant's Getaways: A fall expedition
Dive off Highway 26 at Elsie, Oregon and head down a narrow lane past limb-framed farms that cry photo opp, before it zips past softly rounded hillsides whose trees sport what calendars show us: the seasons are changing!
The Nehalem River's tributaries also show you the changing times: some start as tiny, spring fed trickles across spongy moss that later grow giant and creek-sized and where husky salmon have muscled their way back from salty sea to find their birth home in time to spawn.
"It is so exciting, you just don't want to leave, can't stop watching them," said local photographer Don Best who was perched above popular Nehalem Falls at the Oregon Dept of Forestry's Nehalem Falls Campground. (Note: the campground is closed for the fall-winter season, but the trail to the falls remains open.)
Best is an avid fan of the site and tries to capture the salmon show each fall.
The water hand springs over unseen rocks through the falls while other river spots show off a distinct river's rhythm that provides a source of restoration for the life that grows here.
"I'll be here for hours trying to get that 'Ooouuh-ahhh' shot," said the longtime outdoor photographer. "They jump high and they jump low and you never know where they'll show up. Plus, they're only in the air for half a second so you don't always get them in the perfect shot. Some people take pictures underwater and they turn out really great – but to get them flying thru the air is a different story – that's fun for me."
That is the nature of backroad byways where uncertainties wait at every turn of the trail and what you might find makes the best adventure.
Be sure to follow Grants adventures via the new Grant's Getaways Podcast as he relates travel and behind the scenes stories from nearly four decades of television reporting.
His next book, "Grant's Getaways: Another 101 Oregon Adventures" will be published in 2022.