PORTLAND, Ore. — The idea of autonomous vehicles — cars that drive themselves — sounds great to many people. Akin to being chauffeured from place to place, there is less worrying about parking, no concentrating on the road. Instead of staring straight ahead for hours, you might be reading a book, or watching a movie with your kids on your next family road trip. The rideshare company WAYMO is testing this in Phoenix right now.
That reality, however, is still many years away. New research from AAA found some of the key automated features assigned to keep us all safe in the autonomous driving world don't work well enough in today's world.
"Level 2 systems include things like adaptive cruise control and automatic emergency braking," said Marie Dodds with AAA. "They take over steering, braking and acceleration functions."
Dodds is referring to the scale of automation, set by the Society of Automotive Engineers (SAE). Level 0 means no or minimal advanced driving assist technologies, up to Level 5, which means 100% automation — there is no driver. Right now, Level 2 is the highest level available to U.S. consumers.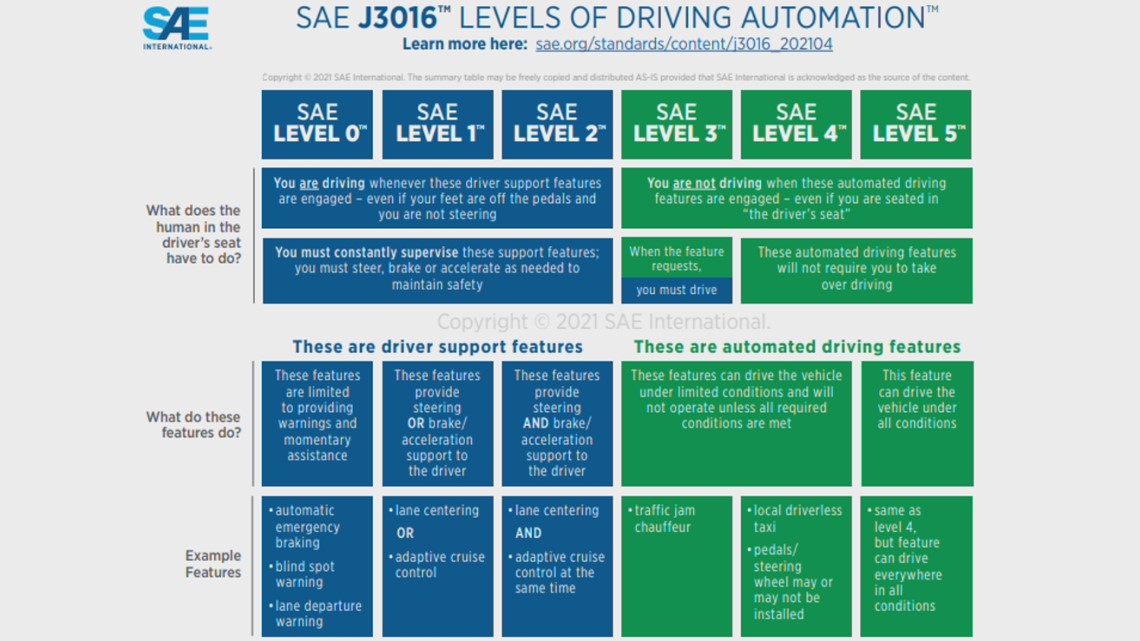 "What we found is these systems can and do fail, especially in situations that aren't necessarily 100% routine," said Dodds.
Examples include when an object — a car, a cyclist, a pedestrian — suddenly appears in a driver's path. AAA tested several makes and models on a closed track in the Bay Area earlier this year. The results found the vehicles failed to consistently avoid crashes with another car or bicycle during 15 test runs.
AAA did a survey asking consumers what they thought about self driving cars and found most drivers would prefer safety improvements over automation.
"Overwhelmingly consumers said, hey, automaker, you need to improve the safety systems you have instead of working on developing self-driving cars. So 77% of consumers said, automakers, improve the safety system," said Dodds.
In short, the roads are not ready for prime time yet when it comes to having fully autonomous vehicles. Systems within the current level of autonomy, which is available on just about every new vehicle today, work well a lot of the time and in many situations — but they don't work well all of the time. Even things like rain, or a car approaching head on, can lead to issues or crashes.
Chris McGinness is a meteorologist and transportation reporter for KGW. Got a story idea or a great photo you want to share? Email him at cmcginness@kgw.com or reach out on Facebook , Twitter and Instagram.