PORTLAND, Ore. — The Portland Marathon will wind through the streets of the Rose City Sunday morning into the early afternoon, and lead to closures for drivers.
The marathon and half marathon start together at 7:10 a.m. at 1000 SW Naito Pkwy. The 26.2-mile route goes through 20 Portland neighborhoods and across three bridges. The route has been changed from previous years.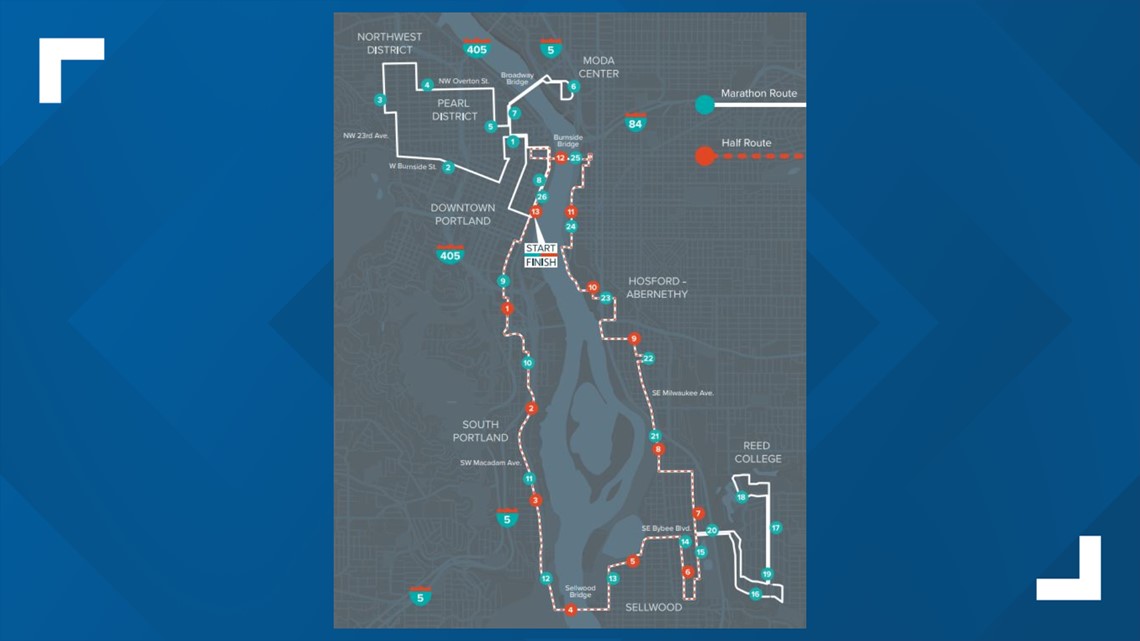 The marathon will impact the following bridges:
Broadway Bridge: The bridge will be closed to all motor vehicles, including TriMet buses and Portland Streetcar, from 7 a.m. to 9:30 a.m. TriMet's 17-Holgate/Broadway bus line will detour to the Steel Bridge during the closure. Sidewalks will remain open for bicyclists and pedestrians. Drivers can use the Steel or Fremont bridges during the closure. For information on Portland Streetcar service changes, click here.
Burnside Bridge: One traffic lane will be open in each direction on the south side of the bridge from 7:30 a.m. to 1:30 p.m. The north shared use path will be closed during those hours. The south path will remain open. TriMet bus routes 12, 19 and 20 that normally cross the bridge will be detoured to other bridges to accommodate the marathon route. For detour details, click here.
Morrison Bridge: The ramp from Southwest Naito Parkway south to the bridge will be closed, along with the south shared use path and the off-ramp to Southeast Water Ave. from 7 a.m. to 11:30 a.m. All traffic lanes on the bridge will remain open, along with the north sidewalk.
Sellwood Bridge: The north sidewalk and westbound lane will be closed from 7 a.m. to 10 a.m. The south sidewalk and eastbound lane will remain open. Westbound drivers can use the Ross Island Bridge as an alternate route.
Neighborhood traffic impacts
The race is expected to be over by 1:45 p.m. The finish line is at the same location as the starting line, 1000 SW Naito Pkwy.