PORTLAND, Ore. — A landslide closed Washington State Route 4 west of Cathlamet Tuesday morning.
There is no estimate on when the slide, near Bjornstad Road, will be cleared. The significant detour is via US 30 on the Oregon side of the Columbia River.
HISTORIC COLUMBIA RIVER HIGHWAY CLOSED
A small landslide has closed a two-mile section of the Historic Columbia River Highway (Highway 30) between Multnomah Falls and Angel's Rest on Tuesday morning.
The section of the highway will be closed until at least Thursday, the Oregon Department of Transportation said.
The landslide happened Monday night along Mosquito Creek west of Multnomah Falls.
About an inch of rain saturated the soil, causing part of the hillside to come crashing down onto the historic highway. The slide narrowly missed the train tracks below.
ODOT is concerned that another slide could come.
"This morning our geo-hydro department came out and took a look at the slide area... they walked up the creek about 200 yards or so and found a lot more material just kind of pending there... with a bit more rain they're expecting that to come down as well," said Ryan Houston with ODOT.
This is the second slide along the historic highway this season. Both slides are in areas burned by the Eagle Creek Fire back in 2017.

"A lot of the ground cover that was holding the soil together is not there anymore," said Houston. "With the amount of rain we had, the ground gets pretty saturated and can no longer hold any more water and so it brings a lot down with it.
With up to an inch of rain possible in the gorge Wednesday, ODOT crews built ditches to divert the stream water off the highway.
Debris from the slide blocked a culvert that runs underneath the road.
ODOT said the stretch of highway will remain closed until it is safe for drivers and visitors.
DELAYS, ROUGH ROADS ON U.S. 101
ODOT also reports that travelers on U.S. 101 should expect delays and rough roads because of "slide movement" north of Newport around Carmell Knoll and Moolack Beach. ODOT said travelers should expect delays of up to 20 minutes.
Crews will go out to U.S. 101 to start slide repairs on Wednesday, ODOT said.
BURNSIDE CLOSED 'SEVERAL MORE DAYS'


An eastbound stretch of West Burnside was closed Friday due to a landslide. On Monday, the Portland Bureau of Transportation said that eastbound lane, from Barnes Road to Skyline Boulevard, will be closed for "several more days."
"During inspections [Monday], engineers determined that debris had continued to fall from the slide over the weekend. The slide remains active, with cracks at the top of the scarp that indicate a threat to public safety," PBOT said in a news release.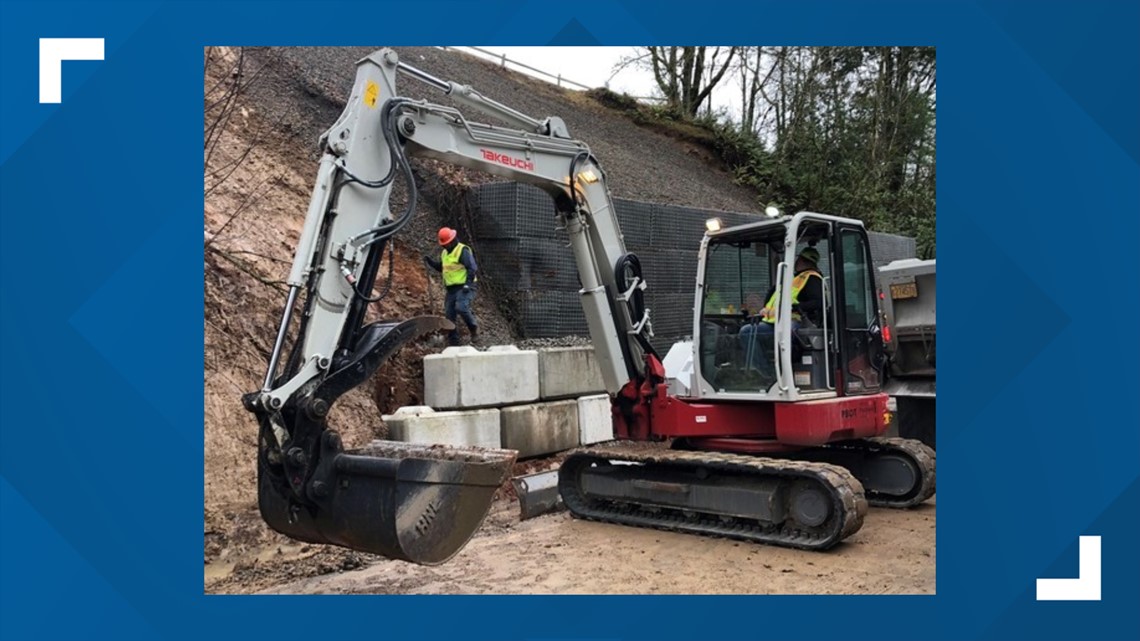 ROCKSLIDE IN SOUTHERN OREGON
Boulders fell onto Highway 62 near Prospect in Southern Oregon early Tuesday morning. A vehicle was damaged and one person was treated for non-life-threatening injuries, according to Oregon State Police.
One lane was reopened Tuesday afternoon but drivers should still expect short delays.